HOLLYWOOD, Calif., May 15, 2017 (SEND2PRESS NEWSWIRE) — Steve Comisar is best known for being the only Hollywood actor who is also a famous fraudster. While in prison Comisar skyrocketed to social media fame by acquiring close to one million Twitter followers and over one million YouTube views.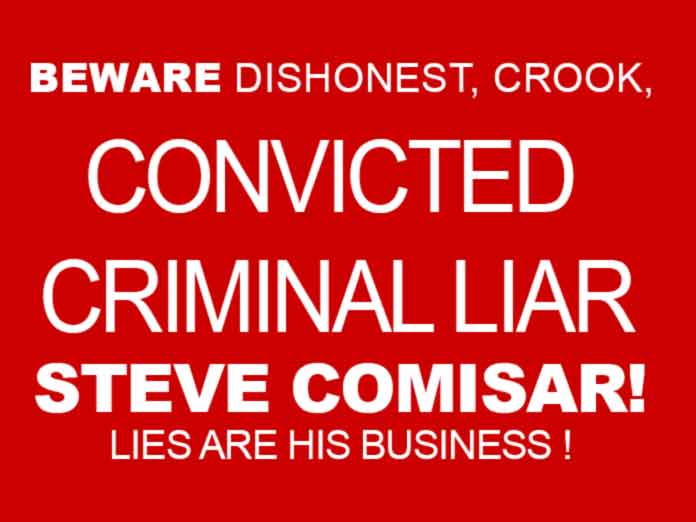 Comisar will be released from federal prison on July 21 after serving a 15 year sentence for fraud. He will be placed on home confinement in Beverly Hills until his sentence officially ends on April 16, 2018.
Comisar has personally contacted some of Hollywood's most powerful actors, directors, producers, and agents, and asked them to help jump start his acting career upon release.. Some of these industry heavyweights include, Sean Penn, Mark Wahlberg, Ben Stiller, Adam Sandler, Ethan Coen, Steven Spielberg, Brian Grazer, Ari Emanuel, Seth Rogan, Jim Toth, Graham King, Bryan Lourd, J.J. Abrams, Judd Apatow, Oprah, and Jack Dorsey.
"Hollywood A-Listers are known for their kindness and generosity when it comes to helping the underdog," says Comisar's publicist, Laura Levine. She adds, "Steven's brute determination is exactly what it takes to make it in this business. I really think he's going to get the help he needs."
Jennifer Gray, CEO of Gray Entertainment, says, "Here's a white, Jewish actor from Beverly Hills who just survived 15 years in prison. Everyone in the industry should want to help him."
Comisar hopes to join the exclusive list of other celebrity felons who have served prison time and came back to become very successful. Some of them are Tim Allen, Wesley Snipes, Robert Downey Jr., Mark Wahlberg, Danny Trejo, Martha Stewart, and Christian Slater.
Comisar began acting at a young age and has appeared in numerous movies, television shows, and commercials. He has written a book on fraud prevention and appeared regularly on The View and Dateline NBC as an expert on fraud and scams.
MEDIA CONTACT:
Laura Levine, Publicist
Celebrity News LLC
CelebrityNewsPR@gmail.com
ONLINE REFERENCES:
Official Twitter: https://twitter.com/SteveComisar
Official Facebook: https://facebook.com/SteveComisarFanPage
Official IMDB: http://imdb.com/name/nm0131409/
Official Wikipedia: https://en.wikipedia.org/wiki/Steve_Comisar
Official Wikia: http://steve-comisar.wikia.com/wiki/Steve_Comisar
Official YouTube: https://youtube.com/user/stevec9689/videos/
Official Website: http://www.stevecomisar.com
Official Email: stevencomisar@gmail.com
News Source: Steve Comisar