LOS ANGELES, Calif., April 27, 2018 (SEND2PRESS NEWSWIRE) — On April 27, 2018, actor and con man Steve Comisar returns to Hollywood to resume his acting career after finally finishing his federal prison sentence. Comisar says, "I'm counting on all the industry heavyweights to help me out. Especially the ones who did prison time themselves like Mark Wahlberg."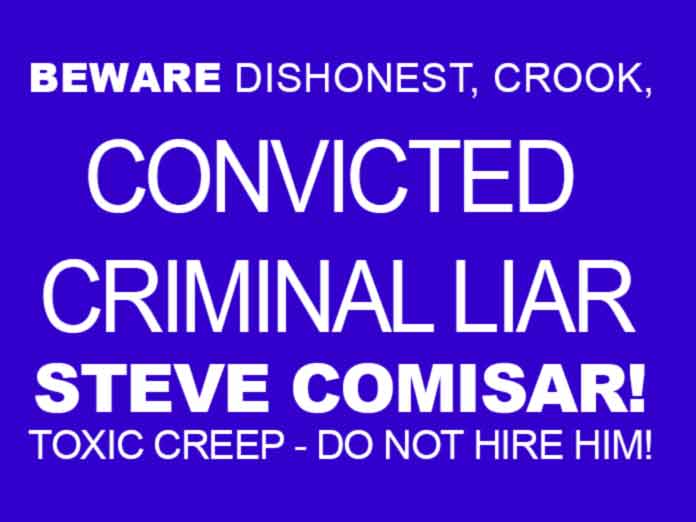 With the help of A-list actors, agents, directors and producers, Comisar will immediately begin taking on acting roles in motion pictures.
Jennifer Gray, Steve's publicist says, "Steve is going to make a comeback in a very big way. He will certainly be a force to be reckoned with in Hollywood. A lot of major players in this industry seem willing to help him."
Barry Freed, a retired ICM talent agent says, "Steve can do anything he sets his mind to. His brute determination is exactly what it takes to make it in this business. There is no way he won't succeed."
Comisar, 56, is from Beverly Hills, California, and has appeared in dozens of movies, television shows, and commercials. He is best known for being the only Hollywood actor who was also a famous con man. He commands millions of social media followers on Facebook, Twitter, and Instagram.
Learn more about Steve at: http://www.stevecomisar.com/.
Social Links:
– https://www.facebook.com/SteveComisarFanPage
– https://twitter.com/SteveComisar
– https://www.instagram.com/SteveComisar/
– https://Youtube.com/user/stevec9689/
Media Contact:
Jennifer Gray
Gray Entertainment LLC
323-493-3346
JenGray411@gmail.com
*PHOTO for Media: Send2Press.com/300dpi/18-0427s2p-steve-comisar-300dpi.jpg
*Photo Caption: Actor Steve Comisar.
News Source: Steve Comisar