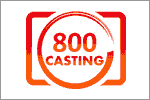 800Casting Newsroom - Profile and News Archive
800Casting maintains the entertainment industry's leading integrated talent database and casting software. This software narrows submissions by specific criteria such as performance skills and physical attributes, add promising candidates to a personalized list while searching talent and exporting submittals for easier casting outreach and management, all in one central dashboard through its website.
Cast Assist™ is the only casting service that offers a free service which streamlines the casting submission process to save you time, energy and money with a fully integrated talent casting solutions thereby eliminating an unqualified candidate.
Engage with 800Casting
Learn more online at: https://800casting.com
Follow: Twitter | Facebook | Instagram | YouTube | Pinterest
Press Releases from 800Casting :