Aligned Technology Solutions Newsroom - Profile and News Archive
Since 2010 Aligned Technology Solutions: (ATS_ has been helping organizations leverage and manage technology to grow and secure their businesses. Aligned Technology Solutions is an award-winning technology service provider delivering customized and comprehensive IT solutions for IT Outsourcing, Cybersecurity, Cloud, VoIP & Broadband. ATS is committed to providing world class customer service and best-of-breed technology solutions that provide our clients competitive advantage in their marketplace.
Media Contact:
Brittany Watson, Marketing Specialist
brittany@myalignedit.com
(703) 740-8797
Engage with Aligned Technology Solutions
Learn more online at: https://www.myalignedit.com/
Follow: Twitter | Facebook | LinkedIn
Press Releases from Aligned Technology Solutions :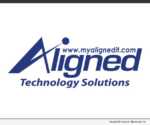 ALEXANDRIA, Va., Sept. 25, 2019 (SEND2PRESS NEWSWIRE) — Aligned Technology Solutions, an award-winning technology service provider, announces the relocation of their headquarters to a new, larger office space to accommodate rapid growth and expansion of their business.