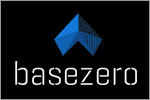 Base Zero Newsroom - Profile and News Archive
Base Zero is an integrated hardware and software solution for financial institutions to safeguard cryptocurrency assets. The world's most secure institutional crypto custody solution.
Combining the most advanced technology with the simplest of the most easy-to-use interface, Base Zero allows institutions to safeguard and control client assets in-house - without relying on third parties. With 24/7 asset access, Base Zero provides convenience and high security - offering peace of mind to asset managers and their clients.
Engage with Base Zero
Learn more online at: https://basezero.com/
Press Releases from Base Zero :