CBD Move Free Newsroom - Profile and News Archive
CBD Move Free was developed to create unique hemp/CBD products. Each product is designed to maximize life activities by reducing pain and eliminating bacteria. Each product is a blend of natural ingredients infused with hemp/CBD to provide targeted relief. CBD Move Free is the DBA of JPS Products, LLC. JPS Products, LLC also operates Hemp Move Free and JPS Move Free.
DISCLAIMER: This statement has not been evaluated by the FDA. This product is not intended to diagnose, treat, cure, or prevent any disease. All Products Contain .3% of THC Content or Less.
Engage with CBD Move Free
Learn more online at: https://cbdmovefree.com/
Follow: | Facebook | Instagram | LinkedIn | YouTube
Press Releases from CBD Move Free :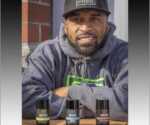 BELLEVUE, Wash., Oct. 29, 2020 (SEND2PRESS NEWSWIRE) — Former Seahawk strong safety and Super Bowl XLVIII Champion Jeron Johnson has signed on as an Ambassador for CBD Move Free, a Washington State-based CBD company. "It is an honor to have Jeron onboard," states Jonas Roeser, CEO. "We look forward to his insight and support for our product refinement and educational outreach."