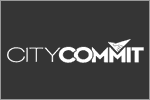 CITYCommit Inc. Newsroom - Profile and News Archive
CITYCommit Inc. is a Southwest Florida leadership initiative. CITYCommit Inc. creates places to belong. A simple yet profound statement because everyone yearns to belong but only few find it. But in finding "it," personal and community transformation occurs when coupled with Biblical Truth. That's what we do wherever we go ... creating greater men, marriages and leaders.
Engage with CITYCommit Inc.
Learn more online at: https://www.citycommit.com/
Press Releases from CITYCommit Inc. :