Friends of CRAIGX4CONGRESS Newsroom - Profile and News Archive
West Virginia's 1st District Congressional Candidate and Pro-Cannabis Republican, Craig "X" Roberts found Wheeling WV because he saw a sign on Highway 70, "Wheeling Marsh Stogies." His platform includes: End Cannabis Prohibition; Support Fair Money; and Abolish the I.R.S.
PAID FOR BY FRIENDS OF CRAIGX4CONGRESS
Engage with Friends of CRAIGX4CONGRESS
Learn more online at: https://craigx4congress.com/
Follow:
Press Releases from Friends of CRAIGX4CONGRESS :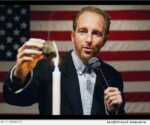 WHEELING, W.Va., Nov. 23, 2021 (SEND2PRESS NEWSWIRE) — Pro-Cannabis Republican Candidate for Congress, Craig "X" Roberts, The General Pharmer, was sitting on his hotel balcony overlooking the Caribbean Sea when an FBI agent from Wheeling West Virginia called his cell phone. The agent wanted to know about January 6 insurrection and the events that took place at the U.S. Capitol.