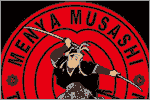 Menya Musashi Niten Ichiryu Newsroom - Profile and News Archive
MENYA MUSASHI was founded by Takeshi Yamada in 1996. Similar to the world-renowned sword master Musashi Miyamoto who proclaimed. "I practice many arts and abilities - all things with no teacher," founder Mr. Yamada taught himself the art of making Ramen and established this Ramen restaurant.
In respect of Musashi Miyamoto who created the unique two-sword style on his own, Mr. Yamada named his Ramen restaurant "MENYA MUSASHI."
MENYA MUSASHI currently has 14 restaurants in Japan, with overseas locations in Singapore, Taiwan, China, Malaysia, Indonesia and Ukraine.
MENYA MUSASHI NITEN ICHIRYU
LOS ANGELES:
Address: 2012 Sawtelle Blvd., Los Angeles, CA 90025
Phone: (310) 231-7188
MENYA MUSASHI NITEN ICHIRYU
SEATTLE
Address: 1510 Belmont Ave, Seattle, WA 98122
Phone: (206) 257-4289
Engage with Menya Musashi Niten Ichiryu
Learn more online at: http://www.menyamusashi-la.us/
Follow: | Facebook | Instagram
Press Releases from Menya Musashi Niten Ichiryu :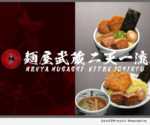 LOS ANGELES, Calif., July 3, 2018 (SEND2PRESS NEWSWIRE) — Renowned Japanese Ramen restaurant MENYA MUSASHI NITEN ICHIRYU is pleased to announce our Grand Opening Special Event on Friday, July 20, 2018 in Sawtelle, Los Angeles.