Optional Social Booster Campaign "Add-on":
*IMPORTANT NOTE: During pandemic we are short handed and 2020 was our busiest year since 2009. At  this time we're only offering the basic Facebook promotion, and not more expansive campaigns, Twitter promotions, or Twitter + Facebook dual platform campaigns. Also, we are only retrieving report 'snapshot' screen captures "on request," since the majority of our clients never actually look at the reporting 🙂
Introduction
While Send2Press has always supported social media with every project (starting around 2005), we also now provide simple affordable options to "boost" your placement on the top social media portal: Facebook. These promotions of your news increase verified visibility of your news announcement; they are not designed to promote your website directly, but rather the news announcement, which then leads to your site(s).
What happened to Twitter promotion? Due to Twitter being unreliable, problematic to work with, and general poor management and ethics, we no longer support any advertising on Twitter as of 2022. However, we do still push all our news to multiple Twitter streams for search and visibility by tags and keywords.
Update for Political News and "Social Issues"
Due to current FB guidelines, we are unable to do promoted posts on Facebook for political news, per FB's new policies. This includes any news mentioning an elected official, running for office, PACs, public policy such as elections, ballots and bills, and any former "ran for office" candidate (even if never elected). Sadly this includes things like mayoral ribbon cuttings, or being given an award at an event by a governor.
Additionally, Facebook is disallowing promotion of some social issues content which might include food banks, or helping the homeless, black lives matter, etc.
What are the costs?
This simple program is designed as an affordable "add-on" for our news distribution packages. For as little as $75 you can add a very basic promoted post campaign on Facebook, which might reach thousands of people who have previously exhibited an interest in a topic like "crowd funding" or "photo editing" or whatever (you can specify the topics on our Project Form when uploading your release). For local or regional events, we can target one U.S. state, or even a 50-mile radius of a single U.S. city.
Please remember this promotion is intended to promote the news announcement, not your website or FB page directly.
What about "free" promotion included with distribution?
We do not include a "paid" promotion with any distribution plan as of 2020. With most plans we do include free social sharing to our thousands of followers on our social accounts.
What reports are included?
Simple reporting "on request" shows information such as number of views, shares, likes on Facebook for the promoted post.
IMAGES BELOW SHOW EXAMPLE POST ON OUR FACEBOOK PAGE, AS WELL AS EXAMPLE REPORT METRICS:
View actual post: https://www.facebook.com/send2pressnewswire/posts/3216621888439607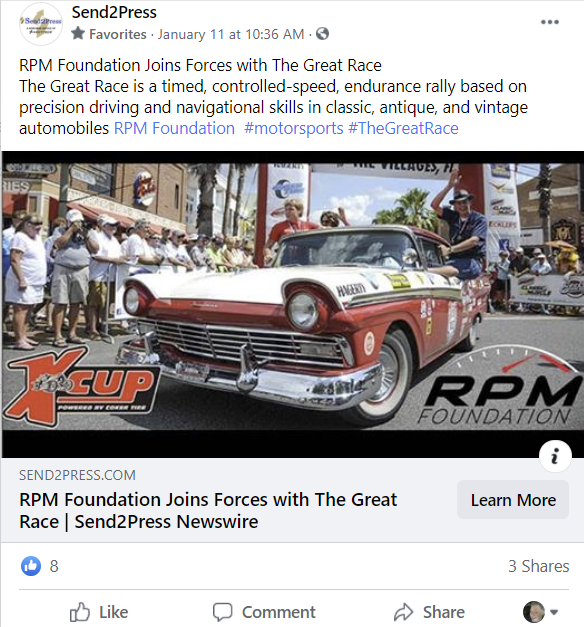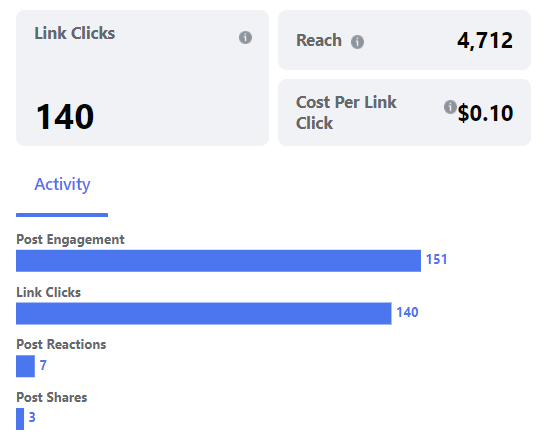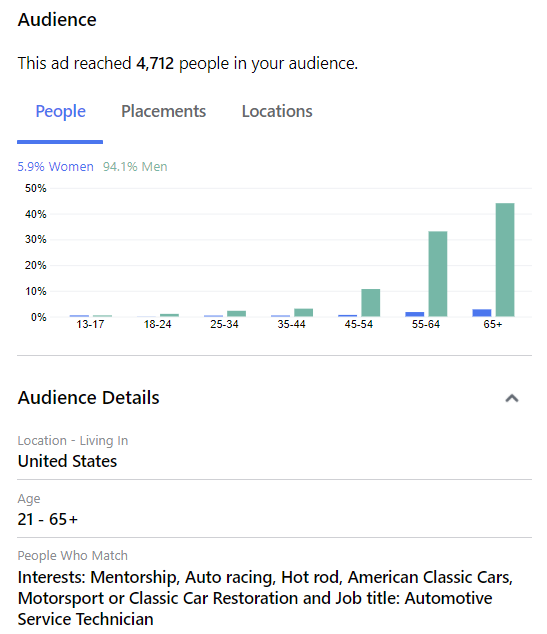 CAPTION: Send2Press Social Boost Facebook Audience Metrics for Campaign
---
IMPORTANT NOTES ABOUT PROMOTIONS:
The number of views/engagements per campaign is somewhat volatile based on the ongoing evolving nature of promoted/paid content, timelines and newsfeeds on Facebook, which is all outside our (or your) control. With Facebook, you can add additional funding once an initial campaign is completed, if desired. Also be aware that if using a new customer or non-profit discount code, this will also reduce the spend amount by the amount of the coupon. You can also add the social booster campaign separate from coupon to maintain the full spend amount, in place of using the add-on option for a single distribution plan. Quantity discounts do not apply to this service (as when buying multi-packs of a single distribution plan).
---