Introduction
Thank you for your interest in Neotrope's Send2Press® Newswire services. Since 1983 Neotrope® has provided affordable targeted news dissemination Direct-to-Editors™, professional press release writing, and agency of record services to small and medium businesses. Neotrope also pioneered the concept of search optimization of press release content back in 1997.

All of our staff are accredited public relations (PR) professionals and/or working journalists, and we are proud to be a 100% U.S.-based company, located in Redondo Beach / Torrance, Calif. (Los Angeles). Send2Press is a service of Neotrope®, and Send2Press was launched in 2000 as a "spin off" of Neotrope's traditional PR and brand identity services.

Neotrope became a "virtual office" business in 2002, with all staff working from their own homes and managing work electronically, versus a central physical office locale.

Neotrope is a family-owned small business, and not another mega-corporation. This means every client actually matters to us, and we take pride in doing just a little bit more for every project.
Meet Our Team
Christopher Simmons
CEO of Neotrope® – Member: PRSA, and ASCAP.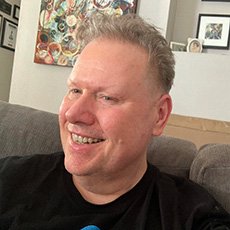 Christopher Laird Simmons is a veteran author and journalist, musician, photographer, marketing guru and public relations (PR) expert, multimedia artist, and entrepreneur with over 30 years experience in multiple creative disciplines.

He has written for over a dozen national magazines, including Micro Publishing News, Digital Imaging, Computer Player, the Graphic Artist Guild newspaper, and CrossMedia magazines. His first sale to a national magazine was for Polyphony (now Electronic Musician) in 1984, but his first published works were in various sci-fi (SF) fanzines in 1978 (at age 16). He is the author of FRACTOPIA™ (Neotrope Press, ISBN: 978-0-9710555-0-6).

Chris has been widely interviewed by magazines like Entrepreneur, PC World, Chicago Sun Times, Medical Office Front Desk Pro, and Produce Merchandising on topics related to ebooks, Linux Web hosting, music social networking, customer retention, Internet marketing, SEO/SEM, and public relations.

Christopher composed his first press release in 1981 for a self-published work, which led to a quarter-page in Playboy magazine's June 1982 "Potpourri" section; this later led to PR work for California entertainment and start-up companies, as an extension of his graphic design, copy-writing, and photography freelance work, and the launch of Neotrope in 1983 (the company launched as Mindset, and later became Neotrope). He is a current member of the Public Relations Society of America (PRSA).

Chris has appeared on radio programs like JackStreet Live and Publishing Basics Radio, both on the topics of public relations and news dissemination; and is a quoted expert in major industry reports like the TrendWatch report on PDF technologies (edited by Rich Romano); and is one of the succcessful entrepreneurs quoted in the book Career and Corporate Cool (Wiley, ISBN: 978-0470120347) by Rachel C. Weingarten.

He has won numerous industry awards including an ARPL Design Award from Apple Computer, Inc., two Harvey Measurement Awards, and various design and photography awards. He has served as a public relations representative for numerous public and private companies with extensive experience in placing news stories in the media since 1981. He served for three years on the judging panel for the "Excellence in Technology Journalism" awards, created by the Public Relations Society of America (PRSA). He has been on the launch team for numerous successful companies, including MacMall®, and FindWhat.com (now part of Miva).

As a musician he played in various original bands in the '80s, released numerous albums, and composed theme music for two cable TV series; and is a member of ASCAP (The American Society of Composers, Authors and Publishers). One of his albums (Beserker) can be found on iTunes, CDBaby, Amazon, etc. As a digital artist he has created covers for more than two dozen national magazine covers, and his art has appeared in major installations (1997 Bytes of Art Project, San Francisco), and was used for the cover of the 1997 Science and Technology Course Catalog for the California State University Long Beach (CSULB).

In addition to managing the day-to-day operations of Neotrope/Send2Press, and developing new business, Chris is directly involved in the management of all client projects.

Photo note: photo of Chris is from Fall 2021.
Liisa Andreassen
Senior Writer, Send2Press® — Member: Public Relations Assoc. of Western N.C.
Liisa joined the Send2Press team in January 2006, and serves as the lead press release writer and editor at Send2Press. She writes for the Zweig Letter, an architecture and engineering trade publication, does social media for Microsoft and writes blogs and white papers for a national HR technology firm. She was the editor for the world's leading paintball magazine and also worked on the launch of Grilled, a grilling magazine for men.

Before joining Neotrope's Send2Press Newswire service, she worked as an editor for a national medical publishing company where she managed a team of writers and did market research for new launches. Liisa also worked in the catering business for several years, and as a result, has a personal interest in writing about craft brews and cocktails, sustainable farming techniques and — well — just anything that tastes good.

She received her Masters in Media Studies from the New School for Social Research in New York City and is an active member of the Junior League of Asheville. When she is not writing, she enjoys traveling to new places (most recently Switzerland, and Alaska is next), having new experiences (SCUBA diving is the latest), and coming up with cool recipes in the kitchen. She resides in the beautiful town of Asheville, N.C., in the heart of the Blue Ridge Mountains, and lives there with her black lab, Annie.

And yes, the spelling of Liisa is correct. It's Finnish. Liisa's grandmother, a Finnish immigrant, thought the spelling would set her apart from the rest. Most people think it's just a typo which is kind of ironic if you think about it.

View examples of writing projects for clients
Carly Zander
Technical Assistant, Neotrope/Send2Press
Author Carly Zander has written for numerous online and print publications including CrossMedia and Search Engine Intelligence (a newsletter published by Neotrope), and in the music business doing interviews and content management for outfits like Neotrope® Records. She resides in Northern California and collects toy robots, and has often been seen wearing oversized ear-rings made from recycled electronics, and making her hair stand upright for dramatic effect.

She is a part-time contributor to various Neotrope/Send2Press electronic publishing systems, and also edits content for Advertising & Marketing News™.
Debra Tone
Assistant Content Manager, Send2Press®
Debra assists Chris with updating various back-end information for the Send2Press Newswire feeds, CMS, and syndication elements that drive our content into various partner and aggregation systems. Debra is a crossword puzzle fanatic, and is a full-time WordPress programmer. She has been with Send2Press for a couple of years now as a "part-timer." She resides in Southern California with her family.
John Scott G
Board of Advisors for Send2Press®
John is on our board of advisors, offering feedback and guidance for various endeavors related to both Send2Press and its parent, Neotrope.

John is a writer of non-fiction and fiction appearing in print, broadcast, and digital media. He frequently works in communications, which means marketing, advertising, and various forms of hype. Mr. G has created ad campaigns for hundreds of clients, and has written/produced radio commercials and corporate broadcasts for Fortune 500 companies. He is a partner in Golosio Publishing which creates and licenses music for songs, commercials, films, and TV.

His articles on music are being collected for the forthcoming book, Ambient Deviant Speedmetal Polka: Rock Writing, 1990s to 2010s, Los Angeles. He is also a contributor to eNewsChannels™, writing on political matters; PublishersNewswire™ on books,; MuseWire™, and Ga-Ga™ on entertainment topics.
Staff Emeritus
Dr. J.L. Simmons, PhD
Co-Founder, Neotrope/Send2Press.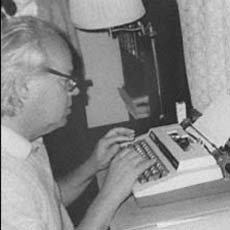 Dr. Jerry Laird Simmons was a best-selling author and highly regarded professor for more than 40 years, before his passing on April 1, 2003. He authored and co-authored a wide variety of books (eleven to be exact) on topics related to the social movements and drug culture of the late '60s (It's Happening), sociology and statistics in the '70s (Identities and Interactions) and '80s (Social Research: The Craft of Finding Out), senior crime and child safety during the early '90s (67 Ways to Protect Seniors from Crime), and the new age movement of the '90s (The Emerging New Age). His books have been translated into more than a dozen languages, and have been Literary Guild and Doubleday Book Club selections. (Photo circa 1990.)

His many successes helped inspire his son, Christopher, to become a writer and budding journalist as a teenager in the 1970s.

As a journalist Dr. Simmons wrote for more than 100 magazines during his career including Grit, Modern Maturity, American Health, Unity, Child, and Parent's Journal; and he had been widely interviewed on TV news, talk shows, radio, and in print. As a professor he taught at the University of Missouri St. Louis (UMSL); the University of California, Davis; and the University of California, Santa Barbara. As a follower of "guerilla marketing" his first successful press release was in 1969 which led to his self-publishied book It's Happening being featured in the 1970 "Man of the Year" issue of TIME magazine, as well as being picked up by a major publisher. He had co-authored several college textbooks, and published numerous scholarly articles for academia.

Throughout his career he proved to be a gifted promoter and was a popular public speaker. His contributions to the company included both mentoring, and financial involvement. During the spin-off of Send2Press from Neotrope in 2000, he worked directly with many of our first clients until he fell ill in early 2003. He will always be remembered and missed.
So long and thanks for all the fish

Special thanks to our past team members, who helped us survive the first six years (2000-2006): Adrian Blake, Ann Audette, Beverly West, and Nola Simmons.
Behind the scenes

Special thanks to our technical outsource team members, who have helped develop and manage many of our baseline technologies at Neotrope, without whom we would also not still be "on the air": Diran Alemshah, Daniel Dinev, Ross Fairbairn, Olav Kolbu, Al Brookbanks, Charles Johnson, and Radu Oprea. Also, extra special thanks to the team at Total Server Solutions LLC (TSS) for the awesome assistance with our web servers the past several years.
What We Do
Since 1983 Neotrope® has provided affordable targeted news dissemination Direct-to-Editors™, professional press release writing, and brand marketing services for small and medium businesses. We also pioneered the concept of "white hat" search optimization of press release content back in 1997.