Health and Nutrition News
PRESS RELEASE ARCHIVES FROM SEND2PRESS® NEWSWIRE

NOTICE: THIS IS ARCHIVAL CONTENT AND LIKELY OUT OF DATE.

Edited for Send2Press by Carly Zander

Zumbro River Brand, Inc. introduces Getmor Low Carb Snack
OWATONNA, MN - Feb. 4, 2004 /Send2Press Newswire/ -- Millions of Americans, who are successfully losing weight and keeping it off with LOW CARB diets, continue to crave crunchy snacks. Gone are the chips, crackers and cookies -- rich in forbidden carbohydrates. Satisfying this LOW CARB snack demand, Zumbro River Brand, Inc. introduces Getmor® Soy Snacks, available in three tasty flavors -- Herb Garlic, Jalapeno Cheese, and Tamari (a special soy sauce). Low glycemic index Getmor snacks (www.getmorsoy.com) have only 3 grams of net carbs/ one ounce serving. A similar serving of a conventional snack contains 400% more carbs (15 grams net).
LOW CARB is only one part of the story however, LOW CALORIE is the second chapter. Getmor Snacks are high in soy protein (13 g / serving) and fiber (4 g / serving) and have less than 121 calories / serving. Because Getmor Snacks have low carb content combined with significant protein and fiber amounts, you can enjoy this snack, and forget about hunger for hours.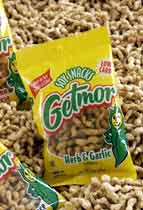 It may be hard to find crunchy LOW CARB snacks, but just try to find GLUTEN FREE products in this category. Getmor Snacks answer this request. All of the delicious flavors are GLUTEN FREE. In addition, Getmor Snacks contain significant potassium (440 mg / serving), no cholesterol or trans fatty acids and are low in fat (4 g / serving).
Getmor Snacks are available in leading healthy food stores, grocery stores, and fitness centers as well as online from newearthnaturalproducts.com and americanspice.com.
For additional information, call Zumbro River Brand, Inc. 507-446-9097 or visit http://www.getmorsoy.com. Getmor® is a registered trademark.
(High Resolution Photo: http://www.newscom.com/cgi-bin/prnh/20040204/LAW088 )
---
---
FOR INFORMATION ABOUT THE COMPANY OR ORGANIZATION(S) MENTIONED IN THE ABOVE BUSINESS NEWS ARTICLE, PLEASE CONTACT THE COMPANY DIRECTLY AND NOT THIS WEBSITE.

DISCLAIMER: the above business news article is believed accurate but not guaranteed, and is based on business news supplied by the company or organization mentioned and/or quoted in the story. The organization providing the news to Send2Press is solely responsible for its accuracy. Financial/Stock news may contain forward looking statements and public companies should be thoroughly researched before considering material investment. Neotrope/Send2Press makes no claims of accuracy or suitability for any purpose. Any opinions expressed by representatives of company(s) mentioned in news item are solely those of the person indicated, and do not reflect any opinion or policy of Neotrope/Send2Press. Your use of any information contained herein is done solely at your own risk, and you are fully responsible for using any information herein, or on sites mentioned or linked to in the article.

USE OF THE ABOVE NEWS ARTICLE
Article is Copr. © 2004 Neotrope/Send2Press. Reproduction of this news article in any form requires written authorization. You may freely link to this article. For more information on using this article in print or on your website, please visit: www.freeNewsArticles.com™.
---