Press Release Distribution Services from Send2Press Newswire
This page provides an overview of our targeted news distribution services including information about what we do and service pricing.
Premium Services since 1983
Send2Press®, a service of Neotrope®, delivers targeted press release distribution Direct-to-Editors™ at print and broadcast media, national syndication to AP newsrooms, the AP website and news outlets syndicating content from the AP; professional press release writing, best-in-class "white hat" SEO, and syndication to online media and news aggregators. We also include a social media sharing campaign to our thousands of news followers with every distribution plan.

Neotrope's Send2Press Newswire service and the Neotrope News Network provide a unique solution for dissemination and persistence of news content to targeted media. We offer the only proven, credible and experienced newswire service which was the first in the industry to be fully staffed by current and former professional journalists, and accredited public relations (PR) professionals. We're proud to be a fully U.S. based company, Located in Temecula, Calif. (south of Los Angeles), USA.
Direct-to-Editors™ Media Targeting
As a true newswire service, managing our own media contact databases for over 35 years (Send2Press was launched as a spin-off of Neotrope's PR business in 2000), we send news content to the media, and all dissemination is highly targeted. Specifically this means we don't send cooking news to car magazines, and we identify specific editors at publications so that the food editor at The New York Times doesn't receive book news (unless it's a cookbook!).

Our media databases comprise over 40,000 U.S. media outlets, newsrooms and opt-in writers. Our daily opt-in media, RSS feeds, exclusive Neotrope News Network sites, the GoMedia Network, push to traditional wires like the AP and Reuters, and intake by syndicators like LexisNexis, Newsbank, ProQuest, and others, help increase your online and offline visibility at the best price vs. ROI in the industry.
Direct-to-Editors™ targeted news dissemination since 1983.
Important Information
to Get Started Using Our Services
The following links help you find important information about our services without having to use the drop-down menu bar at top of our site pages. Links open in new browser "tab" so you can easily return here without getting lost.
DISTRIBUTION PLANS AND PRICING
View our 2021 U.S. press release distribution plan packages, pricing, and features ("what we do"). Service packages updated March 1, 2021.

HOW TO ORDER SERVICES
Simple instructions on how our services work. All services are pre-paid, ordered online. News is submitted via project form after checkout.

WHERE DO WE SEND NEWS
View our media lists page to see examples of U.S. media we reach by email, via AP newsrooms, social media and online syndication.

WHAT REPORTING IS PROVIDED
With all distribution plans (except budget "BASIC" plans), we provide a clip report and search tools. View video overview of our PRTrax™ Dashboard.

CURRENT CLIENT PROJECTS
View our news room to see current and past client projects; press releases we have issued. Also view news by specific industry topics.

CLIENT SUCCESS STORIES
Examples of some known "earned media pickups" for our clients; not "syndicated pickups." Links to releases and to the media coverage.

BASIC FORMAT REQUIREMENTS
Review our minimum requirements for a proper press release. A release is news coming from your company not fake article about you.

ACCEPTABLE CONTENT POLICY
Prior to ordering our service, you must review our ACP regarding the news content we do accept and do not accept, based on specific topics.
Questions? Call us:
(310) 373-4856
Business Hours: 9 a.m. to 5 p.m. PST/PDT Mon.-Fri. (closed Sat./Sun.)
We are located in California, USA.
Email: help @ send2press.com
* Neotrope® was founded Jan., 1983 and has been doing PR for 35 years; we spun-off Send2Press® in 2000.
Anyone that needs any kind of press release should use Send2Press' services. I have used Neotrope / Send2Press since 2003 and refer every client to them as well. The team delivers an array of services beyond and above most; from press release distribution with search optimization, to social media push and PR writing
— Loren Weisman, author, and authentic branding expert
Testimonials Client Successes Client Projects
How our Press Release Distribution Works
Send2Press® has no monthly subscription or annual membership fees — pay as you go and all pricing is per release issued. Add optional press release writing, working with PR pro, to any distribution plan for $199.
Reach Targeted Media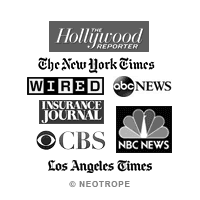 With Send2Press you can reach interested U.S. media by email using our Direct-to-Editors™ database, managed by Neotrope for over 35 years. We target editors by name at national print magazines by topics related to your actual news announcement. We target newspapers by specific editor where possible (e.g., entertainment editor at L.A. Times and not generic mailbox), and reach the top television and news/talk radio outlets nationwide. Our Standard National plan reaches over 5,000 daily media outlets in the U.S. by email. We also reach 3,000 top U.S. newsrooms via the Associated Press (AP).
Reach Top Info Systems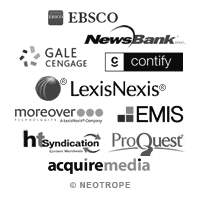 Send2Press pushes your news to the top information systems worldwide. With all plans your news is archived by leading data providers including: AquireMedia, Athena/Contify, EBSCO Information Services, EMIS/Euromoney, Gale Cengage, HTMedia, LexisNexis, Moreover, Newsbank, Proquest, Thomson Reuters, Northern Light and others. These systems are used by researchers, e-library systems, news publishers, students and professional content aggregators. As a strategic partner with many of these providers, your news is also offered to hundreds of news systems in 10 countries at no added cost.
Where Does Our News Appear Online?
With all our distribution packages your news will appear on 250-300 full-text websites, highly credible news aggregators, top social media sources, and popular news platforms like Apple News, Bing News, and Google News.
SYNDICATION ON VERIFIABLE WEBSITES:

NEOTROPE® NEWS NETWORK: top high-traffic regional and national news portals like California Newswire®, Florida Newswire™, Massachusetts Newswire™, eNewsChannels™, Publishers Newswire™, Free News Articles™ and many more (with clip report!). Exclusive placement via Send2Press® Newswire (not available from competing newswire services).
ASSOCIATED PRESS: guaranteed same-day syndicated placement* on legitimate newspaper and broadcast sites (ABC, CBS, NBC, FOX, and radio sites) across the U.S. via the AP. Many appear in Google News.
GOMEDIA NETWORK: popular small town daily and weekly newspaper sites (with clip report!).
SEND2PRESS PARTNERS: our partners around the world include top information systems, and sites like MarketScreener, WN.com, AnyGator, TippNews Ohio, Robin's Post, HTMedia/HTDS, Athena/Contify, EBSCO, NewsBank, AcquireMedia, ProQuest, Gale Cengage, Reuters/WestLaw, Moreover, LexisNexis and more.

*DISCLAIMER: some sites only syndicate news items based on specific topic, such as books or software. Not all sites will syndicate all news; sometimes if overtly advertorial or for technical reasons outside our control.
View Plans + Pricing View Our Media Lists
Awesome Report Dashboard
With all Send2Press® Newswire distribution packages you get the exclusive Send2Press PRtrax™ Dashboard. This report system (not a "media monitoring service") provides each project with 250+ direct syndicated clips to your news appearing online; embedded social media clips from Twitter and Facebook, and tools to find your news story in top news systems like Google News, Bing News, Yahoo! Finance* and search engines. This report can easily be shared with client, internal teams, and is not tied to our online order system for ease of use in any web browser.
Our exclusive PRpurls™ system tracks social media click-through for ROI on social sharing. Additionally, a simple tutorial shows you how to create an ongoing Engagement Score for each project by combining the stats, including ongoing number of reads metrics from multiple sites.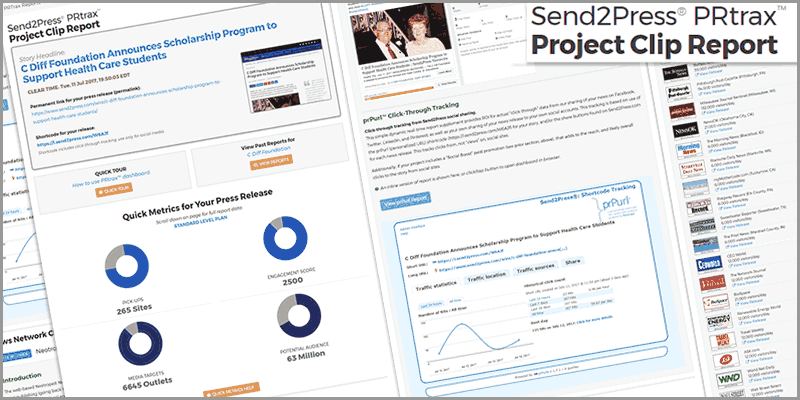 View Our Complete Service Plan Price List
Learn More About What We Do
How to Order Send2Press Services
Explore Service Plans: Review our press release writing and distribution service plans, pricing, and deliverables.
Review Requirements: Review our minimum content and photo requirements, deadlines and FAQs.
Order Services: In our secure order system, add desired service(s) to shopping cart and checkout.
Submit Project: After checkout (payment), upload file(s) on our simple project form and schedule.
Need Help? Call 1-310-373-4856
Normal business hours: 9 a.m. - 5 p.m. PST/PDT, Mon. - Fri., in Calif. USA.
IMPORTANT DISCLAIMERS: All services are pre-paid and ordered online, and are offered subject to our Terms of Service (TOS) and Acceptable Content Policy (ACP). Placement of news on any website is subject to that site's editorial policies. Social media outlets noted in features subject to change. Some news systems and/or aggregators may suffer service outages outside our control. Some systems, including Google News, may skip "stale or duplicate" news content or certain advertorial material; neither Send2Press nor PRN can "guarantee" placement on any specific news system or social media outlet listed in the Send2Press feature descriptions. Please see our Help/Getting Started ("Requirements") for news content we will not accept. All transmitted news content will be conformed to AP Style where necessary without prior preview or approval and to meet our format requirements (see our Help/Getting Started for information; you may request AP format review at no cost for submitted projects).