NEW YORK, N.Y., July 20, 2023 (SEND2PRESS NEWSWIRE) — 4DDiG, a leading software company renowned for its innovative solutions, is excited to announce the release of 4DDiG File Repair 3.0.0. This new version introduces two groundbreaking features: Document Repair and Audio Repair, cementing its position as the go-to solution for file repair needs. 4DDiG is a unit of Tenorshare.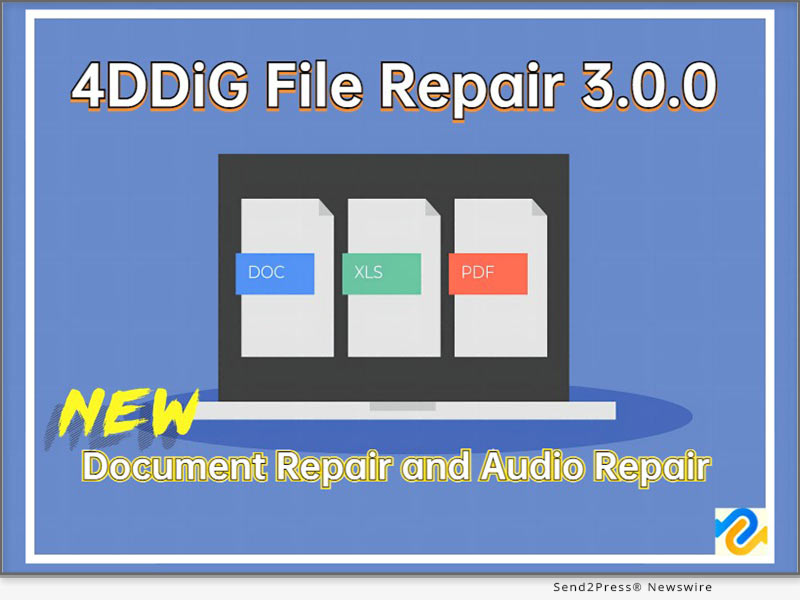 Image Caption: 4DDiG File Repair 3.0.0.
WHY UNVEIL THE NEW VERSION?
Repairing corrupted files can greatly enhance productivity and efficiency, especially for designers or photographers who frequently encounter issues like files not opening, changes in file layouts, unreadable files, and distorted content during their projects. It can be a frustrating experience when you need to waste valuable time and effort recreating files or starting from scratch on your designs or edits. Whether you want to repair corrupted PDF files or Photoshop files, 4DDiG File Repair can salvage your precious designs in the blink of an eye.
According to the spokesperson of 4DDiG, "4DDiG File Repair not only enhances the speed and effectiveness of file recovery but also enhances your reputation and professional image. You can demonstrate your ability to swiftly address issues to clients or partners, earning their trust and establishing yourself as an industry leader."
WHAT'S NEW WITH 4DDIG FILE REPAIR?
With 4DDiG File Repair, it's no longer a challenging task to repair corrupted Excel files or PDF files.
It supports a wide range of document repair, including PDF repair, Excel Repair, Word Repair, PowerPoint Repair, PhotoShop Repair, Illustrator Repair and more.
In addition to its exceptional document recovery capabilities, 4DDiG File Repair now introduces audio repair functionality. You can effortlessly fix issues such as missing segments, unplayable formats, audio distortion, and audio damage in three simple steps.
WHY CHOOSE 4DDIG FILE REPAIR?
When it comes to file repair software, 4DDiG File Repair stands out from the competition for several compelling reasons:
Unbeatable Value: Compared to many competing products, 4DDiG File Repair offers a significantly lower price point, ensuring exceptional value for money. You can access top-notch file repair capabilities without breaking the bank.
Comprehensive Solution: 4DDiG File Repair goes beyond mere repair functionalities. In addition to the newly introduced document and audio repair features, it also offers colorization and enhancement capabilities for videos and photos, providing a comprehensive solution for all your repair needs.
Effortless Recovery: With 4DDiG File Repair, fixing files is a breeze. Just three simple steps, a user-friendly interface, and no technical expertise needed.
You can enjoy all common repair needs, such as damaged video repair or photo repair, in this software at once. Moreover, all users can purchase this excellent software with a 30% discount.
For more information, visit: https://4ddig.tenorshare.com/file-repair.html
Follow on Social:
Official Website: https://4ddig.tenorshare.com/
Facebook: https://www.facebook.com/4DDiG/
Twitter: https://twitter.com/Tenorshare4DDiG
YouTube: https://www.youtube.com/@Tenorshare4DDiGDataRecovery/featured
News Source: Tenorshare Co. Ltd.