NEW YORK, N.Y., Oct. 31, 2023 (SEND2PRESS NEWSWIRE) — The loss of vital partitions can be a nightmare, especially for those who values their digital files. It can occur due to various reasons such as accidental deletions, formatting mishaps, virus attacks or system crashes. However, there is now a comprehensive and user-friendly solution that enables you to effortlessly recover deleted and lost partitions – 4DDiG Partition Manager. "As a leading software provider with a decade of experience, 4DDiG always puts user data security as its top priority," says the spokesperson of 4DdiG (a Tenorshare brand).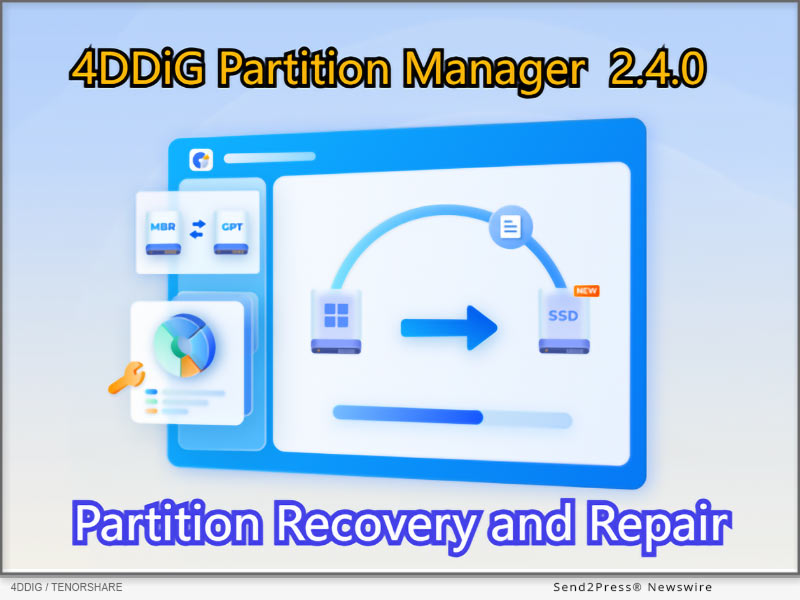 Image Caption: 4DDiG Partition Manager 2.4.0.
The spokesperson added, "That's why we introduced partition recovery functionality in 4DDiG Partition Manager version 2.4.0. Additionally, in order to meet the needs of more tech-savvy users, we also launched the partition repair feature."
Why you need to recover lost partitions?
The following scenarios can all potentially lead to partition loss, and each of them can have serious consequences for your data and system:
Accidental Deletion: When attempting to create or manage partitions, you may accidentally delete the wrong one.
Unintentional Disk Formatting: You may mistakenly formatted the target disk while using burning software.
Disk Errors: When trying to access or open a disk drive connected to the computer, you may encounter a formatting prompt.
Operating System Installation or Upgrade: During the reinstallation or upgrade of your operating system, if not done carefully, all existing partitions may be deleted.
How to recover lost/deleted partitions easily and quickly?
When it comes to lost partition recovery, 4DDiG Partition Manager stands out with its impressive success rate and simplicity. It can successfully recover deleted or formatted partitions in just three steps:
Step 1: Begin with installing and launching 4DDiG Partition Manager. Click on 'Partition Recovery' from the left navigation bar, and then choose 'Recover Partitions' or 'Restore Partitions' to initiate the lost partition recovery process.
Step 2: Select the disk where the partition(s) you want to recover is located and click "Quick Scan" to proceed.
Step 3: Now, choose the lost or deleted partition(s) and hit the "Start Recovery" button.
What else can 4DDiG Partition Manager do?
Beyond lost partition recovery, 4DDiG Partition Manager can now assist users in repairing corrupted partitions and EFI/MBR boot records. This feature is mainly designed the above scenarios:
Partition Repair:
The partition is inaccessible or displayed as unallocated.
The partition shows as 'Raw' in Disk Management.
The partition space is shown as empty.
Boot Repair:
The computer displays a BCD file corruption error during startup.
The computer displays 'winload.exe' or 'winload.efi' errors during startup.
Users encounter a blue screen issue after system migration or disk cloning.
Whether you are a home user seeking reliable data recovery or a professional technician in need of versatile partition management, 4DDiG Partition Manager 2.4.0 has you covered.
For more information, visit: https://4ddig.tenorshare.com/4ddig-partiton-manager.html
Official Website: https://4ddig.tenorshare.com/
Follow on Social:
Facebook: https://www.facebook.com/4DDiG/
X/Twitter: https://twitter.com/Tenorshare4DDiG
YouTube: https://www.youtube.com/@Tenorshare4DDiGDataRecovery/featured
News Source: Tenorshare Co. Ltd.