LOS ANGELES, Calif., Jan. 23, 2023 (SEND2PRESS NEWSWIRE) — The American Handwriting Analysis Foundation announced that their 2023 "Cursive is Cool"® contest is now open to North American students from Kindergarten to Grade 6.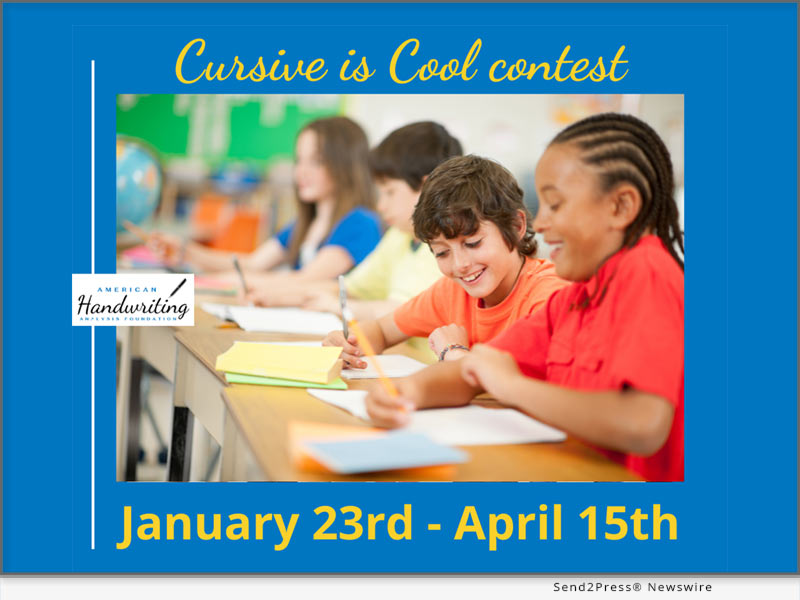 Image Caption: Cursive is Cool Contest 2023.
Students are encouraged to enter early. Prizes will be awarded for First Place, Second Place, Third Place based on legibility and neatness. One of each prize per grade will be awarded. There will also be a prize awarded for each grade for the most Creative content and a random drawing will be held at the conclusion of the contest, so every entry has the chance to win a prize!
"We are helping young writers find their voices. Every entry has an equal chance to win. Our judges are excited and look forward to reading the kids' points of view. The entries are enlightening and often entertaining," remarked Lauren Mooney Bear CG, Campaign for Cursive Chair and President of the American Handwriting Analysis Foundation.
The annual cursive contest has many supporters. A new supporter this year is Holistic Health Counseling Center. The North American contest supporters continue to grow, with Blind Pig Press, Amsterdam Printing, CursiveLogic, Sheila Lowe Author, Dixon Ticonderoga, Fahrney's Pens, Itoya, Louise Borden Author, Caran D'ache, Columbia City Seattle Ninja School, Gary's RV Repair in AZ, Christy Zwenger Author, New American Cursive, J6R6, Mirthos Paper, PEN World, Profolio, Darla's Razzle Dazzles Gifts, Gold Beach OR, Sakura, and Writing Academy. People and businesses from the four corners of North America are enthusiastic about supporting the Cursive Is Cool contest.
"Write don't type! Cursive is creative and it's fun to try different kinds of pens to write with," says Dr. Marion Rollings, Vice-President of the American Handwriting Analysis Foundation.
The contest dates are January 23 through April 15, 2023.
For more information, contact Lauren Mooney Bear: CursiveIsCool@gmail.com.
Learn more: https://www.campaignforcursive.com/
"You don't have to be the best writer this year
To win a prize that will bring you cheer.
Entering is the main thing to do
To win a prize to be sent to you!"
About the American Handwriting Analysis Foundation:
The Foundation is a 501-(c)6 non-profit organization, chartered and incorporated in California, and are the sponsors of Campaign for Cursive®, and will graciously accept donations.
Visit https://www.ahafhandwriting.org/.
###
MEDIA ONLY CONTACT:
(not for print or online)
Teresa Abram
Communications Chair, AHAF
communications@ahafhandwriting.org
News Source: American Handwriting Analysis Foundation