LOS ANGELES, Calif., Jan. 17, 2023 (SEND2PRESS NEWSWIRE) — Linbrook Press announces a new novel, "The American Outsider" (ISBN: 978-0977978038), authored by Homa Pourasgari, scheduled to be released January 23, 2023. It's a story about the inhumane slaughter and torture of dolphins in Taiji, Japan, and addresses the complex nature of the Japanese culture. It's written for anyone who cares about animal welfare and who hopes to make a difference.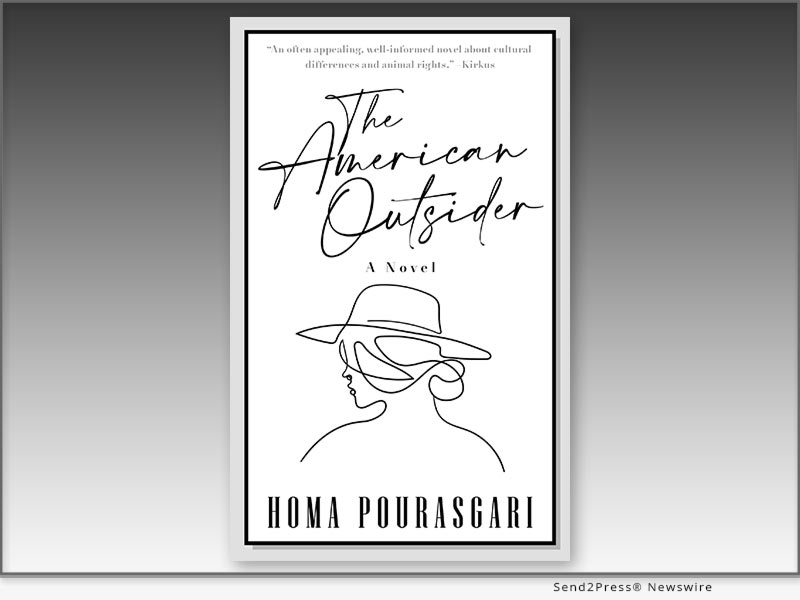 Photo Caption: "The American Outsider" – a novel by Homa Pourasgari.
Homa, an activist writer, blends fiction with reality. Her stories are based on facts and woven into fictional tales. "The American Outsider" clearly illustrates her talent to communicate real-life horror through well-written fiction.
"After learning about the inhumane slaughter of dolphins in Taiji, and traveling to Japan, I knew I had to write about it," Homa says. "Many people purchase tickets to venues that use dolphins as a source of entertainment, but what they don't realize is that the majority of these dolphins are captured in the most horrific way. They're starved and mistreated to learn pointless tricks so they may entertain the public. It's a tragedy and it's important that people know about it."
That's why dolphins are at the heart of this story.
"We should rethink purchasing tickets to places that keep these cetaceans in captivity and use them for entertainment," she says.
The brutal treatment of the dolphins is depicted under the pretext of tradition – one that drives the fishermen to capture the dolphins. The truth is – it's all about profit and nothing else. Each "show dolphin" they find brings in $100,000 to $300,000.
Aside from the dolphins, there are three main characters in "The American Outsider" who help to tell the story of a complicated culture conflicted by conventions and modernization.
Tessa walker, a Los Angeles-based veterinarian, is troubled by what she witnessed as a teenager – fishermen ruthlessly torturing dolphin pods till the water ran red with blood. As an adult, she travels to Japan to join the Japanese activists protesting the abuse of these mammals so she may heal from her past. It's an adventure with a mission and will quickly prove to change her life.
Akira Nakano, a Japanese activist, joins forces with Tessa to demonstrate and help put a stop to the mistreatment of dolphins. Born in Japan, but raised in the U.S., Akira is outspoken and has a problem looking the other way in a culture that does not look fondly on individuality and expects her to conform.
Toshiro Yokoyama, a random stranger, has a chance encounter with Tessa. He quickly falls for her and decides to help her out in her quest to save the dolphins. As Toshiro learns more about their mistreatment and Tessa's passion to save them, he begins to question his own beliefs. Is he willing to always do as he's told for the greater good?
About the Author:
Born in Tehran, Iran, Homa Pourasgari spent hours in her father's home office, writing, reading and letting her imagination carry her to unseen worlds. She moved to United States at a young age. After graduating from Loyola Marymount University with a degree in business, she left for Paris to study literature at the Sorbonne. Her first book, "Lemon Curd," was nominated for Forward Magazine's Book of the Year Award; it was a finalist. Her second book, "The Dawn of Saudi," won the Reader Views Reviewers Choice Award. She lives in Los Angeles and when she's not writing, she's stumbling, miming and pointing to find her way in a foreign country.
About Linbrook Press:
Linbrook Press is a small publisher based in Los Angeles, primarily involved in the publication of original material from author-activist Homa Pourasgari. It publishes fiction with emphasis on social, ethical, political and human rights issues with intention to entertain and inform. A portion of the profits is donated to organizations such as Dolphin Project, Human Rights Watch, and Action Against Hunger as well as to individual causes such as helping a prisoner of conscience under oppressive regimes get released from jail.
MORE INFORMATION:
https://www.theamericanoutsider.com/
MULTIMEDIA:
VIDEO (YouTube): https://youtu.be/2H6LDToLORE
PHOTO link for media: https://www.send2press.com/300dpi/23-0116-s2p-americanoutsider-300dpi.jpg
Photo Caption: "The American Outsider" – a novel by Homa Pourasgari.
News Source: Linbrook Press