MIDVALE, Utah, July 2, 2018 (SEND2PRESS NEWSWIRE) — Aeroscape Property Maintenance & Landscaping has released the following reference guide for selecting flowering shrubs for Utah landscape design. Because Utah is a challenging environment for flowering shrubs–the arid climate, the hot, full-summer sun, winters with heavy snowfall, and a wide variety of soil qualities and composition all can be factors impacting the health of these plants.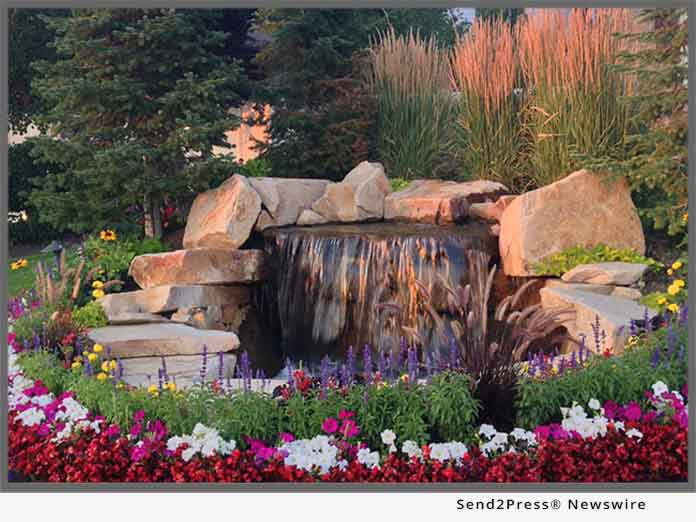 Blue Mist Caryopteris
Also known as Blue Mist Shrubs, this plant produces clusters of fragrant flowers ranging in colors of blue and purple in late summer. These are drought-tolerant and thrive in full sun. They are also very disease and insect resistant.
Carol Mackie Daphne
The Carol Mackie Daphne is one of the most popular varieties of flowering shrub in Utah. These shrubs do well in full sun or partial shade and once they are established they tolerate dry conditions very well.
Double Flowered Japanese Rose
Also commonly known as the "Yellow Rose of Texas," these shrubs grow very fast and can get as large as 8 to 10 feet tall and wide. They are tough plants that handle the hot and dry Utah climate well and can thrive in partial to full sun.
Fernbush
This is another hardy plant that thrives in arid conditions and soil types, lives at high altitudes and requires little maintenance. Fernbush flowers attract many beneficial insects such as honeybees and butterflies, as well as small seed-eating birds.
Mediterranean Pink Heather
The Mediterranean Pink Heather is good for borders (especially for raised flower beds), ground cover or container gardening. Once it has been established it requires little care other than pruning it back every so often to make it full and less wild.
Ninebark
Ninebark is a rapid-growing plant that is named from the bark that peels away in strips revealing different colors and shades. It is frequently used as hedges, privacy screens, and for erosion control. It prefers full sun and, once established, is very tolerant to drought making it an excellent part of your landscape design in Utah. It is also disliked by deer which is an added bonus.
Serviceberry
Also known as Shadbush, Juneberry, Saskatoon and Sugarplum just to name a few. It is easy to care for, tolerant of cold weather, thrives in common soil and water, and can handle life in the full sun.
Slender Deutzia (Deutzia Gracilis)
The Slender Deutzia is part of hydrangea family and originally native to Japan. It typically grows between 2 to 4 feet high and about the same width. The Slender Deutzia is a great choice for Utah landscaping because it grows easily with average moisture and prefers the full sun.
Snowball Bush (Viburnum opulus)
This shrub is great for Utah climates because once it has been established, it is drought tolerant and it loves full sun. In fact, the more exposure to direct sunlight this shrub gets, the more flowers it produces.
About Aeroscape Property Maintenance & Landscaping:
Aeroscape Property Maintenance and Landscaping is a full-service landscape company that has been a leader in the residential and commercial landscape industry throughout the Salt Lake County and Utah County areas for over 15 years. Aeroscape has been awarded many prestigious awards and featured in numerous articles and is recognized for creating beautiful and high quality, sustainable landscapes that vary in scale and complexity based on the client's needs.
Learn more at: http://aeroscapeutah.com/
Media Contact:
Steve Bryant
Aeroscape Property Maintenance and Landscaping
(801) 569-2383
skb@aeroscapeutah.com
Links to images:
– http://aeroscapeutah.com/wp-content/themes/aeroscape/images/logo.png
– http://aeroscapeutah.com/wp-content/uploads/2017/11/photo2.jpg
VIDEO (YouTube): https://youtu.be/6N6mcerByEw
News Source: Aeroscape Property Maintenance and Landscaping