KYIV, Ukraine, Jan. 19, 2023 (SEND2PRESS NEWSWIRE) — A Ukraine and U.S.-based NGO called AI For Good is utilizing the immense power of ChatGPT and similar programs, to quickly and efficiently address problems ranging from predicting the targets of upcoming Russian missile and drone attacks on Ukrainian civilians, to helping Afghan women overcome cultural isolation in their homeland.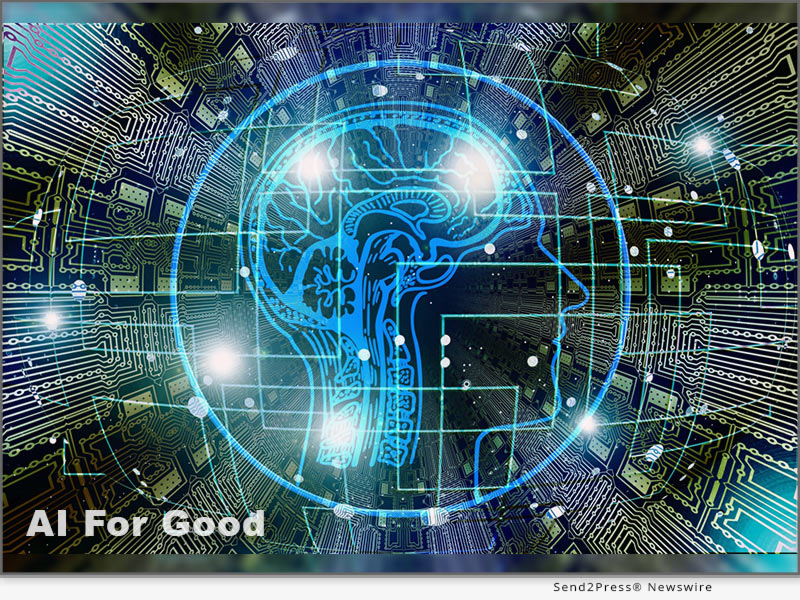 Image Caption: Artificial Intelligence for Good.
"This new generation of AI tools is allowing us to approach difficult humanitarian, technical, and economic challenges in hundreds of new ways," says co-founder Svetlana Shevchenko. "The vast power of these programs will inevitably be used by many entities, some of whom may be bad actors. So it behooves those of us who really want to build planet-friendly projects to optimize their use."
AI for Good began by developing projects addressing the UN's 17 Sustainability Goals. The group notes that ChatGPT has been overwhelmingly transformative, but so have other things like group brainstorming programs and instant text-to-video software.
These have evolved into a series of multi-step protocols which conclude with Zoom mind mapping sessions to refine successful results. Sometimes these results include hundreds of videos posted to YouTube, TikTok and Instagram Reels, which makes it simpler than ever to mount a social movement, according to AI for Good's CIO John Toomey.
"For the first time in human history, we can quickly build living, practically eternal and infinitely replicable planetary improvement projects at the conjunction of human and artificial intelligence, which categorize and classify the biggest challenges to Humanity. We can divide them into achievable tasks to inspire people to give their all to solve them, and utilize the limitless power of modern tech to find solutions. They work because we ally ourselves with the algorithms of the social media and video platforms themselves," says AI for Good's vice president Soani Gunawan. "Through powerful but easily available tech, we allow our participants to execute their own Hero's Journeys. And the skills and attitudes developed are readily transferable to the corporate, academic, government, and non-profit worlds."
Before the war in Ukraine, many of AI for Good's members worked as corporate consultants, helping companies and NGOs improve their messaging, advertising, employee retention, product development, and marketing. The abilities they have developed with the humanitarian, educational and environmental causes have enhanced their skill sets for business.
Some of AI for Good's people previously contributed to video challenges run by TikTok For Good, including one called #EduTok, which resulted in a total of 8.8 million videos, and 41 billion views. Teams calculated that for every 100,000 views, 75 startups were founded, 125 patents were applied for, and 20 non-profits came into being. They'd like to replicate these results around the globe (see https://www.tiktok.com/forgood).
By mid-2023, they plan to have brainstorming and mind mapping sessions devoted to issues within each of the 17 UN challenges. They are also creatina worldwide online Hackathon; both of these will run 24-7. The number of projects created by 2024 may well be in the thousands.
The latest completed program is an online "Sher Jangi," or poetry contest, a wildly popular pastime in Afghanistan. ChatGPT replicated the style of 17th century female Afghani writers, turned ideas about women's empowerment into verse, and translated all of them into Pashto, Farsi, and Uzbek. The entire project took 35 minutes. The few Taliban who witnessed the results were reportedly impressed (see https://www.afghanwomenrising.org/).
Other current projects address the transmission of vector-borne tropical diseases, resource allocation for eventual Lunar and Martian colonies, flood control in Bangla Desh, literacy in war-torn Syria, and the development of Entrepreneurship in East Africa.
Later this year the group will confer upon 17 accomplished creators the first Gaia Awards, whose name recognizes both the Mythic concept of Goddess Earth as a unitary organism, a view pioneered by naturalist James Lovelock, and the acronym G.A.I.A: Good AI Awards.
Learn more about Artificial Intelligence for Good: https://www.artificialintelligenceforgood.net/
ADDITIONAL INFORMATION:
media@artificialintelligenceforgood.net
consulting@artificialintelligenceforgood.net
info@artificialintelligenceforgood.net
RELATED LINKS:
Facebook: https://www.facebook.com/Artificialintelligenceforgood/
Twitter: @artificialgood – https://twitter.com/artificialgood
LinkedIn: https://www.linkedin.com/groups/14190348/
https://www.afghanwomenrising.org/
https://www.tiktok.com/forgood
News Source: Artificial Intelligence for Good (AI For Good)