MADISON, Wis., Jan. 24, 2023 (SEND2PRESS NEWSWIRE) — SaaS company and leader in document communication, AirDeck, achieved Systems and Organization Controls (SOC) 2 Type 1 compliance after a rigorous assessment conducted by a third-party auditor, Johanson Group LLP. Johanson Group specializes in SOC 2 audits and provides audit and professional services to public and private companies, large and small, in a variety of industries. The audit confirmed AirDeck's information security controls meet the leading industry standards for security, confidentiality, privacy, processing, and integrity.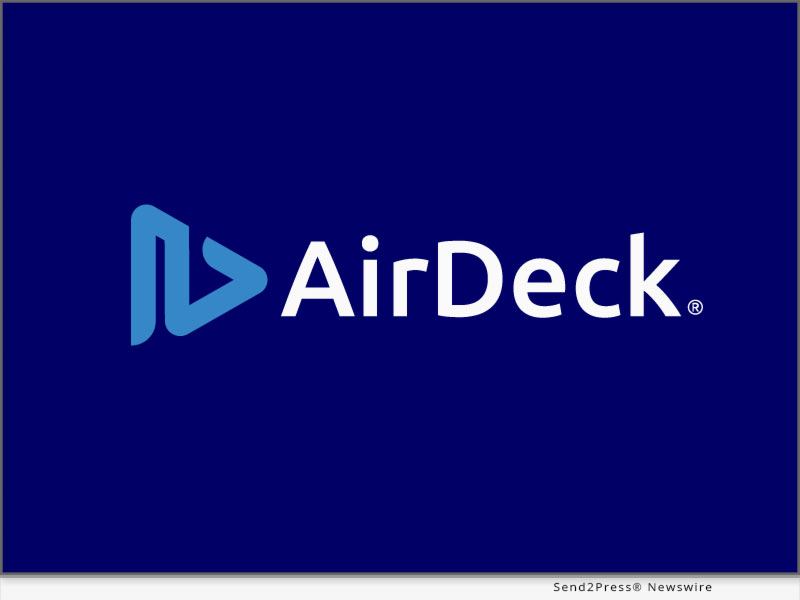 Image Caption: AirDeck.
"Completing a SOC 2 independent audit provides our clients with third-party validation that we do more than talk about privacy," says Adam Babler, CPA, AirDeck's VP of Finance and Operations. "We are willing and able to provide independent testing and validation that proves our data systems and controls are trusted."
SOC 2 is just one aspect of AirDeck's growing security program. AirDeck is committed to continually improving their information security program and retaining an annual SOC 2 audit to support customers' needs.
AirDeck originated in 2019 with the goal to bring clarity to complex documents and presentations. The platform allows you to bring your documents to life with audio and video narration and share asynchronously. This allows you to personalize at scale, add clarity, and eliminate unnecessary meetings. To date, customers have created over 20,000 decks which have resulted in 2,401,879 minutes of viewer engagement.
To learn more about AirDeck, visit https://airdeck.co/.
About AirDeck:
AirDeck is the leader in document communication. Our platform helps you bring your documents to life. Through the use of audio and video narration, you can personalize, add clarity, and create an instant connection with your audience whenever you send a document or presentation. From customer success and sales to human resources, we help teams add value in a way that rises above the noise and eliminates unnecessary meetings.
About Johanson Group LLP:
The Johanson Group provides SOC 2 & 3 examination services to public and private companies in a variety of industries across the world. They deploy multidisciplinary teams composed of licensed CPAs and information technology and security specialists to ensure a comprehensive and thorough evaluation of company controls.
###
MEDIA ONLY CONTACT:
(not for print or online)
Kristin Haas
EMAIL: pr@airdeck.co
PHONE: 608-218-4745

News Source: AirDeck Inc.