SAN DIEGO, Calif., Sept. 17, 2019 (SEND2PRESS NEWSWIRE) — The Belize Tourism Board recently released its first half of 2019 tourism figures which showed a 6 percent increase in overnight visitors over 2018, says Legacy Global Development. Additionally, the Government of Belize announced that construction would begin next month on the $50 million Corozal-Sarteneja Road Project.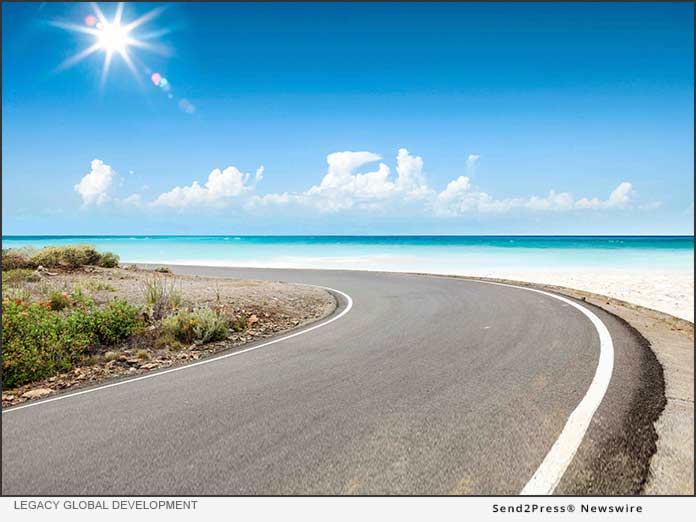 With Belize's significant tourism growth and the country's investment in new developments, Legacy Global Development, the developer of the luxurious Orchid Bay community, shares its insight on why now is a good time to buy real estate in Belize. Read about it in their latest blog post titled, "All Roads Lead to Orchid Bay."
"There's no doubt that Belize is one of the fastest-growing tropical vacation destinations in the world, offering visitors a mix of diverse cultures, eco-tourism, spectacular natural beauty, adventure, and ancient historical sites," said Chris Williams, CEO of Legacy Global Development. "As Belize tourism is booming, real estate sales are also prospering. We've experienced record home sales at Orchid Bay this year, with a total of 18 homes going under contract between January and July."
As tourism and real estate continue its upward trend, Belize is making a significant investment in new developments. The latest is the $50 million Corozal-Sarteneja Road Project, which also includes the construction of the Pueblo Nuevo and Laguna Seca bridges. Ground is expected to be broken on the project in mid-October.
This latest development will significantly improve the transportation network in Northern Belize, and will positively impact the country's overall growth and prosperity. For residents and visitors of Orchid Bay, it paves the road and installs bridges between Orchid Bay, Corozal, and Sarteneja, which will provide quicker and easier access to get to the property and to travel within the country. The regional airport in Northern Belize will be only minutes away.
The Sarteneja Road project is just one of several projects underway this year in Belize. In 2012, the government launched the National Sustainable Tourism Master Plan (NSTMP), which became the strategic guideline for tourism development in Belize up to 2030.
New developments in 2019 that fall under NSTMP include the Orange Walk Heritage Trail Project, the construction of a 50-person capacity, octagon-shaped shed at St. Herman's Blue Hole National Park, and the Boca del Rio project, which is the beachfront construction of a 10,000-square foot swimming area and seawall in San Pedro.
Additionally, construction has started this month on the new Caye Caulker Craft Market, which is part of Belize's strategic plan to enhance its tourism product for the enjoyment of both visitors and Belizeans alike and also to promote Belize's cultural appeal.
As Belize continues to show impressive growth as a top travel destination, and tourism improvements continue to move forward, especially in Corozal, the Northern region where Orchid Bay is located, it presents an excellent opportunity for real estate investors, retirees, and vacation homeowners who are choosing to buy homes in Belize.
Developed by Legacy Global Development, Orchid Bay is a gated community located on the Bay of Chetumal. It offers homeowners exquisite scenery, first-class amenities, and modern conveniences. And now, with the new Corozal-Sarteneja Road Project, residents will have quick and easy access to the best of Belize's offerings.
Orchid Bay's master plan calls for a series of canals and basins for easy navigation around the community, first-world infrastructure, and 10 percent green space set aside. Buyers have many types of homes to choose from, including Beachfront Condominiums, Waterway Villas, and Bungalows.
You can read the full article about the new paved highway in Northern Belize here: https://blog.orchidbaybelize.com/blog/all-roads-lead-to-orchid-bay
To learn more about the Orchid Bay, Belize visit https://orchidbaybelize.com, call (877) 959-9646 or email hello@legacyglobaldevelopment.com.
News Source: Legacy Global Development