NEW YORK, N.Y., Nov. 21, 2023 (SEND2PRESS NEWSWIRE) — There are a bunch of Pokemon Go fake GPS apps in Google Play but almost none in Apple Store. Well, MocPOGO – a professional software company has a popular Pokemon Go fake GPS app that works on iOS and Android perfectly.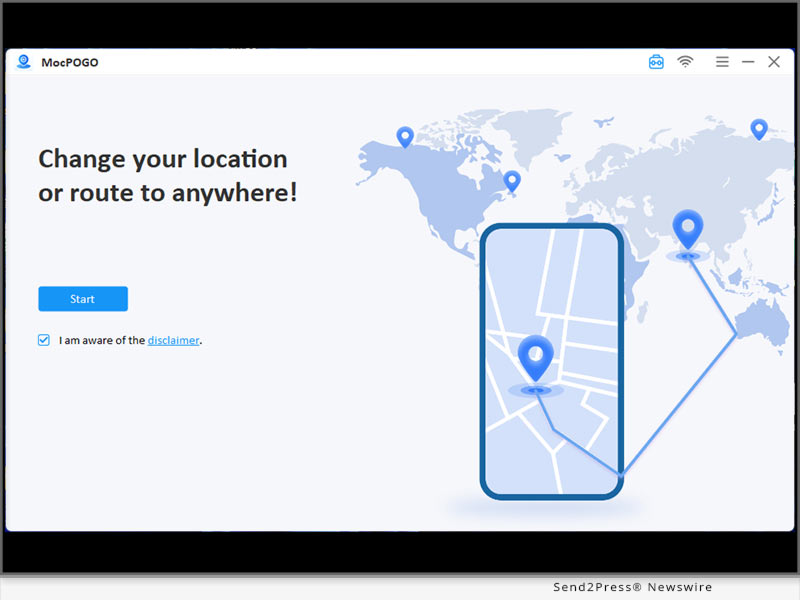 Image Caption: An Ultimate Way to Fake Pokemon Go GPS with MocPOGO.
Video: https://www.youtube.com/watch?v=coAyFNOBv2A
"In fact, there are many users who are unable to access regional Pokemon if they don't go to a specific city or participate in an event. Also, catching Pokemon on the street can be a dangerous thing to do. That's why MocPOGO was launched, to help users enjoy the game with no limitations," says a MocPOGO spokesperson.
All the Surprising Features of MocPOGO:
Fake Pokemon Go location on iOS and Android.
Simulate GPS movement at customized speeds.
GPS joystick mode for all AR games.
Change location on up to 15 devices at the same time.
Display a cooldown timer to avoid breaking the rules.
Import GPX file to win rewards easily.
Automatically saves the locations and routes.
Favorite routes and locations.
No jailbreak and root required.
Supports the latest iOS 17 and Android 14.
How to Use the Best Pokemon Go Fake GPS App – MocPOGO?
Pokemon Go is a location-based game, so if you want to fake Pokemon Go location you have to fake your device's GPS location. MocPOGO – the best Pokemon Go fake GPS app enables you to change iPhone or Android location in clicks.
Let's know the details:
Download and install MocPOGO on your computer.
Connect your device to the computer via WiFi or a USB cable.
Select a location on the map or enter the fake location.
Hit "Teleport" and MocPOGO will fake GPS in a second.
Learn More: https://mocpogo.com/
Why MocPOGO Not Others?
It's hard to find a fake GPS app that supports iOS and Android both. Also, most fake GPS apps have a high risk of causing your account to be banned. Because they like game cheats, such as auto hunting Pokemon, etc. MocPOGO only focus on the location changes and it's much safer. Besides, the cooldown timer feature will display on the map to remind you when you can process the next action.
Get MocPOGO at the Cheapest Price This Christmas!
So, if you are interested in this Pokemon Go fake GPS app, you should grab this chance to get it! Now, you can get MocPOGO all versions for the price of one. Also, you will get extra 20% OFF! Don't miss the Christmas discount!
Learn More: https://mocpogo.com/buy/mocpogo-for-windows/
About MocPOGO:
MocPOGO is a software company specializing in location change, created this powerful location changer after an in-depth study of users' location change needs. MocPOGO has helped more than 100,000 users in 100+ countries. If you are wondering how to fake GPS in Pokemon Go, MocPOGO is the best choice.
For more details: https://mocpogo.com/
News Source: MocPOGO Studio