VANCOUVER, B.C., Canada, Oct. 16, 2023 (SEND2PRESS NEWSWIRE) — Amal Indi, a seasoned Solutions Architect with over two decades of experience in the financial sector, has unveiled his profound journey to unlock genuine happiness and inner peace in his latest book, "Happiness Mountain – Make every experience a happy experience" (ISBN: 978-1734068740; October 2023). After years of dedicated research and personal exploration, Amal is now poised to guide readers toward an elevated understanding of happiness, offering them a chance to reshape their lives and find enduring joy.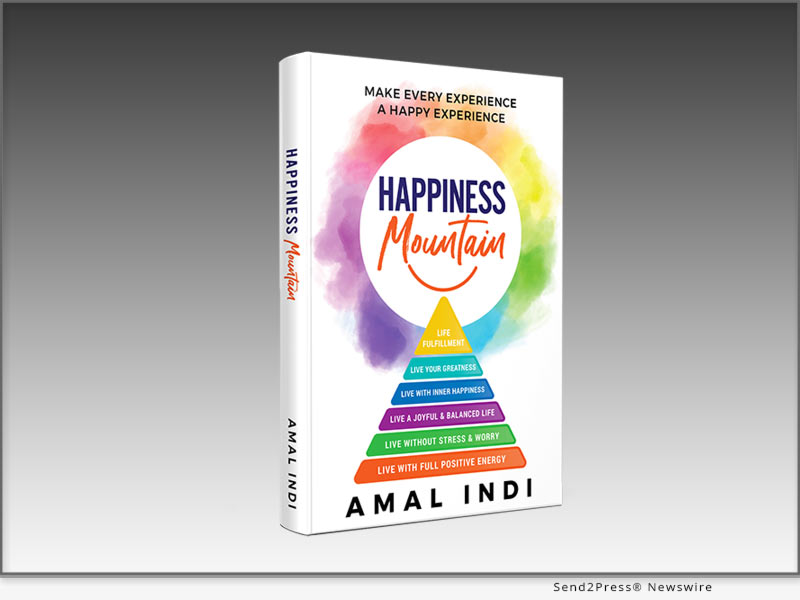 Image Caption: "Happiness Mountain – Make every experience a happy experience."
"Happiness Mountain" isn't just a book; it's a roadmap to a fulfilled and content existence. Drawing from his professional background and personal endeavors, Amal has crafted a comprehensive definition, philosophy, and methodology for happiness that is accessible to everyone, regardless of their circumstances. The book challenges the notion that happiness is elusive or transient, demonstrating that it can be a constant presence in every facet of life.
"We live in a world where happiness is often misunderstood or fleeting," explains Amal Indi. "But I firmly believe that by understanding the true essence of happiness and adopting a thoughtful approach to every experience, we can cultivate an enduring sense of fulfillment. This book is my earnest attempt to share this philosophy with the world."
Through captivating insights, Amal illustrates the transformational power of his happiness philosophy. He introduces the concept of making every experience a happy one, thereby reshaping daily life into a series of fulfilling moments. Readers are encouraged to abandon the mindset of happiness as a distant goal, and instead, embrace a proactive approach to living joyfully. The book has already made a strong impact with readers, it reached #1 on Amazon's Hot New Release book charts in the Humanism category prior to launching – thanks to a successful pre-sale campaign.
With a clear and actionable methodology, "Happiness Mountain" empowers individuals to take charge of their own happiness journey. Regardless of one's current circumstances, the book offers tools and wisdom to elevate the overall quality of life. It guides readers through a systematic process, helping them not only understand the nuances of happiness but also effectively implement it.
Amal Indi's mission to spread happiness reaches beyond the pages of his book. As a devoted father of two and a resident of picturesque Vancouver, Canada, Amal's aspirations extend to healing the world by enabling people to access genuine happiness, irrespective of their backgrounds.
To embark on your own journey to happiness, "Happiness Mountain – Make every experience a happy experience" is now available on Amazon.
For more information about the author and his transformative work, please visit https://www.happinessmountain.com/.
SUMMARY:
Author: Amal Indi
Email: authorpress@tellwell.ca
Website: www.happinessmountain.com
Buy Link: https://a.co/d/aKhCpix
Genre: Self-Help
Released: October 2023
ASIN: B0CBSXPNHM
Hardcover: ISBN: 978-1734068740
News Source: Author Amal Indi