SAN FRANCISCO, Calif., Dec. 5, 2019 (SEND2PRESS NEWSWIRE) — AmericaSCORES Bay Area, the award-winning nonprofit that has been studied for its proven benefits to student learning, health, and social-emotional skills of over 2,000 low-income youth, has partnered with blockchain technology and design firm Totem Block and BitPay, the largest global blockchain payment provider, to become an early adopter in accepting cryptocurrency donations.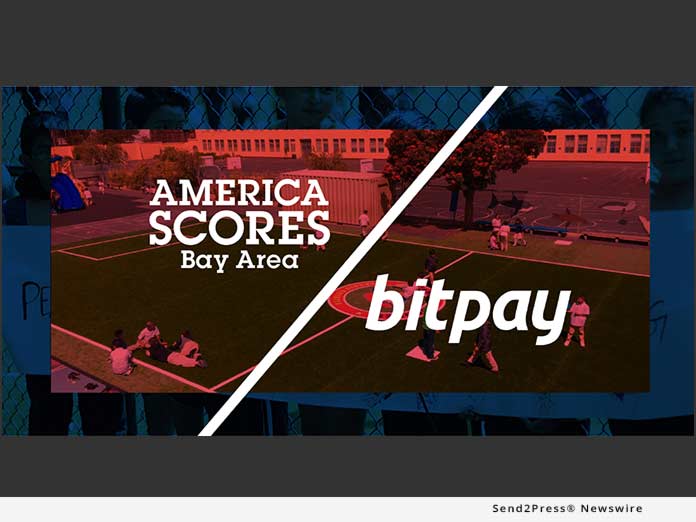 Cryptocurrency can provide a tax relief option and local end-of-year charitable giving opportunity for donors. Though 2% of all donations to charity—billions of dollars in the U.S.—in 2018 were made in cryptocurrency, very few nonprofits are able to accept cryptocurrency donations, and fewer still in the Bay Area, though it is the top location for cryptocurrency holdings worldwide. AmericaSCORES Bay Area's digital donation platform, implemented by Totem Block, steps into the gap and connects high net worth donors to actual impact and change in their communities.
AmericaSCORES has several programs with proven benefits to the health, social-emotional well being, and academic and creative skills of its youth. SCORES' after-school programs train kids to write poetry, play soccer, and go out into their communities to perform service projects. AmericaSCORES also funds the building of soccer fields in urban spaces, giving kids a green place to play.
Accepting cryptocurrency donations through BitPay helps SCORES keep going with their mission of empowering "poet-athletes" to lead healthy lifestyles, be engaged and collaborative students and have the confidence and character to make a difference in the world.
AmericaSCORES has been named a 2019 RWJF Sports Award Finalist, one of only 12 in the country. This award recognizes professional teams, individuals and organizations that strengthen and serve communities through sport. It was named a 2019 Presidents Council on Sports, Fitness and Nutrition Community Leader. This honor was given to only 31 organizations or individuals. AmericaSCORES is 1 of 15 organizations to be recognized as a "Best Practice Honoree" from the Library of Congress for their unique literacy and poetry program.
"As blockchain payments continue to move mainstream, we are seeing an increase in donations from the crypto community to valuable causes like SCORES," said Bill Zielke, CMO at BitPay. "In accepting cryptocurrency donations through BitPay, SCORES can broaden its donor base who want to make donations using cryptocurrency while receiving settlements in US dollars."
The customer makes the donation and BitPay verifies the funds and accepts the Bitcoin, Bitcoin Cash or Ether. SCORES has the option to take Bitcoin, Bitcoin Cash, Ether or US Dollars or a split. If SCORES chooses to take 100% fiat currency, the US Dollars are deposited into their bank account the next business day minus a 1% fee BitPay charges for the entire process. This fee is significantly less than the fees charged by credit cards, allowing organizations to keep a larger percentage of overall donations.
"The ways in which people transact financially is changing, which means that philanthropy is also changing," said CEO of AmericaSCORES Bay Area Colin Schmidt. "Accepting Bitcoin is a natural next step as a greater number of people use it. Two percent of donations in 2018 were made using cryptocurrency, which may not seem like a lot until you think about the scale of philanthropy—hundreds of billions of dollars. We want to show that there are many ways to use cryptocurrency, which can practically benefit both an organization and a donor through transparency, securely and easily through a partner like Bitpay."
CEO of Totem, Jackie Morck adds, "We're proud to partner with America SCORES to help them implement all the technology they need to accept cryptocurrencies, and reach the right audiences in the industry. After implementing a donation portal, we've partnered with BitPay for its easy set-up, long-standing reputation, and history of working with nonprofits. We're happy to help America SCORES be innovators in their field and provide more options for donors through using this exciting new technology."
About America SCORES
Since 2001, SCORES has been delivering joyful learning opportunities to Bay Area children, giving students the support, skills, and confidence to meet new challenges and chart their own futures. Its mission is to empower its "poet-athletes" to lead healthy lifestyles, be engaged and collaborative students, and have the confidence and character to make a difference in the world. AmericaSCORES delivers free, accessible after school youth development programs that combine soccer, poetry and service learning. It has programs in San Francisco, Oakland, Daly City, San Rafael, Hayward, and Redwood City schools. For more information visit https://www.americascoresbayarea.org/.
About BitPay
Founded in 2011, BitPay is the pioneer and the most experienced company in Bitcoin and blockchain payments. Its suite of products enables businesses to send and receive cross border payments, also enabling consumers to manage digital assets with the BitPay Wallet and turn digital assets into dollars with the BitPay Prepaid Visa® Card. The company has offices in North America, Europe, and South America and has raised over $70 million from leading investors including Founders Fund, Index Ventures and Aquiline Technology Growth. For more information visit https://bitpay.com.
About Totem
Totem is a blockchain technology and design firm that partners with clients to build creative, cutting-edge development solutions for forward-thinking companies. Totem uses diverse experience in vertical industries, specialized technology insights, and world-class ecosystem to create blockchain applications that are real, viable, and innovative. For more information visit https://totem.vegas/.
News Source: AmericaSCORES Bay Area