NEW YORK, N.Y., Oct. 3, 2019 (SEND2PRESS NEWSWIRE) — BEE&YOU's Ultra Strength Tablet was awarded "the Sustainable New Product" by Sustainable Food Awards, in Amsterdam in June 2019. The tablet is a natural mixture of propolis, royal jelly and pollen without added sugar, fat, preservatives or any chemical additives. Recommended amount is two tablets daily preferably between meals. It has also a "chewable" form flavored with cocoa, especially developed for children.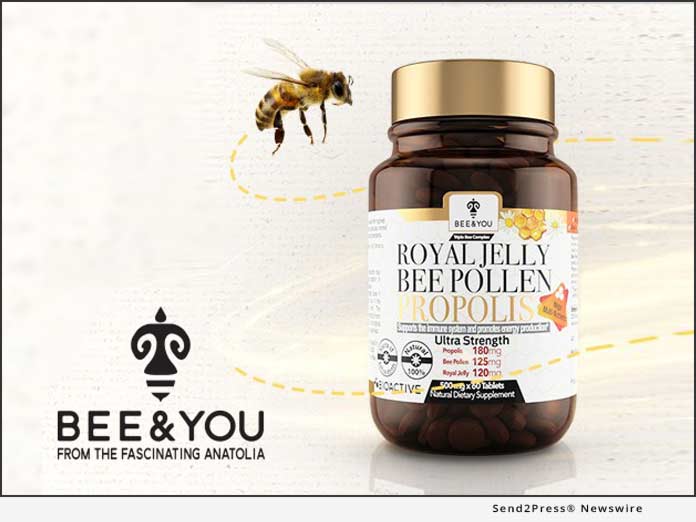 Propolis is a resin-like bee product with high antioxidant, antimicrobial, antiinflammatory and antitumor effects that the bees collect from the leaves, stems, and buds of the plants. It is a natural immune support. Royal jelly is a another valuable bee product which is excreted by worker bees to feed baby bees and the queen bee in the hive. The queen bee, the only one on an exclusive diet of royal jelly in the colony, grows two times bigger and lives 30 times longer than other bees.
Scientific studies show that royal jelly supports brain activity, the health of female and male ovaries, cardiovascular health, immune system, increases collagen synthesis, enhances energy and physical performance. Besides, pollen is referred to as reproductive cells of plants. It is a natural source of protein, vitamin and minerals.
Since raw propolis is not suitable for human consumption, it is subjected to an extraction process. In BEE&YOU Ultra Strength Tablet, propolis is extracted with innovative award-winning extraction method, which creates at least three times higher biological activity than that of similar products. Also, BEE&YOU produces this product with "Contracted Beekeeping Model." In this model, a contract is signed with beekeepers which eliminates the need for distributors acting as middlemen between honey packagers and the beekeepers, that provides "Fair Trade."
BEE&YOU Ultra Strength Tablet is sold in U.S.-based e-commerce site (https://www.bee-and-you.com/) and also at major online retailers of Amazon & eBay, Walmart and 3,000 CVS and 1,500 natural & organic sale points. In total it is in 13 different countries globally.
About the Company:
BEE&YOU was founded by Mrs. Asli Elif Tanugur, an experienced Food Scientist whose motivation is to seek the cure from nature. As a female entrepreneur, she started the journey by finding a cure in propolis for her own child's auto immune disease.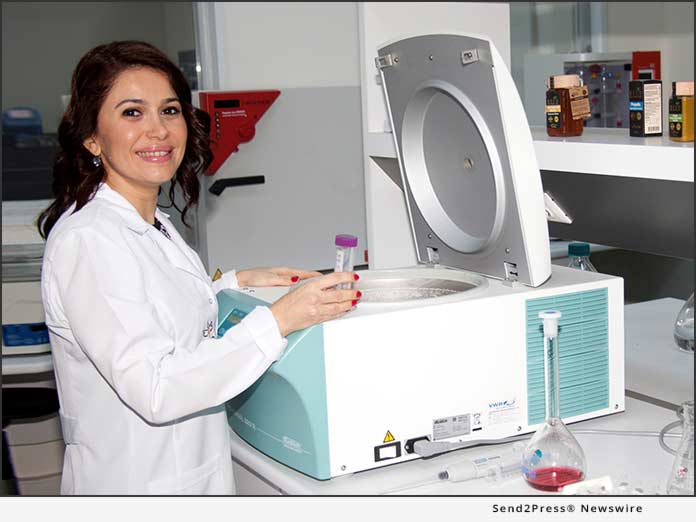 She perfected the production method for propolis to retain its high biological antioxidant content. Her company now produces 100% natural and healthy innovative bee products containing propolis, royal jelly, raw honey, pollen and bee bread harvested from all parts of fascinating flora of Anatolia through 2000 contracted beekeepers and from 300,000 beehives.
Founded in 2013, available in 14 countries globally, BEE&YOU was honored with 29 awards in the last 6 years with its innovative, natural and healthy line of bee products.
The biggest advocate of beekeepers, BEE&YOU implements a unique Contracted Beekeeping Model to protect the bees and bee keepers' rights and safety. This business model allows the production agreements signed directly by the beekeepers without the middlemen or distributors. In addition to 3500 retail outlets in the United States, BEE&YOU is also sold globally in South Korea, Germany, France, Austria, the Netherlands, Belgium, Sweden, Turkey, the UK, Qatar, Dubai and Cyprus.
Learn more: https://www.bee-and-you.com/
Follow BEE&YOU on: Facebook | Instagram | Twitter
"BEE&YOU Naturally Protects You and Your Loved Ones!"
Media Contact:
Melike Ayan
212-980-8090
Melike.nyc@gmail.com
*PHOTO link for media: https://www.Send2Press.com/300dpi/19-1003s2p-Asli-Elif-Tanugur-300dpi.jpg
*Caption: As a female entrepreneur, Mrs. Asli Elif Tanugur started the journey by finding a cure in propolis for her own child's auto immune disease.
*VIDEO (YouTube): https://youtu.be/nFaljoeFdtQ
Disclaimer: Caution: These statements have not been evaluated by the Food & Drug Administration. These products are not intended to diagnose, treat,cure, or prevent any disease.

https://youtu.be/nFaljoeFdtQ
###
MEDIA ONLY CONTACT:
(not for print or online)

News Source: BEE&YOU