NEW YORK, N.Y., Feb. 24, 2023 (SEND2PRESS NEWSWIRE) — On the last day of Black History Month, nationally recognized Black Producer and Creator Joe Young, Jr., in partnership with JPMorgan Chase, will launch a print and digital comic book teaching financial literacy to students featuring "KEMET, BIG TIME SAVER." On February 28, 2023, 10 a.m. at P.S. 171 Patrick Henry Preparatory school in Harlem, Principal Dimitres Pantelidis, will host a Black History Month event for fourth, fifth, and sixth-grade students to celebrate the conclusion of the month.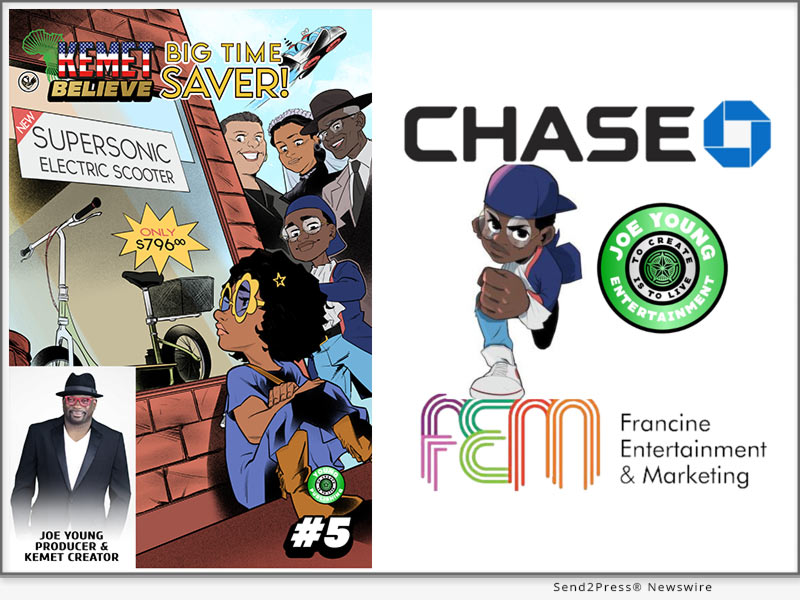 Image Caption: KEMET, Big Time Saver – Joe Young Entertainment.
Students will officially meet KEMET, a ten-year-old time-traveling comic character who goes back to meet African-American historical firsts, legends, and inventors, both living and deceased, who share with KEMET what they have done to contribute to the outstanding accomplishments of building this country and improving civilization.
By traveling through a history time capsule called "Sankofa 82," KEMET, in mascot form, will talk to the students about the value of money and saving and the importance of financial literacy.
"There is a dire need for youth in urban areas to understand the importance of basic money management," said Joe Young, Founder and Producer of Joe Young Entertainment. "KEMET, BIG TIME SAVER will engage the students to think about the value of money, saving, and investing. Promoting financial literacy in our schools impacts the mind and behavior towards money management and understanding the value and importance of generational wealth."
"Financial health is a critical component of creating a stronger economic foundation and building generational wealth for the Black community," said Jumoke Fagbayi-Butts, Vice President and Senior Business Consultant at Chase. "We are committed to addressing the unique financial needs of those too often left behind in a growing economy. Our firm works with leaders like Joe Young to support the next generation of Black prosperity."
"We are happy to join nationally recognized cartoonist Joe Young, his cartoon character KEMET, BIG TIME SAVER, and JoAnn H. Price, Co-Founder/Managing Partner of Fairview Capital, to present this comic book to all students at P.S. 171 in Harlem," said Rocky Chowdhury, Vice President, and Community Manager for Chase in Harlem. "Building positive financial health habits early in life leads to great success, and applaud Joe's work to teach students responsible money habits that will help secure their financial futures."
KEMET, BIG TIME SAVER BACKGROUND
KEMET, BIG TIME SAVER comic book, was co-written by Joe Young and his daughter Paige Young. The comic book story features ten-year-old "Ro" who runs a lemonade stand and decides to use her profits from the revenues generated from her lemonade stand business to buy a new scooter. She gets frustrated after running into problems raising enough money.
KEMET, alerted about her dilemma, takes off in "Sankofa 82" to help her. He introduces Ro to three successful Black entrepreneurs from past and present: the late A.G. Gaston, one of the wealthiest African Americans of his time, including a $130 million business empire spanning communications, real estate, and insurance; JoAnn H. Price, Co-Founder/Managing Partner of Fairview Capital Partners (Private Equity and Venture Capital firm) with over $10.4 Billion in assets under management since inception; and the late Mary Ellen Pleasant, a 19th-century entrepreneur, financier, real estate magnate, and abolitionist who was the first self-made millionaire of African-American heritage.
Beginning in March, Young and his mascot KEMET will commence a tour to visit schools and youth groups with his KEMET BIG TIME SAVER PROGRAM. The KEMET youth activity sheets, which include fun and educational Black history facts, are distributed nationwide to schools and Black newspapers, reaching over 22 million readers a week. Young is in pre-production for the KEMET BIG TIME SAVER animated film.
10:00 a.m. – 11:30 a.m. P.S. 171 Patrick Henry School, 19 E 103rd St, New York, NY 10029 — Black History Month event with over 100 elementary students to meet KEMET, celebrate African American leaders and discuss the importance of financial health and generational wealth for young people. Courtesy of JP Morgan Chase, every student will receive a copy of KEMET, BIG TIME SAVER.
6:00 p.m. – 8:00 p.m., Apollo Theater, 253 W 125th St, New York, NY 10027 — Joe Young will host a KEMET Book Signing at the historic Apollo Theater in Harlem to celebrate Black History Month.
ABOUT JOE YOUNG:
Joe Young is the Founder and president of Joe Young Entertainment and the President and CEO of Hartford's Got Talent!, a 501(c)(3) nonprofit organization. He is an award-winning cartoonist, filmmaker, producer, writer, and teaching artist. Young is the Vice Chair of the Board of Trustees of The University of Bridgeport. In 2022 Young teamed up with music icon Smokey Robinson to produce the animated BLACK AMERICAN film. The animation was featured on ABC's "The View" TV program. In 1999, he received the Daily Point of Light award from the White House from Presidents Bill Clinton and the late President George H.W. Bush for volunteering to bring the arts to inner-city youth.
He has been recognized for his accomplishments, including being an Amazon National Best-Selling Author, featured in Ripley's Believe It or Not, and in The NAACP 100 Most Influential Blacks in CT. His work has appeared in People, Ebony, GQ and Jet Magazine, the Boston Globe, New York Times, C-Span, ABC's The View, CNN, the Black Family Channel, and other national media outlets.
Learn more: https://joeyoung.org/
For more information on Joe Young and the KEMET comic property, email: info@joeyoungentertainment.com
MEDIA ONLY CONTACT:
Briana Curran
EMAIL: Briana.Curran[at]jpmchase.com
PHONE: 617-470-1845
News Source: Joe Young Entertainment