TAMPA, Fla., Aug. 12, 2019 (SEND2PRESS NEWSWIRE) — Brandon Stem Cell Clinic (BSCC) recognizes that osteoarthritis is one of the most common joint conditions, affecting nearly 630 million people worldwide. It is commonly associated with aging but is also frequently seen in cases of overuse of joints. The growing number of cases alone prove a need for innovative and effective treatments as populations continue to age.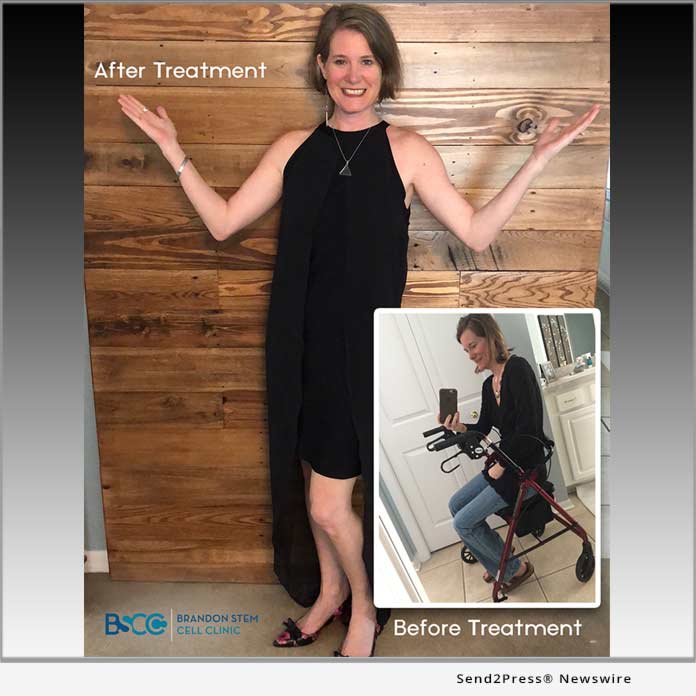 Because of the anti-inflammatory properties of mesenchymal stem cells, physicians are now able to minimize inflammation-related osteoarthritis pain, as well as many other degenerative diseases and conditions.
Brandon Stem Cell Clinic was founded with the mission to provide non-surgical medical treatments to individuals who suffer from acute or chronic pain as a result of an injury or a medical condition. Brandon Stem Cell Clinic relies on the natural healing power of stem cells, mesenchymal signaling cells, and blood-related proteins to treat pain at its source.
"I have been positively and directly affected by stem cell treatment. It's been life-changing for me and my family, and I know we aren't the only family who has experienced this," says Leesa Polley, founder of Brandon Stem Cell Clinic and former stem cell therapy patient.
Advancements in stem cell research have shown the blood left in the umbilical cord of a healthy, live birth contains an incredibly rich and complex combination of growth factors, proteins and stem cells. This provides a highly active regenerative mixture.
With the use of umbilical stem cells and regenerative medicine, Brandon Stem Cell Clinic can help treat conditions such as arthritis, ACL tears, orthopedic pain and fractures, disc degeneration, degenerative joint disease, meniscus tears, and more. The clinic follows FDA guidelines and regulations set forth by the American Association of Tissue Banks (AATB) regarding the handling and delivery of stem cells to patients to ensure the safety and efficiency of each treatment.
"Our team at Brandon Stem Cell Clinic can help people get back to living and doing what they love with the people they love," said Polley.
Stem cell therapy takes approximately 30 minutes from start to finish and there is little to no recovery time. Patients can see results in as little as six weeks, but the stem cells have a positive impact up to nine months.
About Brandon Stem Cell Clinic:
Brandon Stem Cell Clinic (BSCC) uses powerful and potent umbilical stem cells to help treat patients with a variety of medical conditions. We understand umbilical stem cells are the future of regenerative medicine, and strive to provide customized treatments within a compassionate, respectful, and comfortable environment.
For more information please email us at connect@brandonstemcellclinic.com, visit our website at https://brandonstemcellclinic.com/, or call us at 813-800-STEM.
For more information contact:
Leesa Polley, founder
813-800-STEM
connect@brandonstemcellclinic.com
*PHOTO link for media: https://www.Send2Press.com/300dpi/19-0812s2p-beforeafter-300dpi.jpg
*VIDEO (YouTube): https://youtu.be/vEZF04vdAeo
###
MEDIA ONLY CONTACT:
(not for print or online)

News Source: Brandon Stem Cell Clinic