COMMERCE, Calif., Oct. 16, 2023 (SEND2PRESS NEWSWIRE) — Volunteers from Bridge Publications Inc. are extending their drug education and prevention outreach to the city's truck drivers — the men and women who support the economy of the city with their work. Bridge is doing so with the Truth About Drugs, the drug education initiative supported by the Church of Scientology.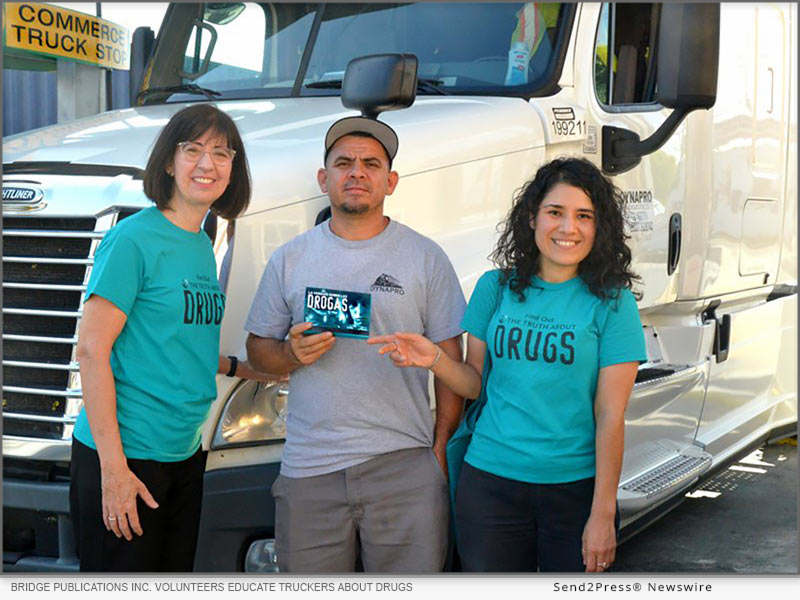 Photo Caption: Bridge Publications Inc. volunteers helped truckers understand the hazardous effects of the most commonly abused drugs so they can make educated decisions about drugs and alcohol use, and share the information with friends and associates.
The City of Commerce, like its name, is a hub of international commerce. Trucks travel from across the country, as well as from the ports of Los Angeles and Long Beach, to pick up and deliver goods to businesses and railyards in this vibrant area. It is not unusual to see fleets of semitrailers driving down the main streets.
Trucks move 73 percent of the nation's freight, and truckers pay $29 billion dollars a year in state and federal fuel taxes. Truckers are vital to the economy of the United States, but with that responsibility comes inherent stress: pressure to get to their destination on time, to keep moving, and to stay awake. In a society where drugs are promoted as the solution to these kinds of problems, truck drivers are at risk of putting their lives — and the lives of others — in danger.
A meta-analysis of previous studies on the subject showed 27.6 percent of truckers reported using drugs, with the most common drugs being cocaine and methamphetamine. In another meta-analysis, a statistically significant number of truckers had harmful patterns of alcohol consumption.
Bridge Publications Inc., publisher of bestselling author and humanitarian L. Ron Hubbard's nonfiction works, was alerted to this issue by a former trucker, Pedro, who now owns his own business in Commerce not far from Bridge's manufacturing plant.
Earlier this year, Bridge volunteers invited Pedro to join them in a neighborhood cleanup. He has continued to work with these volunteers in other community outreach projects. Pedro later confided to the volunteers his concerns that former colleagues' lives had been adversely affected by alcohol abuse. He asked if they would be willing help local truck drivers with their drug education and prevention initiative. The volunteers took Pedro's suggestion and reached out to local drivers at a popular truck stop on Washington Boulevard.
The drivers appreciated the Bridge volunteers sharing Truth About Drugs educational materials. The booklets contain the unvarnished truth about the most commonly used drugs and their harmful effects on the body and mind. They handed out more than a thousand booklets to truckers, who expressed their appreciation and took booklets on the road with them.
"This is a very important job that you're doing," said one of the drivers. Another asked for information on cocaine and was given "The Truth About Cocaine" booklet.
The manager of a neighboring body shop told the Bridge staff that he's seen truckers he believed were abusing drugs and alcohol. He took sets of the booklets to display and to pass out to his customers.
"Some of these guys drink alcohol and they become a liability," a front desk clerk of a tire shop said. "They are like an accident waiting to happen." She thanked Bridge for bringing her these materials and kept several booklets to give out.
Pedro thanked the Bridge volunteers who shared the positive feedback they received from their outreach. Pedro appreciated their following through on his suggestion and he kept booklets to hand out to his own customers.
More information about The Truth About Drugs including short videos can be obtained at www.drugfreeworld.org.
Bridge Publications continues assisting the community and encourages others to join them.
An award-winning facility at the cutting edge of technology, Bridge Publications is designed from the ground up with the sole purpose of fulfilling the ever-increasing demand for Scientology Scripture at a moment's notice.
In launching the Scientology Network in 2018, Scientology ecclesiastical leader Mr. David Miscavige promised to take viewers "behind the scenes and into our Church management, publication and dissemination facilities, humanitarian outreach centers and programs, and even into our new millennium Scientology archives." That is exactly what the network does in an episode of Inside Scientology on Bridge Publications.
Watch Inside Bridge Publications on the Scientology Network on DIRECTV Channel 320, DIRECTV STREAM or AT&T U-verse. It also streams at Scientology.tv, on mobile apps, and via the Roku, Amazon Fire and Apple TV platforms.
For more information on Bridge Publications or to take part in their community outreach activities, contact Lucia Winther at (323) 888-6200 or lwinther@bridgepub.com.
LEARN MORE:
https://www.scientologynews.org/press-releases/
https://www.bridgepub.com/about/
https://www.scientology.tv/series/inside-scientology/bridge-publications.html
MULTIMEDIA:
https://www.youtube.com/watch?v=Eae3ZomZAYE
https://www.scientology.tv/documentaries/the-truth-about-drugs.html
Media image: https://www.Send2Press.com/300dpi/23-1016-s2p-cosbridge-300dpi.jpg
Photo Caption: Bridge Publications Inc. volunteers helped truckers understand the hazardous effects of the most commonly abused drugs so they can make educated decisions about drugs and alcohol use, and share the information with friends and associates.
TAGS:
#BridgePublications #DrugEducation #DrugPrevention #TruthAboutDrugs #DrugFreeWorld #ScientologyNetwork #Publishing
News Source: Church of Scientology International