BROOKLYN, N.Y., Feb. 5, 2018 (SEND2PRESS NEWSWIRE) — C2SMART, a Tier 1 USDOT University Transportation Center based at New York University Tandon School of Engineering, and NEXT Future Transportation have agreed to collaborate on the creation of a cyberphysical test bed to test NEXT's designs for modular self-driving vehicles. C2SMART will build and use scale models of NEXT's vehicles along with simulations to test routing algorithms and operational policies for shared autonomous vehicles, helping the company to propose and start field pilots in cities.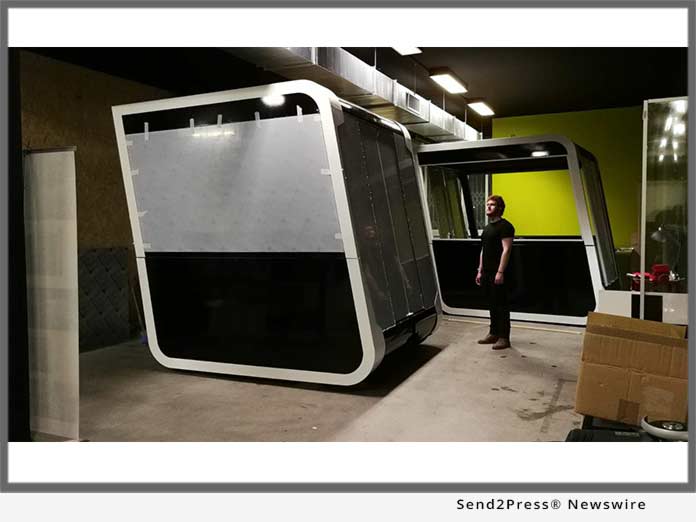 NEXT has developed technology for modular self-driving vehicles that can couple together while in motion, providing a transfer-less travel experience for users from door to door without the significant cost of assigning vehicles to individuals. To fully realize the technology's potential, NEXT needs a safe environment to test dispatch, routing, and idle vehicle repositioning algorithms that can fully make use of the vehicles' capabilities.
One of C2SMART's missions is to partner with technology providers and public agencies to help develop, test, and deploy transportation technologies, such as NEXT's modular vehicles, to different city markets.
For this collaboration, NEXT will share the specifications for their 1:10 scale vehicle models with C2SMART. The center will construct the models with the help of the 3D printing facilities at NYU Tandon's MakerSpace. Once construction is complete, C2SMART will work with NEXT to set up communications between a computer and the vehicles to start testing algorithms for three fleet control strategies.
The three procedures C2SMART will implement are:
A dispatch with pickup and delivery routing algorithm, used for a service in which a train of vehicles picks up passengers at a terminal, travels along a main route, then redistributes the vehicles at the other end for door-to-door service.
Dynamic decision making for vehicles merging at a station to determine when to depart, balancing lower operator costs with higher user costs as the wait time increases.
Idle vehicle repositioning, which assigns idle vehicles to wait in a specified location until they are dispatched to new passengers.
Once C2SMART has successfully tested the algorithms, NEXT can use the documented tests to propose field pilots to city agencies and determine user demand for the service.
About the New York University Tandon School of Engineering:
The NYU Tandon School of Engineering dates to 1854, the founding date for both the New York University School of Civil Engineering and Architecture and the Brooklyn Collegiate and Polytechnic Institute (widely known as Brooklyn Poly). A January 2014 merger created a comprehensive school of education and research in engineering and applied sciences, rooted in a tradition of invention and entrepreneurship and dedicated to furthering technology in service to society.
In addition to its main location in Brooklyn, NYU Tandon collaborates with other schools within NYU, the country's largest private research university, and is closely connected to engineering programs at NYU Abu Dhabi and NYU Shanghai. It operates Future Labs focused on start-up businesses in downtown Manhattan and Brooklyn and an award-winning online graduate program.
For more information, visit http://engineering.nyu.edu/.
NEXT is a patented advanced smart transportation and artificial intelligence system based on swarms of modular self-driving vehicles. Each module can join and detach with other modules on roads and highways. The company has created a proprietary open, bus-like environment among modules, allowing passengers to stand and walk from one module to another while in motion.
To learn more, please visit http://www.next-future-mobility.com/.
Contacts:
NEXT Future Transportation inc. Silicon Valley, USA
(408) 256-2765 info@get-next.com
C2SMART Brooklyn, NY
http://c2smart.engineering.nyu.edu/
# # #
MEDIA ONLY CONTACT:
Emmanuele Spera
NEXT future Transportation inc.
emspera@get-next.com
408-646-7157
News Source: NEXT Future Transportation Inc.