NEW DELHI, India, Jan. 11, 2018 (SEND2PRESS NEWSWIRE) — One of India's most promising outsource call centers, Call2Customers (C2C), launches new website to expand its customer base and engagement.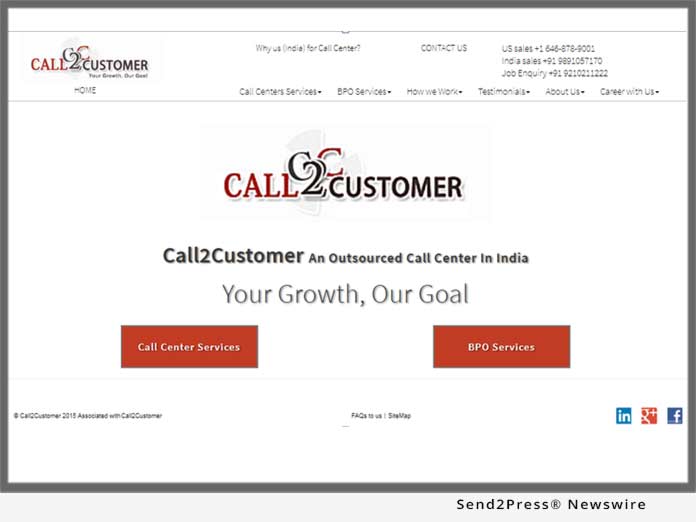 "Changes are the law of nature and results in improvement and betterment of any entity. So we are happy to welcome you to the new look of the website of Call2Customers showing Call2Customers' prospective and perspective to work as a call center partner with global companies," says Raj Kanojia of C2C.
Call2Customers has changed the look of its website to make it:
More user-friendly: Our new website is made in such a way that it is more comfortable for a user to know about the services provided.
Simple and easy to understand: The language used makes it more simple and easy to understand. The contents are more precise and well defined.
Navigable: New website helps you to easily navigate the services you require for your business. You can easily find the service for your business requirement.
More Explicit: We have served different industries across the world based on in-depth knowledge of different call center services. We have secured a vast clientele in a short span of time and our clients have trust and faith on us. The services provided by Call2Customers are written with details of their working, experience as already define with reference in client of us section and marketing style in precise manner.
Versatile: On therequest of our clients we have added new services known for online business reputation services. We provide digital marketing services for your website which includes SEO, SMO, PPC, content marketing and e-mail marketing.
Highly Affordable: Call2Customers offers high-quality call center services at competitive rates, which is dependent on skill levels, type of work, location and duration of the application with factors like complexity of projects and call volumes. We provide quality services at very reasonable price of $6 – $12 whereas the call centers in developed countries provide services at $20 – $55. We provide customized services based on flexible pricing structure including hourly payment system, commission based payment system or both together to fulfill objective of your business.
Highly Flexible: It is mobile friendly and easy to use on desktop, laptop or mobile. You can navigate through any platform.
More Transparent: References and testimonials are added for recommendation with their contacts.You can contact our clients to know our working style and achievements before hiring us.
Technologically Advanced: We upgraded our cloud computing system for inbound call centers as well as outbound call centers services. You can access instant and real statistics, monitor the live call, feedback of the agents directly with pre-existing features of outbound predictive and preview dialer.
Backup Solutions: We also upgraded the following resources to keep the backup strong to run your business hurdle less:

Network Backup – We follow BGP configuration to keep network backup where we have backup of internet to support BGP.

Power Backup – We run facility on dual power backup where we have online UPS which auto switch in case of power failure and if power goes for longer duration then auto switch to diesel generator from online UPS.

Facility Backup – We have another running facility within 2 kilometers radius which acts as each other facility backup.

Call centers agents Backup – We keep the backup agents to ensure minimum login count available if agents go for sudden leave.

Security and safety: Our call center is fully secured with the CCTV cameras and guards.
The change in the website look does not change our dedication, prospective or goal for our clients.
We provide services for 24/7/365 operation. Our team works with same dedication and attitude to provide you most efficient and effective results and to fulfill your business objective. Our aim is your growth.
More information: http://www.call2customers.com/.
About Call2Customers Call Center Pvt. Ltd.:
Based in New Delhi, India, Call2Customers (C2C) has been helping small-to-medium businesses and entertainment companies establish their brand and grow revenue since 2015. Call2Customers has developed numerous proprietary solutions for call center and bpo services and digital marketing.
Editorial Note: Company does business as both singular and plural form of "Call2Customer" and "Call2Customers."
Contact:
Call2Customers Call Center Pvt. Ltd., USA: +1-646-878-9001, Universal number: +91 989-105-7170, Email: sales@call2customers.com
News Source: Call2Customer