CAMARILLO, Calif., March 15, 2023 (SEND2PRESS NEWSWIRE) — On Sunday, March 26, 2023, couples and wedding planners have the opportunity to nail down the details of their upcoming special day at a unique event spanning two Ventura County cities. The Camarillo Wedding Expo grants people access to five different wedding venues so they can explore their options in a single, fun-filled day.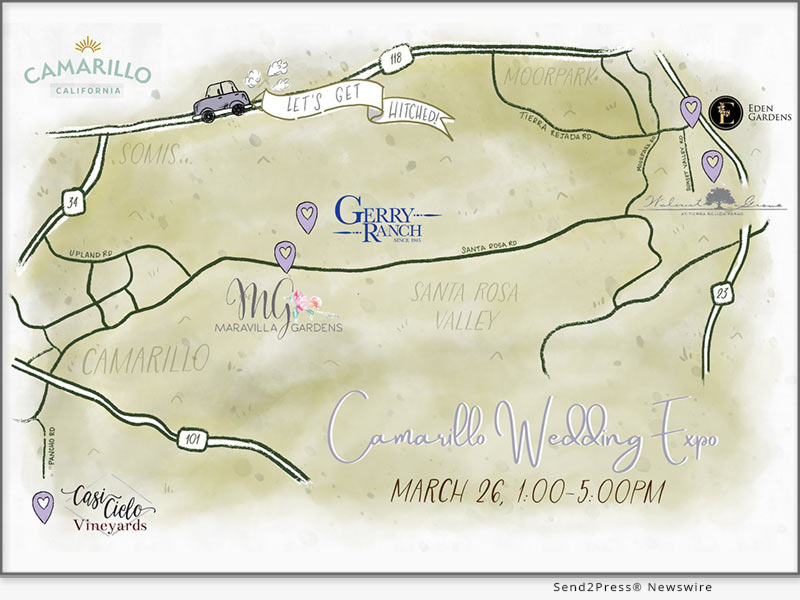 Image Caption: Camarillo Wedding Expo 2023.
The Expo is geared toward couples looking to take advantage of the stunning natural surroundings of the County and its consistently beautiful weather. At this event, they get the chance to find their perfect outdoor wedding location.
With a ticket to the Expo, attendees can visit all five of these venues:
Casi Cielo Vineyards (1735 Pancho Rd, Camarillo, CA 93012 — @casicielovinyards)
Gerry Ranch (9015 Rosita Rd, Santa Rosa Valley, CA 93012 — @gerryranchweddings)
Maravilla Gardens (8620 Santa Rosa Rd, Camarillo, CA 93012 — @m_gardens)
Walnut Grove (3370 Sunset Valley Rd, Moorpark, CA 93021 — @walnutgroveweddings)
Eden Gardens (3900 Brennan Rd, Moorpark, CA 93021 — @e_gardens)
Upon visiting their first venue, attendees get a wristband that grants them access to the remaining four. The Expo runs from 1 to 5 p.m., giving engaged couples and planners plenty of time to explore each venue and enjoy the scenic drive between.
At the venues, people won't just get the chance to look around and imagine their wedding there. To further help them plan their celebratory day, the Expo also brings together a range of vendors. With music, tastings, and giveaways, the Camarillo Wedding Expo promises to be a day that's both enjoyable and useful in wedding planning endeavors.
Nearlyweds are invited to bring friends and family to the event.
Tickets to the Camarillo Wedding Expo cost $10 per person.
Anyone who purchases a ticket is automatically entered to win the Camarillo Wedding Expo Raffle. The Grand Prize winner will get two nights at a hotel, dinner (including wine) for two, and a gift certificate for the Camarillo Premium Outlets.
The event coordinators extend many thanks to Visit Camarillo for generously sponsoring both the Expo and the raffle.
To learn more and to register for the Expo, visit https://www.camarilloweddingexpo.com/.
News Source: Camarillo Wedding Expo