SAN FRANCISCO, Calif., Aug. 27, 2019 (SEND2PRESS NEWSWIRE) — Camp EDMO™, a leading Bay Area non-profit offering STEAM and SEL oriented After School and Summer Camp Programs, announced that it is making its Comprehensive After School Programs, which encompass 180 days of the school year, available to Bay Area schools. The programs are customized to each school's individual needs and ideal for providing on-campus homework support, STEAM (science, technology, engineering, arts and math) activities and Social Emotional Skill (SEL) building.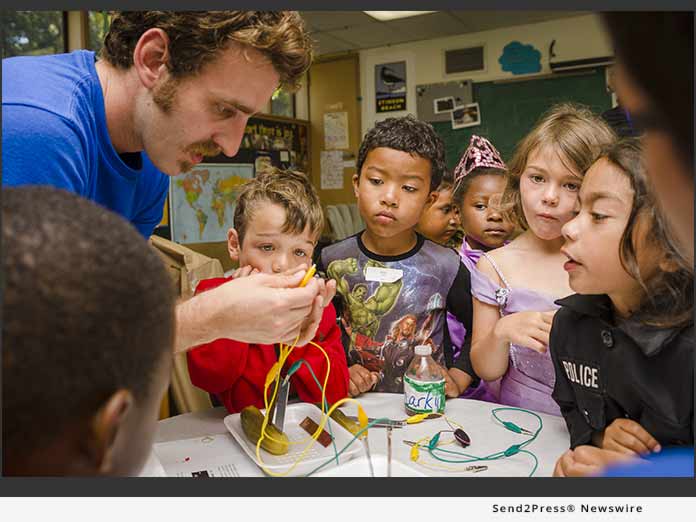 "Several factors set our Comprehensive After School Programs apart," said Kendra Watkins, Senior School Year Program Manager for Camp EDMO™. "First, we are able to customize our program to each school's critical needs, whether it is making more time for homework or engaging kids in after school learning activities. Second, our program can help kids become better, more prepared students, often without even realizing it because we make it fun for them. Third, we supplement what's being taught in the classroom, easing the burden for teachers."
Currently, Camp EDMO™ is operating a Comprehensive After School Program at Ruby Bridges Elementary in Alameda. The program has helped ease the school's challenges of low test scores and daily disruptions that were getting in the way of student learning.
Proper science education, especially at the K-8 levels, has long been an issue in the state of California. While science education in California received a state budget boost of $400 million in the 2018-19 school year, the increase didn't factor in teacher training. As a result, it is left up to the teachers to find a way to incorporate science into their curriculum with little to no support, making it difficult for them to adhere to the Next Generation Science Standards implemented by California in 2013. All too often, children are forced to learn science outside of the classroom, making after school programs that offer STEAM activities in a fun, relaxed environment more important than ever.
"By middle school, if children don't enjoy STEM concepts or envision themselves pursuing a STEAM career, the odds that they will do so decline dramatically," said Ed Caballero, Camp EDMO™'s Executive Director and Co-founder. "It starts with exposing kids to STEAM activities at an early age. Our Comprehensive After School Programs offer that much-needed exposure every day of the school year."
About Camp EDMO:
Camp EDMO™, powered by Edventure More, a year-round 501(c)(3) non-profit enrichment organization, offers high-quality, high-access STEAM (Science, Technology, Engineering, Arts, and Math) and SEL (Social Emotional Learning) programs which expose Pre-K to 8th grade kids to the latest scientifically proven methods of whole-child development.
EDMO™'s overarching mission is to develop kids who are curious, courageous and kind, with the intention of creating mindfulness and emotional presence that will carry over to adulthood. It is also committed to making the camp experience and STEAM learning accessible to families who might not otherwise be able to afford it through its equity programs, subsidizing camp costs for lower income families. Learn more at: https://campedmo.org/
News Source: Camp EDMO