BRONX, N.Y., March 22, 2018 (SEND2PRESS NEWSWIRE) — Casita Maria Center for Arts & Education is proud to present "There's No Place Like Home," the 1st annual Young Artist Showcase celebrating the greatness and self-expression found within all Casita Maria program participants. This multi-disciplinary exhibition will include over 200 artworks created during the 2017-2018 after school-year.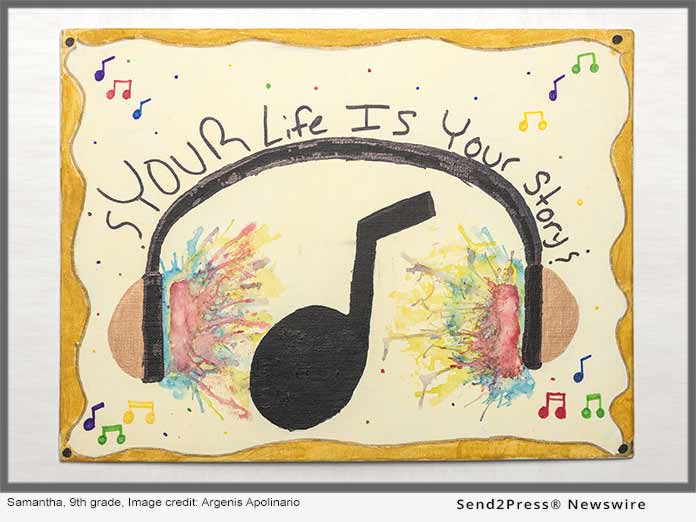 Enjoy video documentation of performances by Casita's Young Violinists, Musical Theater Makers and Choir plus Poetry Is Not A Luxury Teen Open Mic. Artwork explores self-expression, youth identity, culture, social justice, and activism.
Youth voice is a principle that Casita Maria embraces and practices, therefore program participants were invited to select the title for this year's showcase along with the artwork for the exhibition postcard. The young artists love that it has a direct connection to this year's youth musical based on the "Wizard of Oz"!
"This exhibition is a community celebration of youth voice and youth choice," said Gail Heidel, Associate Director of Creative Arts Programs.
According to a Casita Maria Parent: "Casita Maria … teaches our kids values, about art, about music, about drawing…these activities keep kids away from trouble and teach them to know how much more they can do through art and music – they can speak out through painting, they can find a voice through writing poems, they can express themselves through art … I feel safe when [my child is] here. [When] I am at work I know she's in good hands. For my daughter to be able to express her whole self through drawing, through writing, through poems and now with the piano it's priceless and beautiful! She is learning and enjoying everything she does here … in here, she finds herself!"
"Art is healing, art inspires us; art helps us to feel resilient and alive. In this exhibit Casita Young Artists get to share what they can authentically create," said Vanessa Tricoche, Director of Programs.
Learn more at: https://www.casitamaria.org/.
About Casita Maria:
Casita Maria Center For Arts & Education is the first and oldest Latino 501(c)(3) charity in NYC, founded in 1934. The South Bronx-based community arts and educational organization presents diverse, contemporary visual and performing arts and education programming for all ages. It is supported, in part, by public funds from the New York City Department of Cultural Affairs in partnership with the City Council and Council Member Rafael Salamanca, New York City Department of Youth and Community Development, the Charles Hayden Foundation and the New York Women's Foundation, on behalf of The NYC Fund for Girls and Young Women of Color.
# # #
*IMAGE for Media: Send2Press.com/300dpi/18-0322s2p-yourstory-300dpi.jpg
*Image caption: Samantha, 9th grade, Image credit: Argenis Apolinario.
Media Only Contact:
Luis Pagan
Marketing and Media Manager
Casita Maria Center for Arts & Culture
+1-718-589-2230 x 6091 (media only)
marketing@casitamaria.org
News Source: Casita Maria Center for Arts and Education