OAKLAND, Calif. and BUTTE, Mont., June 14, 2023 (SEND2PRESS NEWSWIRE) — The founders and contributors of the Comedians with Disabilities Act (CWDA) are about to hit the road for its wildly popular show to span three states: Montana, Oregon and California. They're celebrating Disability Pride month in July, which also happens to coincide with the anniversary of the Americans with Disabilities Act (ADA).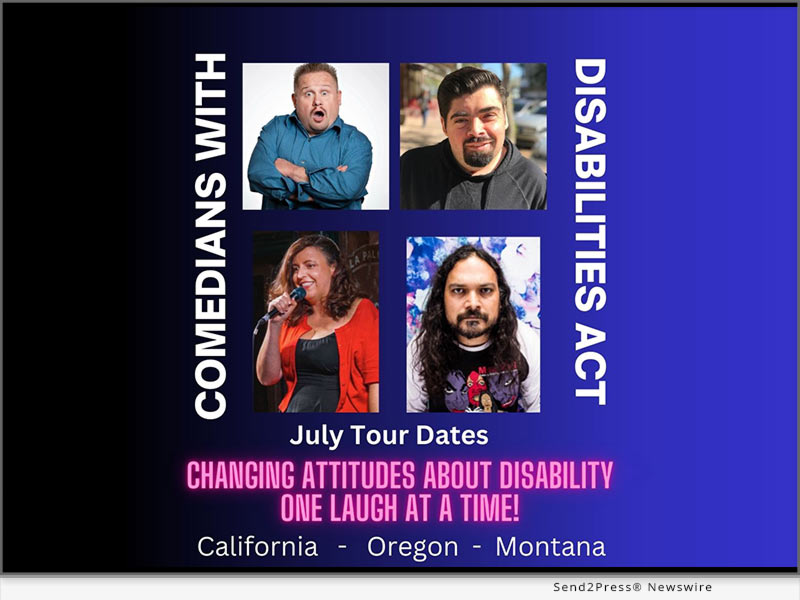 Image Caption: Nina G and Comedians with Disabilities Act event poster.
The various venues that will host the comedy troupe are thrilled to have them on the stage. One Montana venue in Butte even did a little renovation to accommodate the act by modifying its restroom to ensure accessibility – and laughter – for all.
"Thanks to the Elk Lodge for pulling through," Nina G,' says. "They saw the need to make this event and others they will have inclusive to everyone. CWDA is proud to be part of this change!"
The Comedians with Disabilities Act (CWDA) is a fabulous collection of comedians with disabilities, both seen and unseen, who share their humor and personal experiences. Overall, the tour is designed to bring authentic and traditionally unheard voices to the forefront.
It's the brainchild of comedian, Michael O'Connell, who started the group in 2010, and was later joined by Steve Danner and Nina G. In 2016, O'Connell passed away – but the show lives on and spotlights a variety of disabled and outrageously funny comedians. The upcoming lineup of shows includes disability representation from diverse perspectives and intersections. Every show will feature a different line up.
And, it's not the first time this group has taken the show on the road. In October 2022, for Disability Awareness month, 17 comedians performed four shows for hundreds of people throughout Northern California. Material covered everything from stuttering and dyslexia to dwarfism, addiction recovery, anxiety, blindness and more.
Michael Beers, who will headline the California and Montana shows, was born and raised in Montana and is a comedy veteran of 23 years. He's been a disability advocate for nearly 20 years and says that comedy is an important vehicle to changing attitudes about disability.
"Laughter is the shortest distance between two people," he says. "And, comedy is a beautiful way to educate people without disabilities. When we laugh together we can find our commonalities."
Beers won the Norman G. Brooks Comedy Competition at the Hollywood Improv in 2005. He was also the previous winner of Funny Fest (Calgary Comedy Festival) and has opened for comedians like Gilbert Gottfried. He is a sought-after keynote speaker on topics like humor, disability advocacy, education and community building.
Author and disability advocate Nina G, will headline the Portland, OR show. She's the author of multiple books and most recently had her first solo comedy album debut at number one on the iTunes and Amazon comedy charts. Her special will be out later this year.
"There's a lot of talk about representation for disabled actors, writers and artists, yet the images we see on TV and film are sparse. It's important that comedy producers spotlight disabled comedians," she says. "I hope they'll see that we're not only hilarious, but can sell out a show too."
Her memoir, "Stutterer Interrupted: The Comedian Who Almost Didn't Happen," was released to critical acclaim in 2019 and in February 2022, she launched and another book, co-authored by OJ Patterson, "Bay Area Stand-Up Comedy: A Humorous History." She's performed all over the U.S. and appeared on many daytime TV talk shows, NPR broadcasts and podcasts.
Mean Dave, a favorite in the San Francisco Bay Area, will host several shows. Dave is in his eighth year of addiction recovery, which he ingeniously weaves into his humor. He's opened for many notable comedians like Josh Blue, Big Jay Oakerson, and Jay Mohr, and has performed at colleges across the U.S.
"Not a lot of people know that being a recovering addict is covered under the Americans with Disabilities Act," he says.
Danner, who is a little person, says, "We're all comedians first. But, we also want to send a strong message that, even with a disability, we can reach our goals."
His comedy career began as an audience member at a comedy club. The comedian on stage started riffing with him. After Danner showcased his own riffing skills, the comic approached Danner after the show and suggested he give comedy a try. That soon launched a career as a comedian and producer. He's opened for many headliners such as "Last Comic Standing" winner, Felipe Esparza.
These four comedians will be joined by Jade Theriault, Dan Smith, Adam Keys, Willie Travis, Milt Abel, Loren Kraut and others. Each comedian shares their personal disability experiences and brand of humor to make audiences laugh in each of these three states.
The tour schedule is:
Thursday, July 6: Murphy's Law Irish Pub, Sunnyvale, CA
Saturday, July 8: Manny's, San Francisco, CA (noon)
Saturday, July 8: EJ Phair, Pittsburg, CA
Sunday, July 9: Fox Tale Fermentation Project, San Jose, CA
Thursday, July 13 Barrel Proof Comedy, Santa Rosa, CA
Wednesday, July 19: Curious Comedy Theater in Portland, OR
Thursday, July 27: Elks Lodge in Butte, MT
Friday, July 28: Last Best Comedy Club in Bozeman, MT (two shows)
Saturday, July 29: Zootown Arts Community Center in Missoula, MT
FOR MORE INFORMATION
Ticket and show information and times: https://comedianswithdisabilitiesact.com/
Nina G: https://www.ninagcomedian.com/
MULTIMEDIA
Photo link for media: https://www.Send2Press.com/300dpi/23-0615-s2p-ninagcwda-300dpi.jpg
Photo Caption: Nina G and Comedians with Disabilities Act event poster.
News Source: Comedians with Disabilities Act