CHARLOTTESVILLE, Va., June 25, 2018 (SEND2PRESS NEWSWIRE) — Cybersecurity startup CounterFlow AI, which uses streaming machine learning technology at the network edge to help cyber defenders quickly detect and respond to network threats, has been announced as the lead sponsor for the fourth annual SuriCon 2018, a conference dedicated to Suricata and open source security technologies, projects, and initiatives.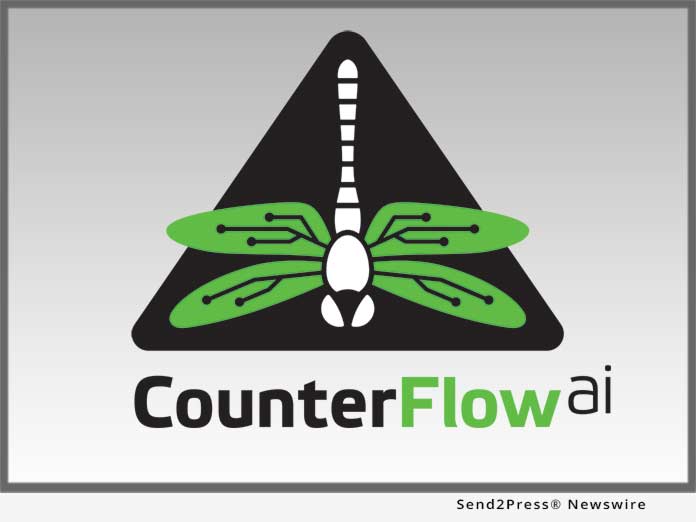 SuriCon brings the Suricata community together for three days of talks, trainings, and roadmap brainstorming. The 2018 conference is once again coming back to North America and is being held in Vancouver, B.C. from November 14 to 16, 2018.
"We are thrilled to have CounterFlow AI as our principal sponsor for this year's event," said Kelley Misata, PhD, Executive Director of the Open Information Security Foundation (OISF), which organizes and manages the conference. "Security sponsorships from organizations committed to Suricata's mission, and to the community, are critical as the need for stable and robust security technologies grows. SuriCon would not be possible without the support of companies like CounterFlow AI."
"We are looking forward to SuriCon 2018, and to sharing our vision for integrating machine-learning with best-of-breed security technologies like Suricata," said Randy Caldejon, CounterFlow AI's CEO. "Our goal is to make data science and machine learning tools practical and accessible to threat hunters."
"CounterFlow AI is also an OISF sponsor, and several of our team have been active members of the Suricata community for many years. It was simple decision for us to also support this important security conference."
SuriCon has been over 95 percent sponsor-funded to date, meaning that no OISF funds need to be diverted from the organization's principal goal of funding ongoing Suricata development. With CounterFlow AI funding, the 2018 conference will also include a new "Capture the Flag" contest. SuriCon has sold out in all previous years, and is on track to do so again in 2018.
About CounterFlow AI:
CounterFlow AI, Inc., a Virginia-based company, designs and builds threat-hunting solutions for world-class security operation centers (SOC). The company is redefining the art of threat hunting by utilizing machine learning and sensing at the edge of the network to drive targeting operations in real time. CounterFlow AI's flagship product, ThreatEye, is more than a traditional intrusion detection system (IDS). It is a threat detection platform that integrates signature inspection, machine learning, and adaptive packet capture, enabling security analysts to significantly reduce time to detection and response.
For more information, visit https://counterflow.ai/.
About OISF:
The Open Information Security Foundation is a non-profit organization created to build community and to support open source security technologies like Suricata, the world-class IDS/IPS network monitoring engine. OISF is dedicated to preserving the integrity of open source security technologies and the communities that keep them thriving. Our team and our community includes world-class security and non-profit experts, programmers, and industry leaders dedicated to open source security technologies.
Suricata is a free and open source, mature, fast, and robust network threat detection engine capable of real time intrusion detection (IDS), inline intrusion prevention (IPS), network security monitoring (NSM) and offline packet capture (pcap) processing. Suricata's fast-paced community-driven development focuses on security, usability, and efficiency.
For more information, visit https://oisf.net/.
*LOGO link for media: Send2Press.com/300dpi/18-0227s2p-counterflow-300dpi.jpg
News Source: CounterFlow AI