SAN FRANCISCO, Calif., Oct. 24, 2023 (SEND2PRESS NEWSWIRE) — Culture Wine Co. launches today as the sole importer, wholesaler, e-commerce retailer and wine club in the United States dedicated exclusively to the wines of South Africa.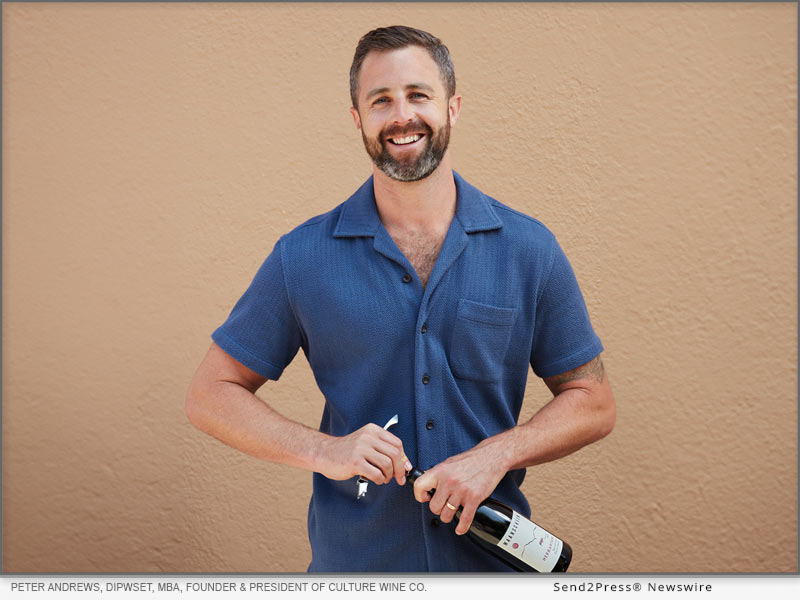 Image caption: Peter Andrews, DipWSET, MBA, Founder and President of Culture Wine Co.
The goal? To drastically increase the representation and import-value of South African wine in the United States. Although South African wine currently represents a small amount of US import volume, the bulk of these imports are intended for the creation and exclusive sale of budget-friendly brands. While this scenario has posed challenges in broadening awareness and appreciation for South Africa's highly skilled producers, Culture Wine Co. aims to have a positive impact in reshaping how these wines are marketed, perceived, and enjoyed in the US.
The mission? To Share Culture Through Wine. Culture Wine Co. believes there is an abundance of untold stories beyond the bottle itself. Our mission is to shed light on the resilience of South African winemakers who overcome extraordinary challenges, such as a complete absence of government subsidies, daily load shedding, and navigating extreme weather events – from flooding to frequent droughts. The world-class quality, thriving community, vibrant culture, and incredible stories of perseverance of its producers is unlike any other region in the world.
Culture Wine Co. services: Culture Wine Co. focuses on developing long-lasting partnerships with its producers, imports and wholesales direct-to-trade in California, and retails direct-to-consumer throughout the US via its e-commerce website. This eliminates the need for several entities touching the bottle before it's consumed, ensures wine is not 'lost' in large wholesale portfolios, and ultimately increases visibility of and value to South Africa's independent producers.
Who is behind the company? Culture Wine Co. was founded by 15-year wine industry veteran Peter Andrews DipWSET, MBA. Peter has held executive-level positions in the wine industry and taught wine business courses at Johnson & Wales University, The Culinary Institute of America, and for the WSET. He currently sits on the board of the Glancy Wine Education Foundation.
Peter Andrews, Founder & President, Culture Wine Co. (San Francisco), said, "South African wine has steadily increased in quality in the nearly 30 years since the end of Apartheid. Its producers are now readier than ever to shine in their long-overdue time in the international spotlight."
Kiara Scott Farmer, Winemaker Brookdale Estate (Paarl), said, "Now is the most exciting time to be buying and drinking South African wines. Winemakers and viticulturists around the country now truly understand their respective terroir – the climate, soils, and vines. There's also great camaraderie between the winemakers and the local wine industry in general. It's time for US wine lovers to jump on the train because we're going somewhere, and this is just the beginning of our latest and most exciting chapter."
Learn more: https://culturewineco.com/
To read the full (longer) press release, please visit: www.culturewineco.com/culture-wine-co-launches-to-enhance-representation-of-south-african-wine-in-the-united-states/
###
MEDIA ONLY CONTACT:
(not for print or online)
Peter Andrews DipWSET, MBA - Founder and President - Culture Wine Co.
Peter@Culturewineco.com - Cell: (434) 249-7950
News Source: Culture Wine Co.