LOS ANGELES, Calif., May 30, 2023 (SEND2PRESS NEWSWIRE) — Scientology Network's DOCUMENTARY SHOWCASE – the weekly series providing a platform for independent filmmakers to air films on important social, cultural and environmental issues – presents the documentary An Irish Story: This Is My Home.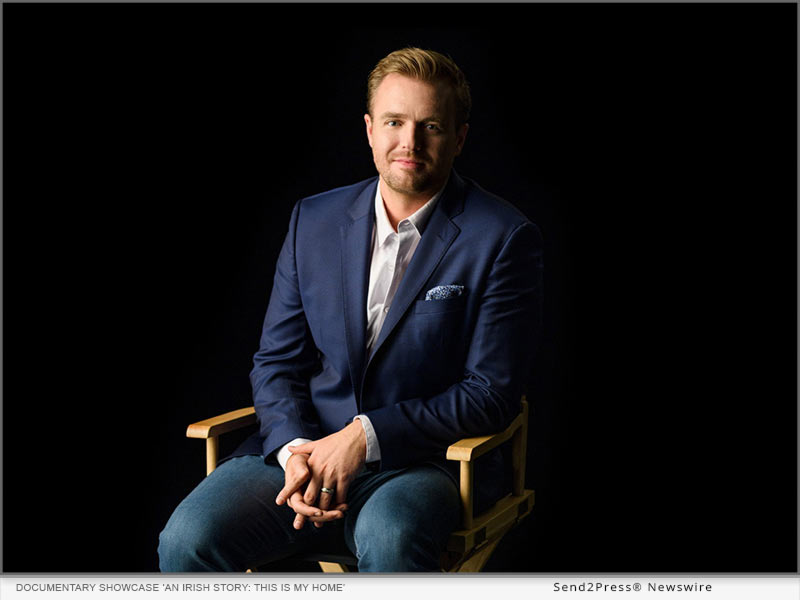 Image Caption: DOCUMENTARY SHOWCASE presents the documentary, "An Irish Story: This Is My Home."
An Irish Story: This Is My Home chronicles a race against time by popular Irish musical duo The Black Donnellys (singer-songwriter Dave Rooney and guitarist Dave Browne) to make it into the Guinness Book of World Records for performing 60 concerts in all 50 states in only 40 days.
Directed by Karl Nickoley, the feature documentary sees the band's cross-country attempt filled with canceled flights, flat tires, exploding volcanoes and impromptu fundraisers to raise enough money just to keep the tour going. Along the way, the film becomes a compelling exploration of the American dream and a testament to the power of music to unite people across cultures.
ABOUT KARL NICKOLEY
Karl Nickoley is an award-winning producer/director and founder of Frequency Pictures. An honors graduate from Los Angeles Film School and a master's certified professional in film and television finance from Pepperdine University, Karl has worked on feature films, TV commercials, web campaigns and more.
An Irish Story: This Is My Home was the People's Choice Award Winner at the 2020 Beloit International Film Festival.
In an interview with Scientology Network for DOCUMENTARY SHOWCASE, Karl gave insight to his purpose behind the documentary:
"The movie is a conversation starter. And that's been a really cool experience as a filmmaker, just relating back to the story of why I started…. It was to create a story that really, truly engages somebody."
ABOUT THE BLACK DONNELLYS
The Black Donnellys are a highly regarded and Guinness World Record–breaking band from Dublin, Ireland. Currently based in Las Vegas, The Black Donnellys are resident musicians at the Rí Rá Irish Pub at Mandalay Bay. The band consists of award-winning singer-songwriter Dave Rooney and Guinness World Record–breaking guitarist Dave Browne.
Dave Browne currently holds the Guinness World Record for marathon guitar playing, knocking out songs and tunes for over 114 hours straight at Dublin's famous Temple Bar. In 2012, Dave Rooney was voted best Irish Singer/Songwriter of the year by NYCS Radio Irish.
Since arriving in America, The Black Donnellys have established a committed fan base throughout the United States with their energetic live performances.
In an interview with DOCUMENTARY SHOWCASE, Dave Rooney conveyed his message for audiences:
"If you've ever wanted to go out in the world and see what the United States was all about … go on an adventure to understand and examine the American dream, to have a look at the beauty that the United States of America has got to offer, to listen to so many diverse people from so many diverse cultures … check this movie out. You'll enjoy it immensely."
ABOUT DOCUMENTARY SHOWCASE
Fundamental to Scientology is a humanitarian mission that extends to some 200 nations with programs for human rights, human decency, literacy, morality, drug prevention and disaster relief. For this reason, the Scientology Network provides a platform for independent filmmakers who embrace a vision of building a better world.
DOCUMENTARY SHOWCASE debuts films weekly from award-winning independent filmmakers whose goal is to improve society by raising awareness of social, cultural and environmental issues.
For more information, visit Scientology.tv/docs.
The Scientology Network debuted on March 12, 2018. Since launching, the Scientology Network has been viewed in 240 countries and territories in 17 languages. Satisfying the curiosity of people about Scientology and Founder L. Ron Hubbard, the network takes viewers across six continents, spotlighting the everyday lives of Scientologists, showing the Church as a global organization, and presenting its social betterment programs that have touched the lives of millions worldwide.
Broadcast from Scientology Media Productions, the Church's global media center in Los Angeles, the Scientology Network is available on DIRECTV Channel 320, DIRECTV STREAM, AT&T U-verse and can be streamed at Scientology.tv, on mobile apps and via the Roku, Amazon Fire and Apple TV platforms.
CONTACT:
Media Relations info@scnmedia.net
LEARN MORE:
https://www.scientology.tv/series/documentary-showcase/
MULTIMEDIA:
VIDEOS:
https://www.scientology.tv/series/documentary-showcase/an-irish-story/videos/teaser-karl-nickoley.html
https://www.scientology.tv/series/documentary-showcase/an-irish-story/videos/teaser-black-donnellys.html
https://www.scientology.tv/series/documentary-showcase/an-irish-story/videos/trailer.html
https://www.scientology.tv/series/documentary-showcase/an-irish-story/videos/an-inside-look.html
IMAGE link for media:
https://www.Send2Press.com/300dpi/23-0530-s2p-irishstory-300dpi.jpg
CAPTION: DOCUMENTARY SHOWCASE presents the documentary, "An Irish Story: This Is My Home"
TAGS: #ScientologyNetwork #Scientology #DocumentaryShowcase #AnIrishStory #KarlNickoley #TheBlackDonnellys #DaveRooney #DaveBrowne
News Source: Church of Scientology International