LOS ANGELES, Calif., June 16, 2023 (SEND2PRESS NEWSWIRE) — Scientology Network's DOCUMENTARY SHOWCASE — the weekly series providing a platform for independent filmmakers to air films on important social, cultural and environmental issues — presents the documentary Climbing Blind on June 16, 2023.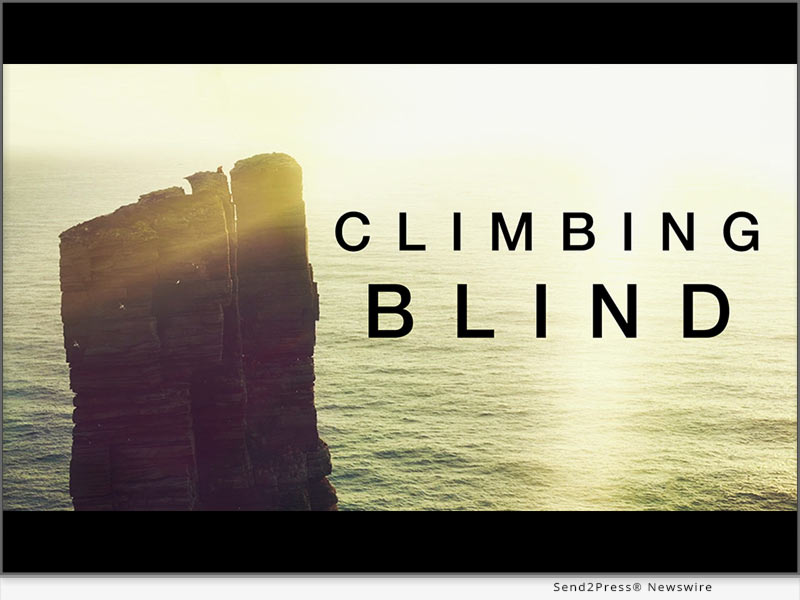 Image Caption: DOCUMENTARY SHOWCASE airs Climbing Blind tonight at 8 p.m. ET/PT on Scientology Network.
Climbing Blind tells the riveting and incredible story of blind rock climber Jesse Dufton as he attempts to become the first ever blind lead climber of the Old Man of Hoy, a towering, vertical sandstone stack off the coast of Scotland.
Director Alastair Lee's exhilarating documentary Climbing Blind follows Jesse Dufton who, though born with a degenerative eye disease that left him nearly blind, has become an expert rock climber. Jesse attempts to be the lead climber of the formidable 450-foot sea stack with his fiancée, Molly Thompson, acting as his eyes. It's a harrowing proposition given the terrifying drops and churning seas below that await the slightest mistake.
Climbing Blind is the recipient of numerous awards including Grand Prize at the Kendal Mountain Film Festival, Audience Award Best Documentary Feature at the Spokane International Film Festival, Best Film at Edinburgh Mountain Film Festival and many more.
ABOUT ALASTAIR LEE
Alastair Lee is a multi-award-winning director and cinematographer specializing in outdoor films. The 20-year industry veteran's filmmaking career has taken him to Baffin Island, the jungles of Venezuela and Antarctica, where his stunning photography for film and TV commercials has made him one of the leading forces in his industry with over 100 international awards to his name.
ABOUT JESSE DUFTON
Jesse Dufton was born with 20 percent central vision and at four years of age was diagnosed with a rare genetic disease that breaks down the retinas' cells. By the time he turned 30, his vision was reduced to only slight light perception with 1–2 percent field of view. He nevertheless took on ever-increasing challenges in rock climbs and took part in world cup events with guidance from Molly Thompson, who would go on to become his wife.
ABOUT DOCUMENTARY SHOWCASE
Fundamental to Scientology is a humanitarian mission that extends to some 200 nations with programs for human rights, human decency, literacy, morality, drug prevention and disaster relief. For this reason, the Scientology Network provides a platform for independent filmmakers who embrace a vision of building a better world.
DOCUMENTARY SHOWCASE debuts films weekly from award-winning independent filmmakers whose goal is to improve society by raising awareness of social, cultural and environmental issues.
For more information, visit Scientology.tv/docs.
The Scientology Network debuted on March 12, 2018. Since launching, the Scientology Network has been viewed in 240 countries and territories in 17 languages. Satisfying the curiosity of people about Scientology and Founder L. Ron Hubbard, the network takes viewers across six continents, spotlighting the everyday lives of Scientologists, showing the Church as a global organization, and presenting its social betterment programs that have touched the lives of millions worldwide.
Broadcast from Scientology Media Productions, the Church's global media center in Los Angeles, the Scientology Network is available on DIRECTV Channel 320, DIRECTV STREAM, AT&T U-verse and can be streamed at Scientology.tv, on mobile apps and via the Roku, Amazon Fire and Apple TV platforms.
CONTACT:
Media Relations info@scnmedia.net
LEARN MORE:
https://www.scientology.tv/series/documentary-showcase/about.html
MULTIMEDIA:
https://www.scientology.tv/series/documentary-showcase/climbing-blind/videos/trailer.html
https://www.youtube.com/watch?v=df-97lhZBi0
IMAGE link for media: https://www.Send2Press.com/300dpi/23-0616-s2p-docshowblind-300dpi.jpg
CAPTION: DOCUMENTARY SHOWCASE airs Climbing Blind tonight at 8 p.m. ET/PT on Scientology Network
TAGS: #ScientologyNetwork #Scientology #DocumentaryShowcase #ClimbingBlind #JesseDufton #AlastairLee
News Source: Church of Scientology International