LOS ANGELES, Calif., Nov. 2, 2023 (SEND2PRESS NEWSWIRE) — Each year, as part of their celebration of Red Ribbon Week, the Church of Scientology Los Angeles and local chapter of Foundation for a Drug-Free World hold the annual Drug-Free Heroes Gala Awards. This year's gala, Saturday, October 28, in the atrium of the Church of Scientology Advanced Organization on L. Ron Hubbard Way, honored L.A. drug prevention activists from across the Southland.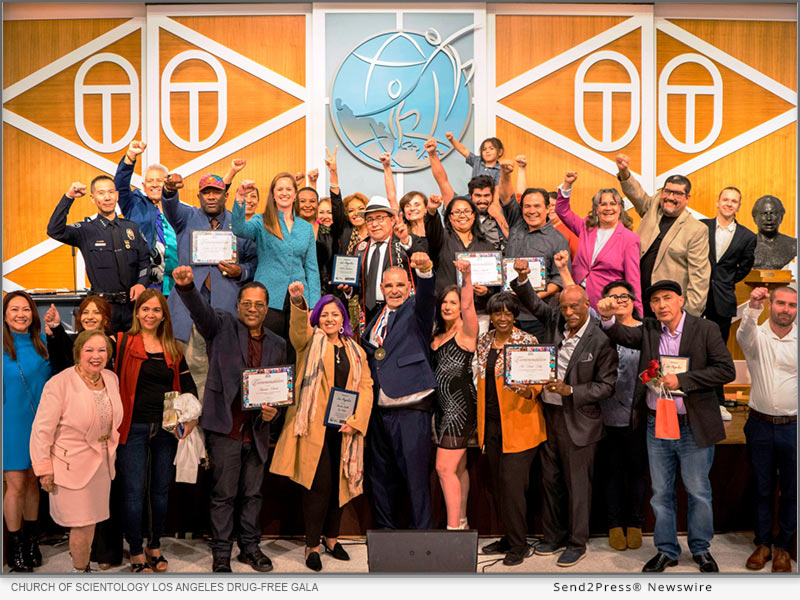 Photo Caption: Those awarded at the Church of Scientology Los Angeles Drug-Free Gala for their work to help youth avoid drug abuse and addiction.
Following dinner and live entertainment, Unitarian Bishop L.J. Guillory delivered the keynote speech and Church of Scientology Los Angeles New Civilizations Director Betsy Davis presented awards to local drug-free heroes:
Alex Alvarado of Urbanzones, for his support to the Los Angeles Guatemalan community especially at-risk youth and ex-offenders
Victor E. Antepara from Latinos Unidos Los Angeles Foundation, who promotes Latin American culture to provide direction and guidance and instill pride in youth, helping them avoid dangerous lifestyles
Maria Isabel Omolo Romos of M.I.R.O., who helps women in need of support to restore their lives
Annette Dedillo of Our Paths Foundation, whose services include drug education, advocacy, in-home support and parent training.
This was followed by a very special award to Strike Out Against Drugs founder David Sanchez. In recognition of his outstanding service to the community, Davis presented him with the President's Volunteer Service Award, including a certificate of achievement and a letter signed by President Biden.
Sanchez, whose story is featured in an episode of Voices for Humanity on the Scientology Network, was introduced to marijuana by a neighbor when he was 9. It was not long before he became addicted to heroin and crystal meth, habits he supported with a life of crime. Spending most of his adult life in jail, he finally freed himself from drugs and on release, opened a sober living facility called Beacon of Hope to help former addicts transition to a drug-free, crime-free life. But he wanted to do more to help youth avoid a life of drug abuse and addiction.
"I had to find an organization that was like-minded, that had the will and the want to get out there and make a change in the community," Sanchez says in his Voices for Humanity episode. "Drug-Free World has the facts about drugs, the truth about drugs." Sanchez shares why the Truth About Drugs materials of Foundation for a Drug-Free World are so vital: "Knowing about something that could hurt you is half the battle in being able to defeat it."
He established his nonprofit Strike Out Against Drugs, created a mobile Truth About Drugs theater using films from Foundation for a Drug-Free World and tours throughout Los Angeles helping youth and their parents understand the truth about drugs.
The Church of Scientology Los Angeles is an Ideal Scientology Church, serving Scientologists in their ascent to spiritual freedom and as a home for the entire community—a meeting ground of cooperative effort to uplift people of all denominations. It was dedicated by Scientology ecclesiastical leader Mr. David Miscavige in 2010.
For more information on the Church, its services and community outreach, visit the Church of Scientology Los Angeles website or watch Inside a Church of Scientology on the Scientology Network, available on DIRECTV Channel 320, DIRECTV STREAM, AT&T U-verse and streaming at Scientology.tv, on mobile apps and via the Roku, Amazon Fire and Apple TV platforms.
LEARN MORE:
https://www.scientologynews.org/press-releases/
https://www.scientology-losangeles.org
https://www.scientology.tv/series/inside-scientology/inside-a-church.html
https://www.scientology.tv/series/voices-for-humanity/david-sanchez.html
MULTIMEDIA:
https://www.scientology.tv/series/inside-scientology/inside-a-church.html
https://www.scientology.tv/series/voices-for-humanity/david-sanchez.html
https://www.youtube.com/watch?v=95biwRmra1k
https://www.youtube.com/watch?v=B0xMnowNCYo
PHOTO link for media: https://www.Send2Press.com/300dpi/23-1102-s2p-cosgala-300dpi.jpg
Photo Caption: Those awarded at the Church of Scientology Los Angeles Drug-Free Gala for their work to help youth avoid drug abuse and addiction
TAGS: #ChurchofScientology #ChurchofScientologyLosAngeles #RedRibbonWeek #DrugFreeWorld #TruthAboutDrugs #Gala
News Source: Church of Scientology International