SEATTLE, Wash., Oct. 3, 2018 (SEND2PRESS NEWSWIRE) — HaptX Inc., the leading provider of realistic haptic technology, today unveiled the HaptX® Gloves Development Kit, an industrial-grade product for advanced simulation in virtual reality. HaptX Gloves empower professional VR users to develop simulations with realistic touch feedback and natural interaction for the first time.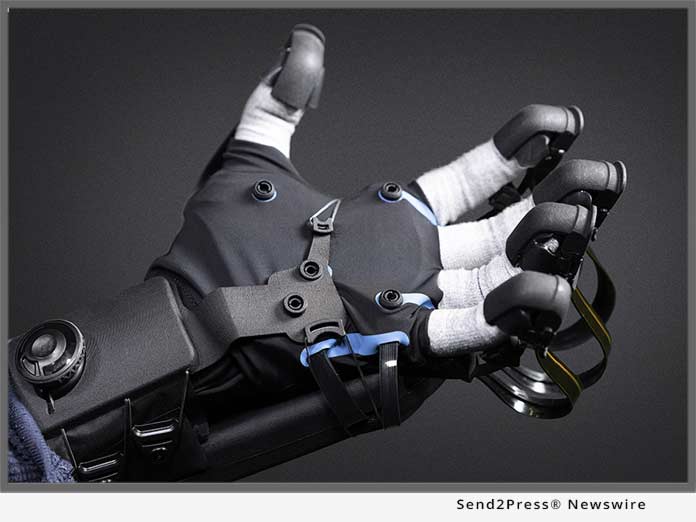 "With HaptX Gloves, leading automotive and aerospace companies can touch and interact with their vehicles before they are built, radically reducing time and cost for design iterations," said Jake Rubin, Founder and CEO of HaptX. "Industrial and government organizations can deploy virtual training solutions that build real muscle memory, providing a safe, cost-effective, and flexible alternative to live training."
"Realistic touch is the missing link for many enterprise VR applications," said Jason Welsh, managing director in Accenture's Extended Reality practice. "We are particularly interested in how HaptX's precise motion tracking and realistic touch can help enhance the effectiveness of immersive learning solutions for our clients."
The HaptX Gloves Development Kit includes two gloves, each featuring 130 tactile actuators that provide realistic touch across the hand and fingertips. Built with HaptX's patented microfluidic technology, HaptX Gloves also deliver powerful force feedback and industry-leading motion tracking with sub-millimeter precision. The HaptX SDK supports Unity and Unreal Engine 4, making it easy to create new content or upgrade existing VR experiences for HaptX Gloves. When combined with a VR headset, HaptX Gloves revolutionize human-machine interaction, enabling users to feel virtual objects with unprecedented realism.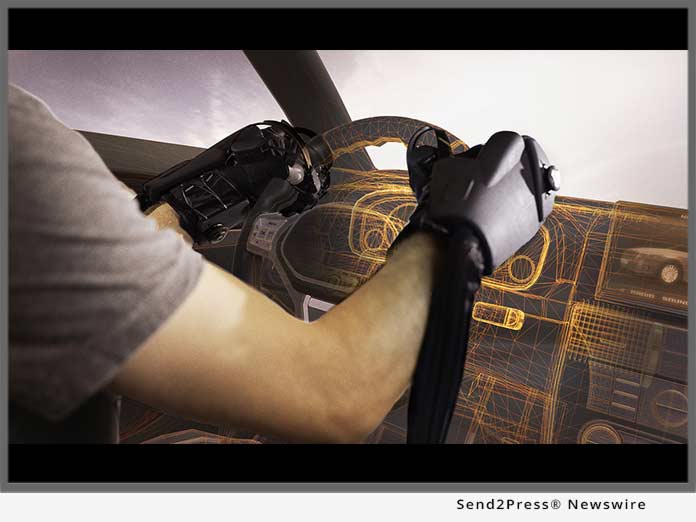 "The HaptX Gloves Development Kit provides a new level of haptic fidelity and realism," said Mary Hamilton, managing director and lead of the Digital Experiences R&D group at Accenture Labs. "Accenture is looking forward to seeing how HaptX Gloves will enhance the capabilities of VR for human-machine interaction."
The HaptX Gloves Development Kit makes its worldwide debut October 3, 2018 at the Future of Storytelling® Summit in New York City and the GeekWire Summit in Seattle. Businesses can learn more about the HaptX Gloves Development Kit at haptx.com.
About HaptX:
HaptX builds technology that simulates touch sensation with unprecedented realism. HaptX Gloves enable natural interaction and realistic haptic feedback in virtual reality for the first time. A venture-backed startup, HaptX has 35 employees, with offices in Seattle, Wash. and San Luis Obispo, Calif.
Visit us at https://haptx.com/.
*Image links for media:
(1) Send2Press.com/300dpi/18-1003s2p-haptx-dk-300dpi.jpg
(2) Send2Press.com/300dpi/18-1003s2p-HaptX-Automotive-300dpi.jpg
VIDEO (YouTube): https://youtu.be/0WQw4GmFGVg
News Source: HaptX Inc.