LIGHTHOUSE COVE, Ontario, Canada, Sept. 25, 2023 (SEND2PRESS NEWSWIRE) — Dr. Doug Pooley, a distinguished figure in the field of health and wellness with over four decades of experience, has unveiled his transformative health reclamation strategy in his latest book, "The UN-Diet Diet" (IBSN: 978-0228867654 August, 2023). This groundbreaking guide offers a simple yet effective blueprint for improving overall health, managing weight, and empowering individuals to age gracefully.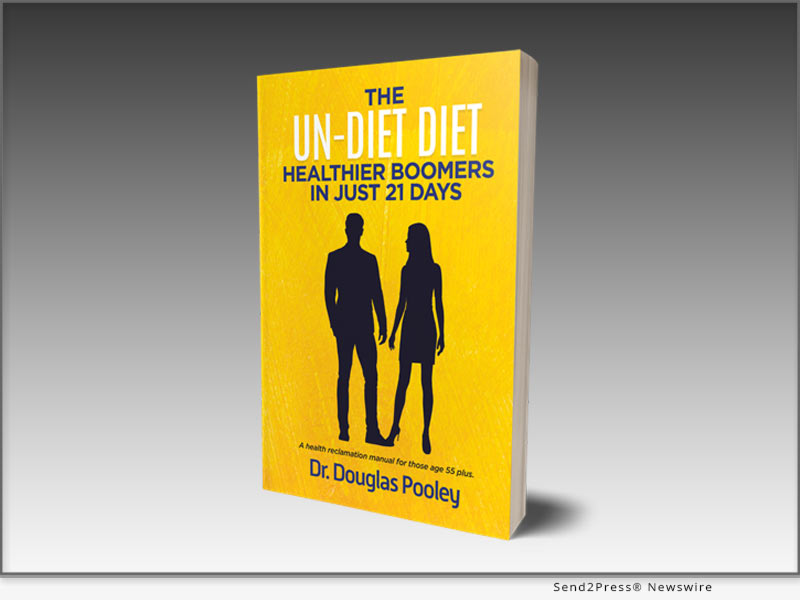 Image Caption: "THE UN-DIET DIET" by Dr. Douglas Pooley.
As the global population continues to age, the importance of adopting a holistic and sustainable approach to health and well-being becomes increasingly evident. Dr. Pooley's book is specifically designed to address the needs of individuals over the age of 55 who may be grappling with existing health challenges.
Unlocking the Secrets of Health and Longevity
"The UN-Diet Diet" delves into the core principles that govern health and disease through the lens of our evolutionary footprint. By examining the fundamental factors that sustain life, readers will discover the keys to enhancing their health and longevity. Dr. Pooley's comprehensive approach encompasses both physical and mental well-being, offering valuable insights that can be applied immediately to one's life.
About the Author
Dr. Doug Pooley boasts a remarkable career spanning over 43 years, during which he has had a profound impact on the lives of more than 20,000 individuals through nearly half a million clinical encounters. His extensive experience and dedication to natural approaches to health and wellness have earned him a well-deserved reputation as a leading authority in the field.
Dr. Pooley's commitment to health extends beyond his professional life. As a former bodybuilding champion and someone who continues to explore new frontiers in health and aging, he embodies the principles he shares in "The UN-Diet Diet."
You can find out more on his official website https://theun-dietdiet.com/
BOOK SUMMARY:
Author: Doug Pooley
Email: authorpress@tellwell.ca
Website: www.theun-dietdiet.com
Buy Link: https://a.co/d/bi0I0AS
Genre: Health & Fitness/Weight Loss
Released: August 30, 2023
PAPERBACK ISBN-13: 9780228867654
Publisher: Tellwell (www.tellwell.ca)
News Source: Dr. Doug Pooley