LOS ANGELES, Calif., Nov. 1, 2023 (SEND2PRESS NEWSWIRE) — According to a survey conducted by the Boys & Girls Club of America, 40 percent of U.S. children and teens say they were bullied at school this past year and 18 percent were bullied online. The effects of this practice can be fatal, according to the Centers for Disease Control and Prevention. Is there something those wishing to help with this vital issue can do? The answer is yes, according to humanitarians featured on the Scientology Network. And not only is it effective, it is also easy to do.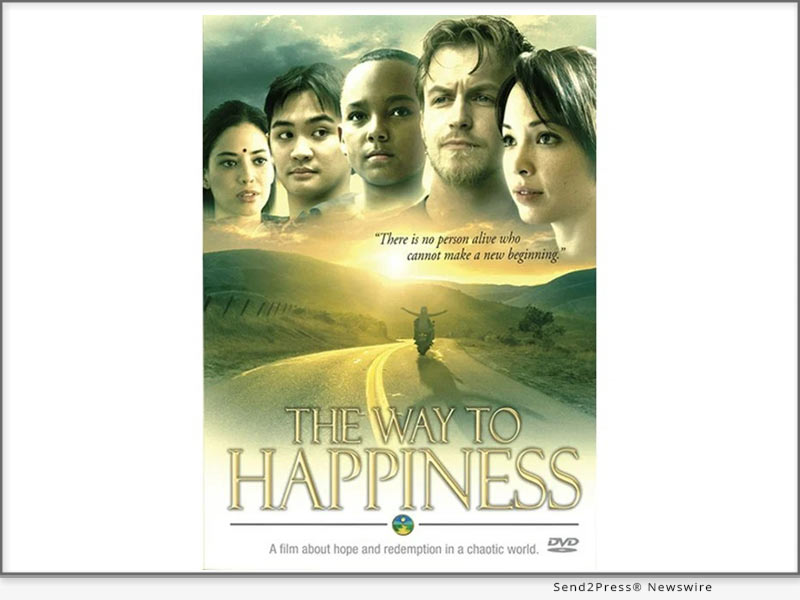 Photo Caption: Unabridged film version of 'The Way to Happiness' by L. Ron Hubbard.
These men and women use The Way to Happiness, the common-sense nonreligious moral code written by author, humanitarian and Scientology Founder L. Ron Hubbard. And the results are dramatic.
Among the 21 precepts of The Way to Happiness are two that particularly resonate on the subject of bullying. They present a new perspective on The Golden Rule — a concept that can be found in nearly every religion on Earth. These two precepts reinforce the original concept of this moral principle while giving direction on how to put it into practice.
Precept 19: Try Not to Do Things to Others That You Would Not Like Them to Do to You
Precept 20: Try to Treat Others as You Would Want Them to Treat You
These and 19 additional precepts are presented with practical examples of how to implement them to improve one's own and others' lives. The book has been adopted by people of vision around the world to better social conditions.
Voices for Humanity, an original series on the Scientology Network, shows how this booklet can counter bullying by helping those who would practice it reevaluate their behavior and its effect on their own and others' happiness.
In Taiwan, educator Miao-Hsiang Lin became an advocate of The Way to Happiness after using it in her classroom. She was deeply troubled about abusive behavior of her pupils and its consequences. Learning about The Way to Happiness from a friend, she used it to help her students reevaluate how they treat others—with dramatic results. This inspired her to bring The Way to Happiness to children throughout the island.
In Aruba, former parliamentarian Carmelita Haynes uses the booklet to reduce crime and increase opportunity for the youth of her country. As a child, she learned to protect herself from bullies and to cope with turmoil at home that ultimately led to her parents' contentious divorce. Training as a teacher, her goal was to ensure children growing up under similar circumstances have the same opportunities as anyone else. She says the book, with its 21 precepts, is just the thing kids need when things get rough—something they can hold on to. And for parents whose kids are in trouble, The Way to Happiness can set an example of how to survive and do well in life.
In Honduras, a country with one of the highest murder rates in the world, gangs frequently recruit children as young as 9 to a life of crime. Educator Eduardo Sabillon uses The Way to Happiness to inspire a movement to restore moral values and create a safer country.
To learn more, take a free online course on the book, or contact the nearest Church of Scientology for assistance in connecting with or setting up a local chapter of The Way to Happiness Foundation.
The Scientology Network airs the award-winning The Way to Happiness book on film and a series of public service announcements, illustrating each of the precepts in a way that particularly resonates with youth.
The Scientology Network debuted in March 2018. Since launching, with a special introduced by Scientology ecclesiastical leader Mr. David Miscavige, it has been viewed in over 240 countries and territories in 17 languages. Satisfying the curiosity of people about the Scientology religion and Founder L. Ron Hubbard, the network takes viewers across six continents, spotlighting the everyday lives of Scientologists, showing the Church as a global organization, and presenting its social betterment programs that have touched the lives of millions worldwide. The network also showcases documentaries by independent filmmakers who represent a cross-section of cultures and faiths but share a common purpose of uplifting communities. Scientology Network's innovative content has been recognized with more than 125 industry awards, including Tellys, Communitas and Hermes Creative Awards.
Broadcast from Scientology Media Productions, the Church's global media center in Los Angeles, the Scientology Network is available on DIRECTV Channel 320, DIRECTV STREAM, AT&T U-verse and streams at Scientology.tv, on mobile apps and via the Roku, Amazon Fire and Apple TV platforms.
LEARN MORE:
https://www.scientology.tv/documentaries/the-way-to-happiness.html
https://www.scientology.tv/documentaries/common-sense-for-life.html
https://www.scientology.tv/series/voices-for-humanity/glory-matipile.html  
MULTIMEDIA:
https://www.scientology.tv/documentaries/the-way-to-happiness.html
https://www.scientology.tv/documentaries/common-sense-for-life.html
https://www.scientology.tv/series/voices-for-humanity/glory-matipile.html
https://www.scientology.tv/series/voices-for-humanity/miao-hsiang-lin.html
https://www.scientology.tv/series/voices-for-humanity/carmelita-haynes.html
https://www.scientology.tv/series/voices-for-humanity/eduardo-sabillon.html
PHOTO link for media: https://www.Send2Press.com/300dpi/23-1101-s2p-coshappiness-300dpi.jpg
Photo Caption: Unabridged film version of 'The Way to Happiness' by L. Ron Hubbard
TAGS: #ChurchofScientology #BullyingPreventionMonth #TheWaytoHappiness #ScientologyNetwork
News Source: Church of Scientology International