LOS ANGELES, Calif., June 23, 2023 (SEND2PRESS NEWSWIRE) — Scientology Network's DOCUMENTARY SHOWCASE — the weekly series providing a platform for independent filmmakers to air films on important social, cultural and environmental issues — presents the documentary classic "Most Valuable Players," on June 23, 2023. "Most Valuable Players" shines the spotlight on talented kids in Pennsylvania's high school musical theater programs as they prepare for the Freddy Awards, the annual awards show honoring outstanding high school musical theater talent and programs.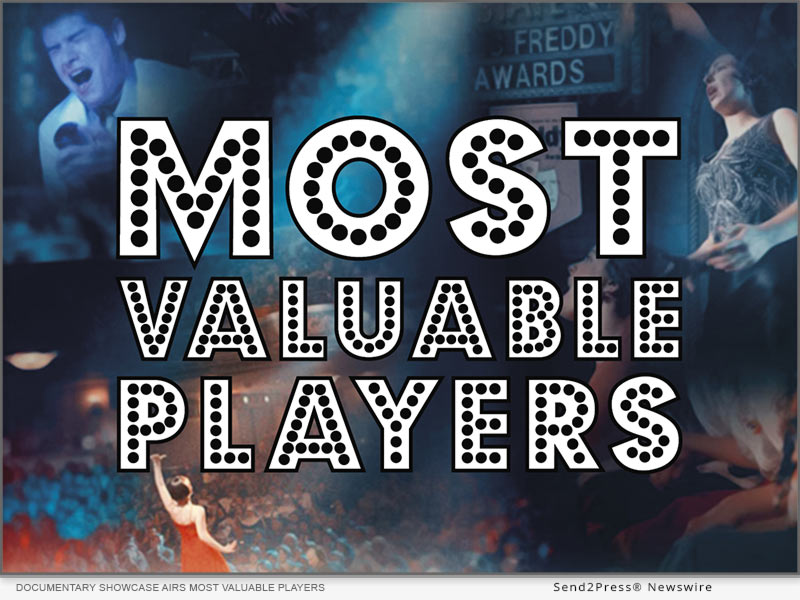 Image Caption: DOCUMENTARY SHOWCASE airs "Most Valuable Players" tonight at 8 p.m. ET/PT on Scientology Network.
Directed by Matthew D. Kallis, the feature documentary shifts the focus from the ultra-competitive and well-funded athletic programs in sports-obsessed Pennsylvania to the no less deserving, but sorely underfunded, musical theater programs in the state. The multitalented students from three schools show their creativity and camaraderie as they prepare for the night of their young lives in hopes of appearing onstage at the prestigious Freddy Awards show.
Most Valuable Players is the winner of many awards including the Documentary Channel Audience Award at the Nashville Film Festival and Best Director at the Children's Film Festival Seattle.
ABOUT MATTHEW D. KALLIS
Director Matthew D. Kallis is a Los Angeles-based filmmaker whose previous projects include the PBS television series The Living Century and The Inside Pitch, for which he received an L.A. Area Emmy Award nomination. Most Valuable Players is his first feature-length documentary.
Matthew earned a Bachelor of Science from MIT and an MBA from Columbia University. He studied filmmaking and visual arts with eminent artists and scientists including Richard Leacock (pioneer of Direct Cinema), "Doc" Harold Edgerton (inventor of Electronic Strobe Photography) and Nicholas Negroponte (founder of the MIT Media Lab). Matthew spent many years on Wall Street and continues to serve as a board member and advisor for charitable foundations and new media businesses.
In an interview with Scientology Network for DOCUMENTARY SHOWCASE, Matthew conveyed some of his hopes for the film:
"The idea that this film can get as broad an exposure as possible, that's what's most important to me at this point. And to promote the value of arts to the young people of the world is really what I'm looking for."
ABOUT CHRISTOPHER LOCKHART
Producer Christopher Lockhart is a Hollywood filmmaker and educator. Born and raised in New York City, Christopher received an MFA in dramatic writing from NYU's Tisch School of the Arts. Christopher was nominated for an L.A. Area Emmy Award for The Inside Pitch, a program that examines how writers pitch their screenplays in Hollywood. He has lectured around the world and has taught locally at Los Angeles Valley College, UCLA and National University. Having produced a string of successful independent films, Most Valuable Players is Christopher's first documentary feature.
Christopher stated in an interview with DOCUMENTARY SHOWCASE:
"I just think people watch the movie and they feel happy. The joy that these students are experiencing through the arts is infectious . . . and what's wrong with a little joy, what's wrong with a little bit of happiness? This is a tough world and we're living in tough times. And so for 90 minutes you can sit back and you can have a dose of happiness along with some show tunes."
ABOUT DOCUMENTARY SHOWCASE
Fundamental to Scientology is a humanitarian mission that extends to some 200 nations and territories with programs for human rights, human decency, literacy, morality, drug prevention and disaster relief. For this reason, the Scientology Network provides a platform for independent filmmakers who embrace a vision of building a better world.
DOCUMENTARY SHOWCASE debuts films weekly from award-winning independent filmmakers whose goal is to improve society by raising awareness of social, cultural and environmental issues.
For more information, visit Scientology.tv/docs.
The Scientology Network debuted on March 12, 2018. Since launching, the Scientology Network has been viewed in 240 countries and territories in 17 languages. Satisfying the curiosity of people about Scientology and Founder L. Ron Hubbard, the network takes viewers across six continents, spotlighting the everyday lives of Scientologists, showing the Church as a global organization, and presenting its social betterment programs that have touched the lives of millions worldwide.
Broadcast from Scientology Media Productions, the Church's global media center in Los Angeles, the Scientology Network is available on DIRECTV Channel 320, DIRECTV STREAM, AT&T U-verse and can be streamed at Scientology.tv, on mobile apps and via the Roku, Amazon Fire and Apple TV platforms.
MEDIA CONTACT:
Media Relations info@scnmedia.net
LEARN MORE:
https://www.scientology.tv/series/documentary-showcase/most-valuable-players/
https://www.scientology.tv/series/documentary-showcase/about.html
VIDEOS:
https://www.scientology.tv/series/documentary-showcase/most-valuable-players/videos/trailer.html
https://www.scientology.tv/series/documentary-showcase/most-valuable-players/videos/an-inside-look.html
https://www.scientology.tv/series/documentary-showcase/most-valuable-players/videos/inside-look-teaser-with-christopher.html
https://www.scientology.tv/series/documentary-showcase/most-valuable-players/videos/inside-look-teaser-with-matthew.html
IMAGE link for media: https://www.Send2Press.com/300dpi/23-0623-cosvaluable-300dpi.jpg
CAPTION: DOCUMENTARY SHOWCASE airs "Most Valuable Players" tonight at 8 p.m. ET/PT on Scientology Network
TAGS: #ScientologyNetwork #Scientology #DocumentaryShowcase #MostValuablePlayers #ChristopherLockhart #MatthewDKallis
News Source: Church of Scientology International