NEW YORK, N.Y., June 30, 2023 (SEND2PRESS NEWSWIRE) — HitPaw Video Enhancer has released the new version of Windows V1.7.0, and has provided major updates! Have a glance of the update piont below and try to make your videos more vibrant and appealing!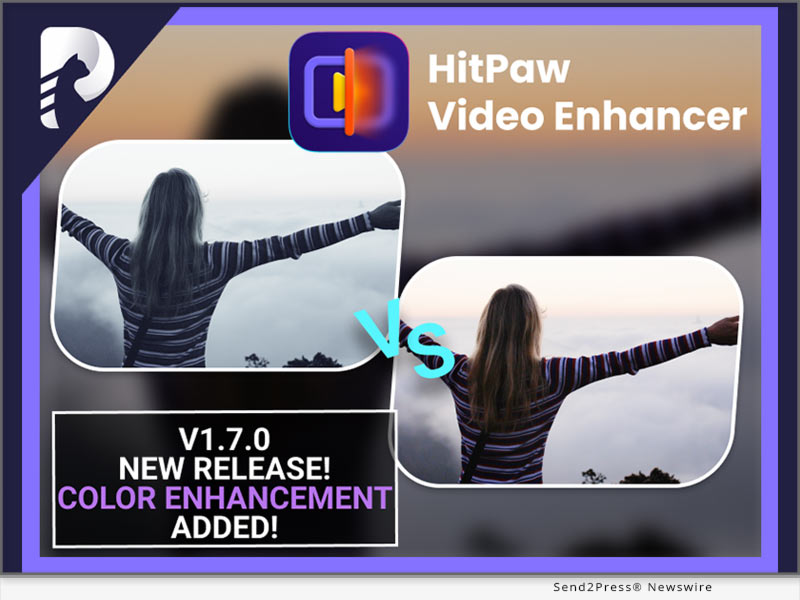 Image Caption: HitPaw Video Enhancer Windows V1.7.0 New Release.
Color Enhancement Model Added
A new Color Enhancement Model is added under the General Denoise Model, Animation Model and Face Model. It is designed to enhance the colors of videos by adjusting the brightness, contrast, and saturation levels. You can choose to enhance the videos via the specific model along with the color enhancement choice.
Deinterlace Automatically
The Automatic Deinterlace feature is another exciting addition to the HitPaw Video Enhancer. It automatically detects interlaced video footage and removes the interlacing artifacts to produce smooth and clear video output.
More Choices with Export Format And Bit rate
With the latest update, you have been provided with more choices when it comes to export format and bit rate. You can now choose from a wide range of exporting formats like MKV, M4V and AVI and bit rates from 512 kbps to 30,000 kbps to suit your specific needs.
More Choices with Preview
Apart from the previous preview form, now you can compare the Before & After by choosing from multiple effects! You can either choose to compare the processing effect with Dual Screen Comparison, or with Sliding Comparison or Overlap Comparison.
Simplified the Initial Interface
Finally, the initial interface of HitPaw Video Enhancer has been simplified to make it easier for you to navigate and use the software. The new interface is intuitive and user-friendly, allowing you to start enhancing your videos right away, and making your user experience more enjoyable.
Compatibility and Price
HitPaw Video Enhancer is now compatible with Windows 11/10 64-bit and MacOS 10.15 or later. The Windows Version pricing starts from $42.99 per month.
For more information, you can visit:
https://www.hitpaw.com/hitpaw-video-enhancer.html
https://www.hitpaw.com/purchase/buy-hitpaw-video-enhancer.html
https://www.hitpaw.com/purchase/buy-hitpaw-video-enhancer-mac.html
About HitPaw:
HitPaw is an emerging software company specialized in multi-media solutions such as video/photo editing, video/photo enhancing, screen recording, watermark removing, etc. We help users turn their inspiration into reality so that we can generate more ideas to make the world be full of more creativity.
To know more, you may visit:
https://www.hitpaw.com/about.html
Our Social Media:
YouTube: https://www.youtube.com/channel/UCQwRggaotgiMcPbiCOsJeBA
TikTok: https://www.tiktok.com/@hitpaw
Facebook: https://www.facebook.com/HitPawofficial
Twitter: https://twitter.com/HitPawofficial
Instagram: https://www.instagram.com/HitPawofficial/
Pinterest: https://www.pinterest.com/HitPawofficialwebsite/
News Source: HitPaw