NEW YORK, N.Y., June 14, 2023 (SEND2PRESS NEWSWIRE) — Have you encountered iPhone locked to previous owner but been unable to activate it because you don't know its iCloud login credentials? You may have no clue about how to remove activation lock without previous owner. Don't freak out since there's a perfect Activation Lock Removal solution from Tenorshare to remove activation lock without previous owner's login credentials.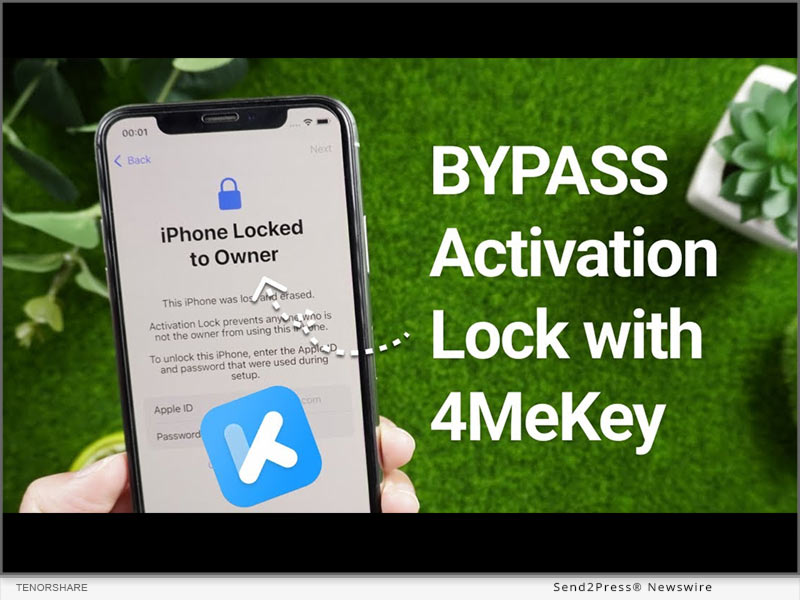 Image Caption: Tenorshare 4MeKey.
VIDEO: https://www.youtube.com/watch?v=_auObr_Nk98
What an Activation Lock Is and Why It's Important?
"An iCloud activation lock is a built-in security feature in iOS devices activated after users turn on the Find My Device feature. While activation lock prevents unauthorized access, protects the owner's data, and requires an Apple ID and password to reset the device, some users claim it for iPhone locked to precious owner," says a Tenorshare Spokesman. "Luckily, with Tenorshare 4MeKey, you can remove iPhone locked to previous owner and bypass activation lock".
How to Remove Activation Lock Without Previous Owner on iPhone/iPad via iCloud Activation Unlocker?
If you've purchased a used iPhone, a common way to bypass activation lock for free is by contacting its previous owner. Here's what you can do:
Contact the previous owner.
Request to remove the device from their iCloud account.
While this method sounds simple, it has its limitations. Firstly, you may not have the previous owner's contact info if you've bought the iPhone from a third-party seller, or the owner might be unresponsive. Thankfully, Tenorshare iCloud Activation Unlocker is a safe and efficient tool to unlock your iPhone without the previous owner's help.
It covers a variety of scenarios, such as:
Remove the activation lock without iCloud login credentials.
Remove the iCloud account on your iPhone if you forgot the password or bought a locked device.
Allows you to sign in with a new Apple ID and password after bypassing the activation lock.
Disable the Find My iOS device feature without a password.
To bypass activation lock with 4MeKey, just connect your iOS device to your computer, and select "Start Jailbreak." Finally, your iCloud activation lock will be removed successfully.
How to Avoid Stuck on the Activation Lock Screen?
When buying a used iOS device, you can avoid the "not knowing the previous owner's iCloud login info" scenario by:
Verifying the device is not locked to a previous owner's iCloud account.
Researching the seller and requesting proof of ownership.
LEARN MORE:
https://www.tenorshare.com/products/4mekey-activation-unlocker.html
https://www.tenorshare.com/guide/remove-icloud-activation-lock.html
About Tenorshare
How to remove iCould activation lock without previous owner's login info is a question many users who've bought a used iPhone ask. However, with Tenorshare 4MeKey, removing the iCloud activation lock without the previous owner's login info is a breeze. Given its efficiency and reliability, 4MeKey is a testament to Tenorshare's commitment to providing exceptional solutions for smartphone users.
More information: https://www.tenorshare.com/
Facebook: https://www.facebook.com/TenorshareOfficial/
Twitter: https://twitter.com/Tenorshare_Inc
YouTube: https://www.youtube.com/user/TenorshareOfficial/videos
TikTok: https://www.tiktok.com/@tenorshare_tech_tips
News Source: Tenorshare Co. Ltd.