NEW YORK, N.Y., Sept. 20, 2023 (SEND2PRESS NEWSWIRE) — Apple has already rolled out iOS 17, packed with exciting features like a revamped Control Center and advanced privacy measures. However, many users have complained iOS 17 bugs, such as Apple Maps Offline not displaying, the disappearance of personalized Siri voices, iPhone Battery Drain and iPhone Overheating. To address these concerns, Tenorshare, a top software provider, has updated its solutions to remove iOS 17 or downgrade from iOS 17 if needed.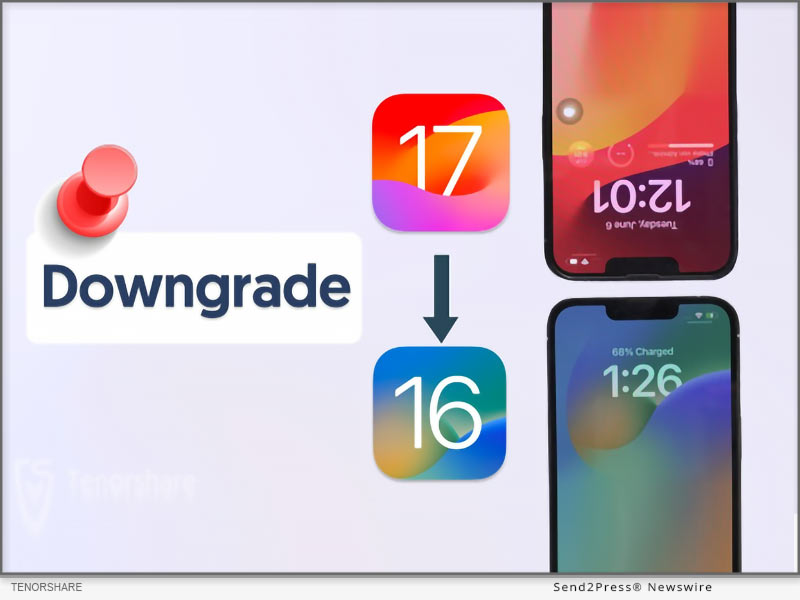 Image Caption: Downgrade iOS 17 with Tenorshare ReiBoot.
VIDEO: https://www.youtube.com/watch?v=TXjrbnfBaFc
"There are many issues associated with iOS 17, such as abnormal battery drain, app crashes, Face ID problems, installation and download glitches, etc. But Tenorshare ReiBoot can help remove/uninstall iOS 17 from iPhone within a few clicks," says a Tenorshare spokesperson. Let's find out how to remove iOS 17 from iPhone or downgrade iOS 17 with ReiBoot.
What Software can be chosen to Remove/Uninstall iOS 17 from iPhone?
Tenorshare ReiBoot truly simplifies the process of removing iOS 17 from your iPhone. Additionally, it can fix iOS 17 Updated problems, It can not only downgrade the iOS 17 version but also resolve other issues that go hand in hand with downgrading. Here are the key features of this Tenorshare ReiBoot:
Easily downgrade from iOS 17 to iOS 16 without the need for iTunes.
One-click solution to download and install iOS/iPadOS IPSW files, even without a Developer account.
Fix any issues you might encounter during the iOS 17 downgrade, like being stuck on the Apple logo, unresponsive screen, or recovery mode loops.
Fully compatible with the latest iOS 17 and all iPhone 15 models.
How to Downgrade from iOS 17 to iOS 16 Without iTunes & Data Loss?
You don't need iTunes if you want to learn how to downgrade from iOS 17 to iOS 16 without data loss. Tenorshare ReiBoot can remove the version and install the stable version of iOS. Here's how to go back to iOS 16 from 17 with this tool:
Download and install Tenorshare ReiBoot on your computer, and connect your iPhone.
Click "iOS Upgrade/Downgrade," select "Downgrade."
Download the firmware, and ReiBoot will automatically downgrade iOS 17 to 16.
Learn more: https://www.tenorshare.com/products/reiboot.html
More iOS 17 Tips You Should Know!
To learn how to remove iOS 17 without a computer or how to uninstall iOS 17, you can find comprehensive information right through Tenorshare iOS 17 tips. You can also check for details regarding the latest iOS 17 features, tips, shortcuts, installation, jailbreak guidance, and troubleshooting common upgrade errors.
Learn more: https://www.tenorshare.com/ios-17/
About Tenorshare:
Are you looking to learn how to downgrade iOS 17 to 16? Tenorshare ReiBoot is your ultimate solution to remove/uninstall iOS 17 from your iPhone. It can help you revert to a stable iOS 16 without risking data loss. As a leading software provider, Tenorshare ensures compatibility with the latest innovations, making your transition to a stable iOS version seamless and worry-free.
Information: https://www.tenorshare.com/
Facebook: https://www.facebook.com/TenorshareOfficial/
Twitter: https://twitter.com/Tenorshare_Inc
YouTube: https://www.youtube.com/user/TenorshareOfficial/videos
TikTok: https://www.tiktok.com/@tenorshare_tech_tips
News Source: Tenorshare Co. Ltd.