FRANKLIN, Pa., June 22, 2023 (SEND2PRESS NEWSWIRE) — Glovebox Reminder, LLC, a small town America based mobile app company, is thrilled to unveil its flagship product, the Glovebox Reminder App. Designed specifically for vehicle owners and small businesses, this cutting-edge mobile app allows for a streamlined and effective way to keep maintenance records, maintain compliance and store all relevant vehicle documents and send renewal reminders.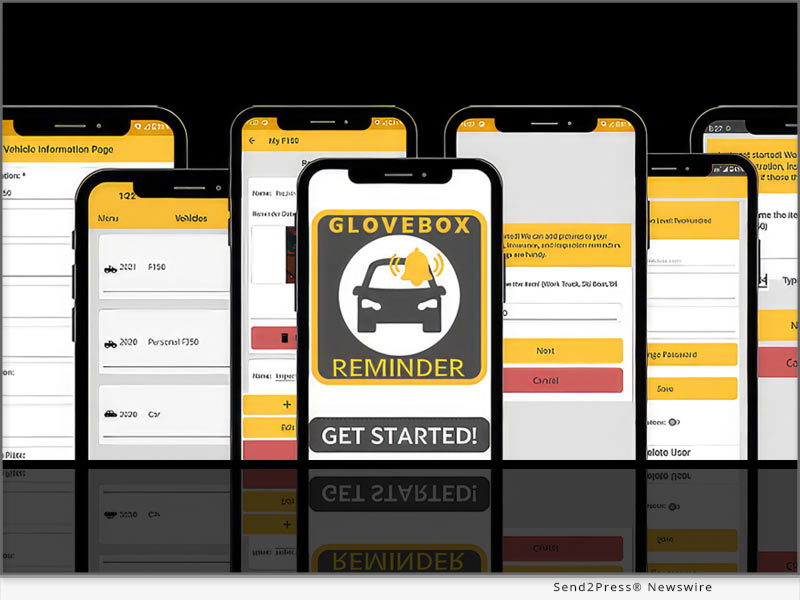 Image Caption: Glovebox Reminder App.
With the growing demand for simplicity and streamlined processes, Glovebox Reminder has created a cutting-edge, easy-to-use app that addresses the needs of vehicle owners. The app, available to both Apple and Android users, keeps paperwork, maintenance records and reminders for all vehicles, trailers, tools and toys at your fingertips.
Key Features of the Glovebox Reminder App:
With a very simple approach, Glovebox Reminder is poised to provide an unparalleled user experience, meeting the demands of vehicle and small business owners.
Driver Information:
Simply enter a driver's name, then add reminders and store pictures of License, DOT physicals, etc.
Vehicle Information:
The app allows for single or multiple vehicles, trailers, trucks, boats, etc. Simply add a vehicle with all of its pertinent information and add reminders and photos for inspections, registration, and any other associated documents.
Record Keeping & Renewal Reminders:
Add records for your vehicle or drivers. Set reminders for Inspections, registration, DOT physicals, etc, add photos, and the app will do the rest.
Fleet Accounts:
The simple alternative to spreadsheets and outdated software — designed to help you automate fleet renewals and keep vehicles and equipment running smoothly, and up to date. We offer fleet accounts for as little as 4.99/month! New features and editions are coming!
"Glovebox Reminder App is a tool created BY vehicle and business owners FOR vehicle and business owners," says Josh Cline, Owner/Creator. "Our mission is to simplify the lives of vehicle owners and small businesses by saving time, reducing stress and ensuring compliance with regulations."
LEARN MORE: https://gloveboxreminder.com/fleet-accounts/
About Glovebox Reminder, LLC:
Glovebox Reminder, LLC is committed to providing easy-to-use technology. As the demand for streamlined and simple apps grows, Glovebox Reminder is a remarkable option catering to the needs of vehicle and small business owners.
LEARN MORE: https://gloveboxreminder.com/
MEDIA CONTACT:
+1-814-573-8185
info@gloveboxreminder.com
MULTIMEDIA:
Media Photo Link: https://gloveboxreminder.com/wp-content/uploads/2023/06/Blog-Graphic-Phones-1024×256.png
Caption: Glovebox Reminder App
###
MEDIA ONLY CONTACT:
(not for print or online)
Kimberly McBryant, 814-573-8185, kim@gloveboxreminder.com

Josh Cline, 814-573-8185, info@gloveboxreminder.com
News Source: Glovebox Reminder LLC