SHENZHEN, China, Aug. 16, 2018 (SEND2PRESS NEWSWIRE) — iSkysoft, a leading software developer, today announced the new upgrade of their flagship product – Data Recovery with an intelligent System Crash Recovery – recover data from unbootable system in the fastest and easiest way, available for both Windows and Mac.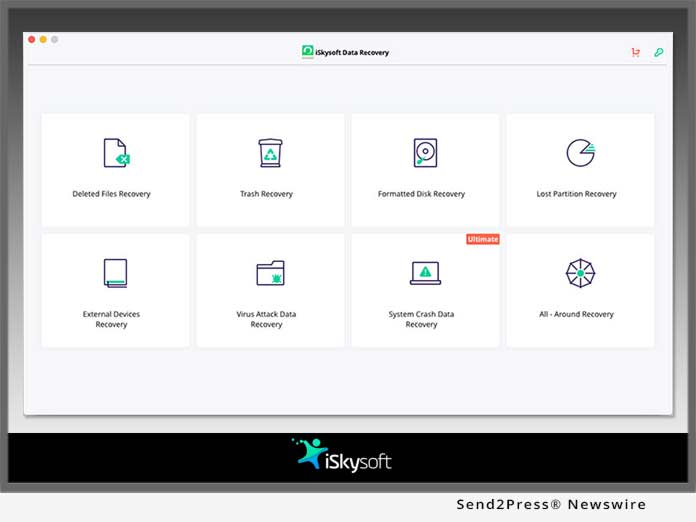 Built on its updated algorithm, the iSkysoft Data Recovery 4.0.0 adopts a new UI design and supports more data loss situations than before, including virus attack recovery, OS crash recovery, external device recovery, etc.
With the new-optimized UI as well as a high-performance workflow, now it becomes the world's TOP Data Recovery software with the success rate up to 98 percent.
The improved Data Recovery software securely scans everything in Windows, Mac disk, hard drives, partitions, SD card, etc., even the data deleted for years. It allows users to recover data according to the data loss scenes, and provides different scanning modes to find out all deleted, lost, formatted, hidden or even crashed data. Moreover, the new upgraded version also fixes various bugs and highly improves the data recovery success rate from 92 percent to 98 percent.
"Although iSkysoft has specialized in data recovery market for more than 4 years, we are still devoted to providing users with a better solution to retrieve more lost but valued data on Mac, Windows or any types of disks easily," said Shelia She, Manager of iSkysoft Technical Department. "Therefore, in the past years, our technical team have re-organized the structure of code and algorithm, accurately tested up to hundreds of versions, and finally the version of Data Recovery 4.0.0 is released. It could be a life saver to safely yet easily recover everything in your Mac, Windows or other devices."
Check All the Upgraded Features of iSkysoft Data Recovery:
8 different data recovery modes to accurately rescue lost data on Mac, Windows or other devices.
The new workflow divided the data loss situations into 8 major parts, including deleted files recovery, recycle bin or trash recovery, formatted disk recovery, partition recovery, external devices recovery, virus attack recovery, system crash recovery and all-around recovery. These recovery modes can 100 percent scan and retrieve lost but valued data in almost all data loss scenes that can be encountered in the digital life.
Check detailed tutorial on how to perform iSkysoft Data Recovery >>> https://www.iskysoft.com/data-recovery-mac/user-guide.html
Using WinPE or MacPE to create bootable media for recovering data from unbootable system
iSkysoft Data Recovery could be the top 1 tool that supports to recover hard drive data from unbootable Windows or Mac system by creating bootable media under WinPE or MacPE environment. Moreover, the step-by-step screen introduction requires no professional skills for every user, so all needed data can be restored from an unbootable system quickly.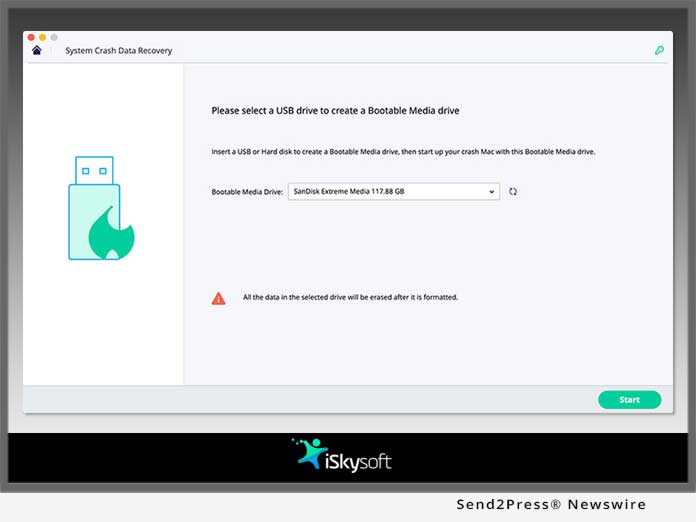 New-optimized UI makes the whole recovery process more easier than before
iSkysoft Data Recovery 4.0.0 redesigned the whole interface and categorized the scanning results in a better way. Precise and concise interface help to recover lost, deleted, formatted or damaged data as easy as 1-2-3, and the Tree View and File View mode allows preview and locate target files in different ways.
Up to 98 percent high success rate of data recovery, far exceeding similar software on the market
The improved iSkysoft Data Recovery could be the World's TOP productivity software because of its strong searching ability and high success rate. Thousands of tests have proved that the success rate of iSkysoft Data Recovery 4.0.0 is up to 98 percent. That means everything on Mac or Windows disk can be found and restored in its original quality.
More types of licenses to satisfy your different needs
The new updated iSkysoft Data Recovery has changed its license type to 1-month license, 1-year license and lifetime license. These different licenses can greatly satisfy different needs in the digital life. Moreover, iSkysoft also provides business commercial license to every needed user.
iSkysoft Data Recovery is available for Windows and Mac, personal license starts from $35.95. And it allows customize license according to specific needs.
Check detailed pricing plans here >>> https://www.iskysoft.com/purchase/buy-data-recovery-mac.html
About iSkysoft:
iSkysoft, as a leading brand of smart software solutions, has always ruled for customer satisfaction and loyalty. For ten years, we keep providing multilingual interaction services for users from over 230 countries and regions around the world and continually spread our enthusiasm to every corner of the world by business expansion. We aim to provide more than 100 million great users with easy-to-use utility tools and devote ourselves in offering our customers an ultimate option to better experience digital life. Learn more at: https://www.iskysoft.com/.
News Source: ISkysoft