MILPITAS, Calif., May 22, 2023 (SEND2PRESS NEWSWIRE) — The highly anticipated Kashmir Conclave 2023, held in Milpitas, California, brought together distinguished attendees, including Milpitas City Mayor Carmen Montana, accomplished lawyer and CPA Neeraj Bhatia, and prominent Kashmiri figure Jeevan Zutshi, along with Tasawar Jalali, to discuss and explore crucial trade, economic development, and collaboration opportunities for the dynamic region of Jammu & Kashmir.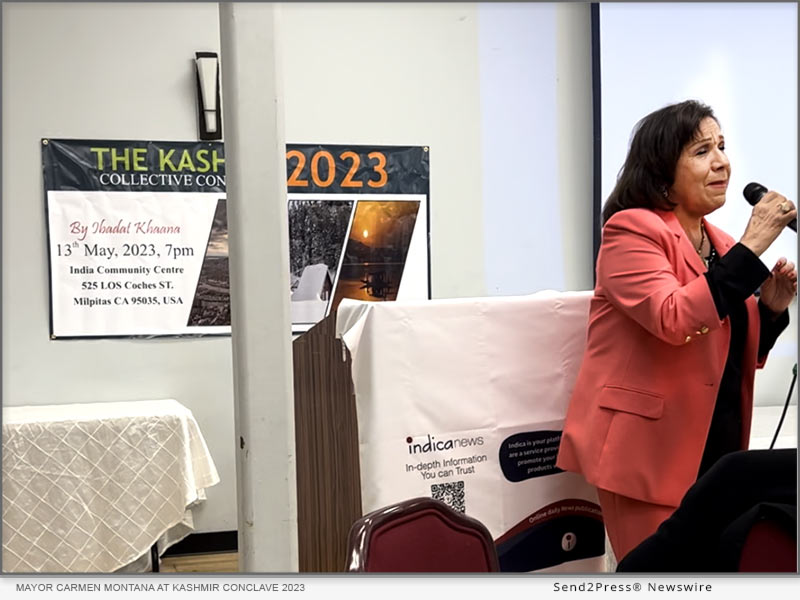 Image Caption: Mayor Carmen Montana speaking at Kashmir Conclave 2023, Milpitas CA.
The event brought together industry experts in import-export laws, taxation, and other key stakeholders to explore and strengthen economic ties between the two regions.
During her address at the event, Mayor Carmen Montana emphasized the paramount importance of promoting trade and economic development. She showcased Milpitas City's unwavering commitment to supporting the Kashmir Conclave team in establishing fruitful partnerships with businesses in the Jammu & Kashmir region. Mayor Montana applauded the city's relentless efforts in attracting businesses, including the visionary plans for an innovation district, specifically designed to allure enterprises to Milpitas.
Neeraj Bhatia, an esteemed lawyer and CPA based in Silicon Valley, shared invaluable insights during the conclave, drawing upon his expertise in international and domestic tax planning, startups, and multinational entities. Bhatia shed light on several incentives offered by the Indian government to attract investment in Jammu & Kashmir. Notably, he highlighted the revised policy allowing Non-Resident Indians (NRIs) and Overseas Citizens of India (OCIs) to purchase and own property in the region. Bhatia also emphasized the availability of capital subsidies and interest subvention for industrial development, which facilitates capital investment and propels sustainable growth.
Jeevan Zutshi, a prominent figure of Kashmiri origin and chairman of the Indo-American Community Federation (IACF), delivered an impactful speech during the conclave, expressing his unwavering commitment to the region's development and his firm belief in promoting pluralism and empowering women through progressive local laws. Zutshi passionately advocated for shifting the narrative surrounding Jammu & Kashmir, redirecting the focus from discussions of terrorism and unrest towards comprehensive development. He stressed the pressing need to create an inclusive environment where all communities can coexist harmoniously, just as they did in the past.
Zutshi expressed his delight at witnessing significant strides taken towards the implementation of progressive local laws, empowering women and providing them with a platform to voice their aspirations. He underscored the vast potential for investment opportunities in sectors such as agriculture and horticulture, while commending the state government and the Government of India for their relentless efforts in overcoming challenges and propelling the growth of the region.
Tasawar Jalali, a notable entrepreneur from Kashmir and chairman of the unity and diversity movement known as Ibadatkhana, passionately advocated for a shift in the narrative surrounding Jammu & Kashmir. Jalali emphasized the urgency of moving away from associating the region solely with political unrest and instead focusing on its untapped economic potential.
Looking ahead, Jalali shared his vision for the future of the Kashmir Conclave, revealing plans to host a conference in the heart of Srinagar, the capital city of Jammu & Kashmir. This forthcoming initiative aims to provide a platform for face-to-face interactions between entrepreneurs from the USA and Kashmir, fostering meaningful connections and exploring potential business opportunities.
Anu Nakka, a distinguished board member of both the Milpitas Chamber of Commerce and the Milpitas Unified School District, expressed her enthusiasm for exploring potential collaborations between the school district and Jammu & Kashmir. With her esteemed background, holding a doctorate in finance and corporate secretary, Nakka highlighted the transformative power of education and its ability to open doors to limitless opportunities. She emphasized the importance of educational exchanges and partnerships to foster mutual growth and understanding between the two regions.
The Kashmir Conclave in California served as a pivotal platform to promote trade, economic growth, and collaboration between the United States and Jammu & Kashmir. By harnessing the power of entrepreneurship, innovation, and inclusive development, the event aimed to unlock the vast potential of the region and enhance the overall quality of life for its residents.
As the conclave concluded, attendees were left with a sense of optimism and renewed commitment to realizing the region's untapped potential. The future holds promising possibilities for entrepreneurs, investors, and individuals seeking to contribute to the economic growth and prosperity of Jammu & Kashmir.
Learn more about the Kashmir Conclave at: https://kashmirconclave.com/
ABOUT KASHMIR CONCLAVE:
The Kashmir Conclave is an annual event organized primarily by individuals from Kashmir, aimed at fostering bilateral trade relations and economic collaboration between the United States and the region of Jammu & Kashmir. The conclave brings together industry experts, entrepreneurs, venture capitalists, and key stakeholders to explore opportunities, exchange ideas, and strengthen ties between the two regions. With a focus on entrepreneurship, innovation, and inclusive development, the Kashmir Conclave serves as a catalyst for unlocking the economic potential of Jammu & Kashmir.
MULTIMEDIA:
Photo link for media: https://www.Send2Press.com/300dpi/23-0522-s2p-cmontana-300dpi.jpg
Caption: Mayor Carmen Montana speaking at Kashmir Conclave 2023, Milpitas CA.
News Source: Kashmir Conclave