HOUSTON, Texas, Sept. 4, 2019 (SEND2PRESS NEWSWIRE) — Premier Pediatrics of Houston will host the 6th Annual Family Festival on Saturday, September 28, 2019 from 12 p.m. to 4 p.m. at 411 Lantern Bend Dr., Suite 235, Houston, TX. This year's theme is, "Your Family, Your Community, Your Responsibility."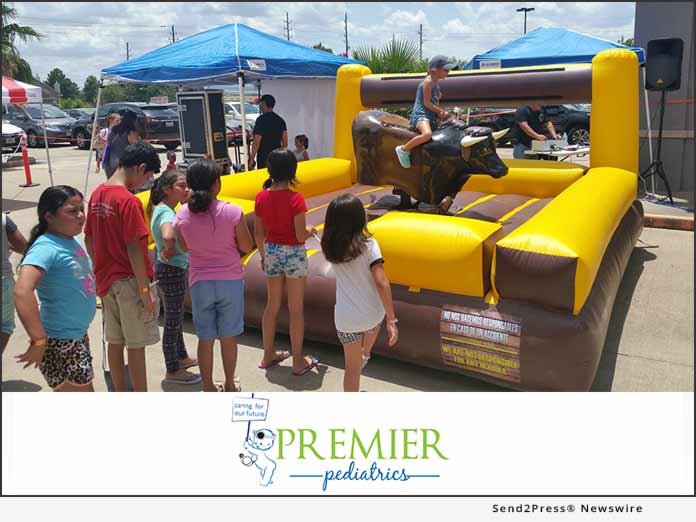 With over 500 children and families in attendance during the 2018 festival, Premier Pediatrics has established the event as a community tradition for patients and non-patients interested in learning about preventive healthcare practices and other tools for healthy living.
The festival will be comprised of over 30 informational and interactive booths, food and fun activities such as live entertainment, face painting, relay races for children and adults, dance, hula hoop and watermelon eating competitions, multiple games and hundreds of prizes and give-a-ways.
"We are excited to continue to serve the North Houston community and we welcome children and parents to join us at our annual event," said clinic owner and nurse practitioner, Dr. Tamecka Knight. "This is a great opportunity to learn about available community resources and introduce kids and families to ways to maintain a healthy and safe lifestyle. It is also a day to just have good 'ole family fun."
Festival attendees will have access to local community-based organizations who will provide invaluable information on various topics that affect children and their families which include, but are not limited to, health and wellness, safety, financial security and planning, and educational resources.
For more information contact Premier Pediatrics of Houston at 281-997-2112 or visit their website at http://www.premierpediatricshouston.com/.
About Premier Pediatrics:
Premier Pediatrics of Houston has served the North Houston community for over six years. Since opening its doors in 2013, the clinic has provided healthcare to over 7,500 children. With an emphasis on health promotion, disease prevention, and early intervention, the clinic plays an important role in advocating for the health and well-being of children.
Owned and operated by Dr. Tamecka Knight, a board-certified Pediatric Nurse Practitioner with 16 years of experience, the clinic strives to meet the needs of every family by providing up-to-date, compassionate pediatric care in a comfortable and respectful environment. The office is committed to providing a wide array of services ranging from routine care such as well child exams and immunizations to minor emergency care, as well as offering in-office labs, and ear piercing.
Media Contact:
Michelle Jackson
Premier Pediatrics Media Liaison
(678) 548-2461
events@prsolutionsllc.org
News Source: Premier Pediatrics of Houston